Icon QCon Pro G2 DAW Controller
Icon QCon Pro G2
USB DAW Controller
8 x touch-sensitive motorised channel faders
1 x touch-sensitive motorised master fader

8 x dual function encoder knobs (Enter & rotate)
12-segment LED level metering for channels
Large backlit LCD to display channel name, control values etc. for each channel
12-segment LED display showing time location of your project in either SMPTE or Midi beat clock (bars:beats:ticks) format
78 assignable buttons for user define mode
Jog wheel shuttle for fast search and control
Expandable to 32-channels with 3 x Icon Qcon EX G2 (sold separately)

USB 2.0 high speed connectivity
Class-compliant with Windows XP, Vista (32-bit), Windows 7/8/10 (32-bit & 64-bit), and Mac OS X (IntelMac)
Includes shortcut overlays for a variety of popular DAWs (full list below)

Expandable to 32-channels with 3 x Icon Qcon EX G2 (sold separately)
Icon QCon Pro G2 DAW Controller
The Icon Pro Audio QCon Pro G2 is an eight channel universal control surface with Mackie Control and HUI emulation to support most major DAWs. Whether you are tracking or mixing, the QCon Pro G2 provides intuitive tactile control over your session.

Set your levels, fine tune your EQs and effects, record automation, punch in and punch out of recordings, all at the tip of your fingers.

The QCon Pro G2 sports nine motorized faders, eight multi-purpose push encoders, 78 buttons, jog shuttle wheel, and 2 foot pedal connectors. 12-segment LED level meters are provided for each channel, and a large backlit LCD screen displays channel names and parameter values. A 12-segment LED display is also provided for SMPTE or MIDI beat clock.
The Icon Pro Audio QCon Pro G2 utilizes Mackie Control and HUI emulation to control your favorite digital audio workstation and includes overlays for most popular DAWs including Cubase/Nuendo, Logic Pro, Ableton Live, ProTools, Studio One, Digital Performer, FL Studio, Samplitude, Reaper, Bitwig, Reason, Sonar, and Audition.

A User Define mode is also included, allowing you to customise the Icon QCon Pro G2 to perfectly suit your workflow, by creating your own presets and midi maps.
Features
8 x touch-sensitive motorized channel faders
12-segment LED level metering for channels
1 x touch-sensitive motorized fader for master channel
8 x dual-function encoder knobs (Enter & rotate)
11-segment LED surrounding the encoders to indicate the rotating position
Large backlit LCD to display channel name, control values etc. for each channel
12-segment LED display showing time location of your project in either SMPTE or Midi beat clock (bars:beats:ticks) format
78 x assignable buttons for user define mode
Jog wheel shuttle for fast search and control
Expandable to 32-channels with 3 x Icon Qcon EX G2 (sold separately)
Illuminated buttons for each channel including Rec-enable, Solo, Mute, Select and Monitor

6 x illuminated transport buttons including Play, Stop, Rec, Rewind, Fast forward and Loop

lluminated zoom key with 4 x direction keys

MackieControl and HUI Universal emulation

iMap – MIDI mapping software for user define mode (MIDI Learn)
Expandable to 32-channels with 3 x Icon Qcon EX G2 (sold separately)

User A & User B 1/4" TRS connectors for connecting with pedals

Class-compliant with Windows XP, Vista (32-bit), Windows 7/8/10 (32-bit & 64-bit), and Mac OS X (IntelMac)

USB 2.0 high speed connectivity

Firmware upgrade available simply via USB connection and iMap software
Robust aluminum and metal casing with Kensington lock port

Includes overlays for a variety of the most popular DAWs:
Cubase/Nuendo

LogicPro

DigitalPerformer

FL Studio
Samplitude
Reaper
Studio One
Bitwig
Reason
ProTools
Sonar
Adobe Audition
Ableton Live

User define mode
Icon QCon Pro G2 DAW Controller: The Future Is Here
What's New In Generation 2?
UPDATED DAW MODE: We simplified the DAW mode in the new generation. Now instead of scrolling through a list of DAWs, users choose 1 = Mackie Control (for most of the most popular DAWs), 2 = Logic Pro (for Apple Logic Pro), 3 = Pro Tools (HUI mode for Avid Pro Tools) and 4 = User Define mode (for other DAWs, and custom maps). This improves the mapping AND increases the number of DAWs we can support.


MORE DAWs & UPDATED OVERLAYS: Now with overlays for FL Studio, Digital Performer, Adobe Audition, and Studio One, as well as Cubase, Nuendo, Reason, Ableton Live, Samplitude, Bitwig, Logic Pro, Reaper, Sonar, Pro Tools, Logic Pro and a User Defined mapping. And the overlays now have a dash of color to make mixing that much easier.



UPDATED HARDWARE - New Faders, Encoders and Jog Wheel: The G2 version of the Pro and EX now sport the same top of the line Alps motorized faders that are in the Platform series and QCon Pro X controllers. Plus the jog wheel has been updated and recoded for better accuracy.



BACK IN BLACK: The QCon Pro and EX G2s are now even more suave and salacious in an anodized matte black finish.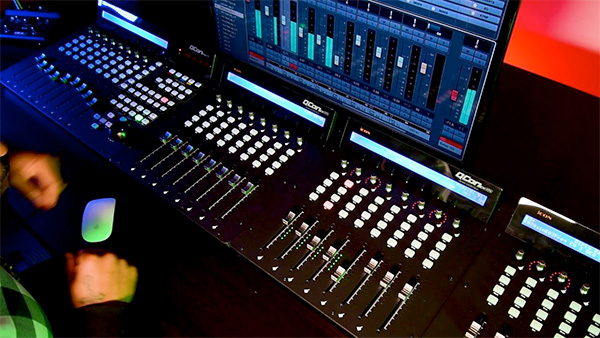 Pictured: Icon QCon Pro G2 with 3 x QCon EX G2 Fader Expanders,
providing 32-Channels with motorized faders.
Expand your setup with Icon QCon EX G2 Fader Expanders

Expand your Icon QCon Pro G2 DAW Controller up to 32 channels using up to three Icon QCon EX G2 units.
Each Icon QCon EX G2 features eight touch-sensitive motorised channel faders, eight dual function encoder knobs, mute, solo, select and record buttons, and a 12-segment LED level metering bridge.
The large dual backlit LCD displays show channel names and different control parameters for each channel.

| | |
| --- | --- |
| Connector | To computer: USB connector (standard type) |
| Connector | To extender: USB connector (B-Type) |
| Power supply | 12V / 2.5A DC |
| Current consumption | 2A or less |
| Weight (kg / lb) | 5.02kg (11.1lb) |
| Dimensions (Width) x (Depth) x (Height) (mm) | 511(W) x 375(D) x 123(H) mm |
| Dimensions (Width) x (Depth) x (Height) (inches) | 20.19(W) x 14.76(D) x 4.84(H) inches |
This item currently has no reviews.
Purchased this product?