MicW 3D Recorder Kit
Mobile Recording Kit
For 3D & Binaural Audio
Portable, compact and simple operation
External 24bits A/D and D/A to ensures high quality recording and playback
Compatible with a variety of iPhone recording apps
Easy to Share recordings via social media
Package Contents:
MicW i3DMicTM Pro360 Ear-Microphones
iDAQ 2022 Sound Card
USB to Lightning Connector Cable
Certificate Of Calibration
Replacement Ear Tips (small & large sizes)
Create High Quality 3D And Binaural Recordings With Your iPhone Or Android Smartphone

With the MicW 3D Recorder Kit, MicW Audio expands its revolutionary i-Series of microphones with the launch of 3D recording kit—the new 3D recording and playback system for use with an iPhone. The kit is designed for binaural recording and playback, on-site recording and data sharing for NVH engineers, 2-channel acoustics analyzer and 3D audio recording.
The contents of the kit are i3DMic TM Pro360 ear-microphones, iDAQ 2022 sound card with 2 inputs and 2 outputs, cable from lightning to USB.
A powerful tool for research and improvement of sound quality, binaural recording techniques are commonly used by NVH engineers. This usually requires the use of an often expensive artificial head. The iPhone-based MicW 3D Recorder Kit vastly simplifies the binaural recording process, enabling the creation of binaural recordings in a simple, portable and easily operated fashion.
Required For Operation (You Will Need...)
iPhone (6 or 6+), iPad, smartphone or tablet.
i3DMic Pro360 binaural microphone.
iDAQ 2022 24 bits A/D and D/A card.
Lightning to USB cable (included) or USB Type-A female to USB Micro-B Cable (not included).
Recording or Noise-Measurement Application.
Suggested Uses
Binaural recording sound in wav. format.
Sound quality analysis.
Field measurement and recording.
Two channel acoustical measurements.
Suggested Recording and Measurement Apps
Recording Apps

iPhone Camera App: the iPhone Camera built into iOS can be used to record video directly, along with 3D audio which can then be extracted.
Hindenburg Field Recorder: fully tested and can be calibrated with the iDAQ2022 and i3DMicPro360. Playback with headphones can also be calibrated to the original sound pressure levels using the volume control in the App.
Measurement APPs
SignalScopePro for Faber Acoustical is tested with iDAQ2022 and i3DMic Pro 360. The calibration of both left and right microphones can be performed as a 1/4" microphone. The SPL, FFT and 1/3 Octave analysis can be performed with the App.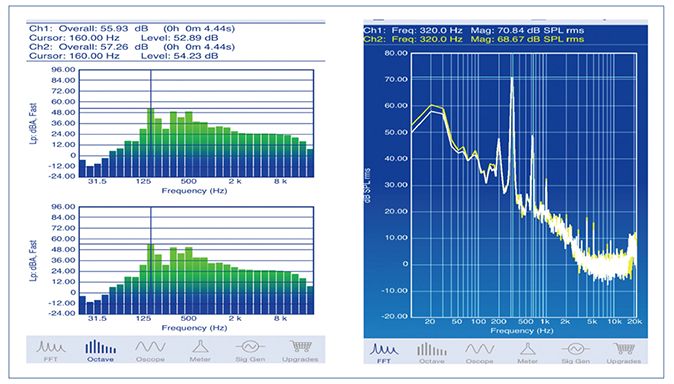 2-channel 1/3 octave analysis



Data Sharing
An interesting feature of the MicW 3D Recorder Kit is the ability to quickly and simply share your data with other engineers. Whilst the traditional method is to analyse the recording data in a laboratory, in some situations engineers will need to solve problems immediately whilst in the field.
With the MicW 3D Recorder Kit, data can be shared directly from the iPhone's recording App via other applications such as WeChat, Facebook, Twitter, Sound Cloud, FTP, and via email. Professional NVH engineers can thereby listen and analyse the test data in the office, and provide immediate feedback to the field engineers.
This recorded data can also be used as an effective tool for checking the sound quality remotely by another engineer.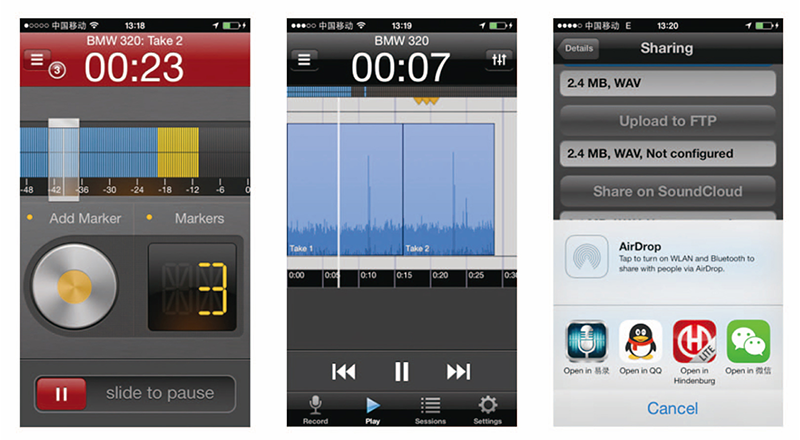 Recording / Playback / Sharing

Binaural Microphone – i3DMic Pro 360
Microphone

Pre-polarized Condenser

Microphone Diameter

1/4"

Optimized

Free field

Frequency Range

20 Hz ~ 20kHz

Sensitivity (±2dB)

12.5 mV/Pa

Output Impedance (Ω)

<110

Dynamic Range (dBA)

35 ~ 130 dBA

Inherent Noise (dBA)

<35

Operating Temperature (℃)

-10 ~ 50

Operating Humidity (%RH)

0 ~ 95

Temperature Coefficient (dB/℃)

(at 1kHz, reference temperature 23℃)

15℃ ~ 35℃:<±0.3 dB

0℃ ~ 40℃:<±1.5dB

-10℃ ~ 50℃:<±3.0dB

Humidity Coefficient (dB/%RH) at 1kHz, reference temperature 23℃, humidity 50%RH

20% ~ 90%RH, <±0.8 dB

Pressure Coefficient (250 Hz)

-0.06 dB/kPa

Connector

1/8" (3.5 mm) Stereo Plug
Data Acquisition Card - iDAQ 2022
| | |
| --- | --- |
| Input Channels | 2 |
| Input Connector | 1/8" (3.5mm) Stereo Input |
| Input Gain | Continuously variable gain |
| Max Input Voltage (Vrms) | 6.5 |
| Sampling Frequency | 44.1kHz and 48kHz depending on the app recording rate |
| Sampling Accuracy | 24 bits |
| Frequency Responses | 20Hz ~ 20 kHz : +0.05/-0.40dB |
| Noise Floor (dBA) | < 35.0 dBA with i3DMic Pro 360 |
| Dynamic Range (dB) | 96 |
| Two Channel Crosstalk (1kHz, dB) | 88 |
| THD (600 mVrms ) | 0.0020% |
| Minimum Input Impedance (kOhm) | 4.7 |
| Output Channels | 2 |
| Output Connector | 1/8" (3.5mm) Stereo Output |
| Output Gain | Responds to iPhone volume up/down buttons |
| Maximum Output Level (Vrms) | 1.00 (63mW) (into 32ohms) |
| Frequency Responses | 20Hz ~ 20 kHz : +0.05/-0.40dB |
| Power Supply | From iPhone Lightening or PC USB port |
| Device Connection | USB (male) |
| Dimensions (mm) | 59 x 53 x 14 |
| Weight (g) | 60 |
| Carrying Pouch Size (mm) | 143 x 94 x 28. |
This item currently has no reviews.
Purchased this product?