MicW iShotgun Kit
MicW iShotgun Microphone
& Accessory Kit
Package Contents
iShotgun mic
SA012 - T split adapter (mic and headphones, or two mics)
SA011 - Split adapter (mic and headphones, or two mics)
PP013 - Shockmount for camera flash shoe mounting
WS810 - Wind screen
BM100 - 1m telescopic mini boom pole
CB0305 - 3m extension cable
CB0025 - 0.2m adapter cable to DSLR camera
SA013 - Y split adapter (mic and headphones, or two mics)
Plastic case for mic and accessories
About the MicW iShotgun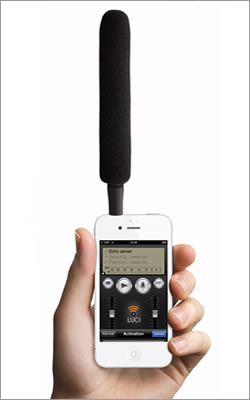 The iShotgun is one of the most recent members in MicW i-Series range. The microphone has a Super cardioid pickup pattern at the rear of the interference tube to give a highly directional pickup wherever it's pointed. The interference tube helps to isolate unwanted sounds not in the recording soundscape.
The iShotgun is elegantly engineered to be light and easily manageable and still provide the highest audio qualities. Although compact it has a professional look and a build quality which belies its price. This microphone is ideal for use in ENG where use of a handheld mic could affect the interview.
The iShotgun works incredibly well with video and filming where the built in microphone of the hand held video or DSLR camera does not have the quality required for high end audio production.
Capturing and recording productions from a distance, School Plays, Interviews and Gigs make the iShotgun indispensable.
When recording musical instruments the iShotgun can help isolate the sound source to provide a drier, less ambient recording if required.
The iShotgun has been tested on the following devices:
iPhone 3, 4, 4S and 5
iPad 2 , 3, 4 and Mini
iPod Touch
Mac book
Samsung Galaxy S2
HTC Desire
Canon 5D, 7D, 60D
Sony Alpha 6 and 7 series
Nikon D7000
Panasonic X900M/X909/V707
Sony CX250/CX570/CX730
Canon HFD10
Computers with Microphone Input
Features
Super Cardioid Pattern
Use with Cameras, iPhone, iPad & Android devices
8mm Diameter
Tough & Durable


Suggested Applications
Video production
Live broadcast production
Environment & foley recording


Suggested Compatible iOS Apps
Type: Electret Condenser
Capsule diameter: 4 mm
Principle of operation: Pressure Gradient
Polar Pattern: Omnidirectional
Sensitivity(±4dB): -45 dB (5.6mV/Pa)
Frequency Response: 20 Hz~20kHz
S/N ratio: More than 65dB
Impedance: Less than 4.5k
Power Source: Plug-in power capability, plug and play
Operating Temperature: -17℃~+60℃
Cable Length: 1.6m
Weight: 5g
Connector: 3.5mm 4-Pole headset interface
This item currently has no reviews.
Purchased this product?