---


The Pop Filter - Reimagined
The ultimate pop filter set.
The Pop Audio Pop Filter features the newly designed ball and socket joint arm, giving you the best flexibility and strength available.
The quick release clamp provides extremely fast set up times, and you'll never need to worry about damaged mic stands again.
Also included is Pop Audio's unique attachment point, so you can pick and choose the filter you want for each recording situation.
3 Interchangeable Filters
Foam: The ultimate solution for the most critical recording situations.
Fabric: The classic dual layer fabric filter.
Metal: Robust and easy to clean, perfect for recording both on the road or in the studio.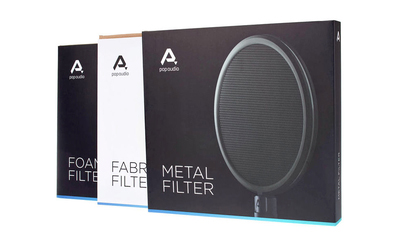 Attachment point
Quickly and easily swap out filters depending on your recording needs.
Unscrew the arm to attach the filter adapter directly to a microphone stand for an even greater level of stability.
Attached with just a twist and a click, meaning you can focus all your attention on getting the perfect take.
Flexible and stable
Unique ball and socket joint arm provides unrivalled strength and flexibility keeping your filter precisely in place.
Using the unique ball and socket joint arm, you can position your filter however you want whilst being guaranteed the highest level of strength and stability. Say goodbye to drooping pop filters.
Quick release clamp
A rock solid foundation for maximum stability which you can adjust in an instant.
The strongest clamp but also the easiest to use. No more damaged stands, constant readjustment or broken clamps.
Using a butterfly design and lined with high friction rubber, the Pop Audio clamp is quick and easy to position, yet grips strongly to resist vertical and rotational movements. This a clamp you can rely on.
This item currently has no reviews.
Purchased this product?