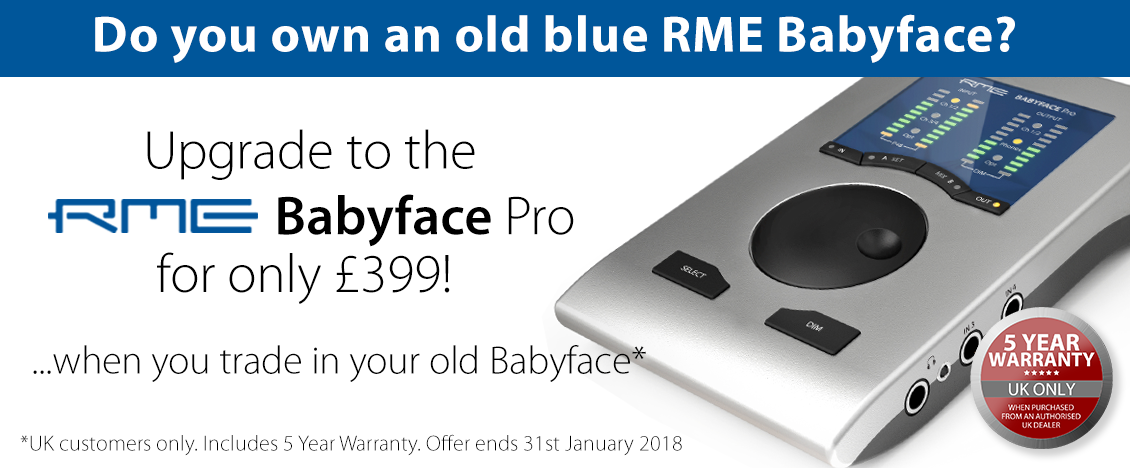 Trade in your old Babyface and upgrade to the RME Babyface Pro

To reward our existing RME Babyface users we've put together a very special upgrade deal. Treat yourself to a brand new Babyface Pro for only £399 (RRP £671) – that's an incredible saving of £272!
All you need to do is return your current 1 st generation Babyface* to us in working condition. But you'd better be quick! This offer is subject to stock availability and expires at the end of January 2018.
The award-winning Babyface Pro is a beautiful example of RME's latest engineering advances. It incorporates the most recent technology and improves on its already distinguished predecessor in almost every area. To find out more about how the Babyface Pro differs from the original Babyface, check out our video below.

*other RME interfaces may also be accepted for exchange against a new Babyface Pro, please contact us if you have a different interface you'd like to trade in. All prices shown are inclusive of VAT. Offer open to UK customers only.


Upgrade your studio with the RME Babyface Pro - Use Code "BABYFACEUPGRADE"

So, how can you take advantage of this exclusive deal? Simply purchase a brand new Babyface Pro from our website here and enter the discount code 'BABYFACEUPGRADE' when you checkout.
Once your order has been confirmed, you'll receive an email with details of where you need to send your old Babyface.
As soon as we receive your Babyface and have checked it is in full working order, we'll arrange for your brand new RME Babyface Pro to be delivered straight to your door.
Order your new RME Babyface Pro today
Offer Code: BABYFACEUPGRADE