John Darko of Darko.Audio provides an in-depth review of the RME ADI-2 DAC FS.
Since its arrival in 2018, the RME ADI-2 DAC FS has become one of the RME's most popular products, despite being a unique offering for a company that has traditionally cut its teeth in 'pro' rather than 'home' audio.
The production of reference-quality converters for studio and live audio has long been a mainstay of the company – however, it's the ADI-2 Pro Series' huge potential for Hi-Fi crossover that originally caught the attention of audiophiles, and the ADI-2 DAC FS in particular has gone on to become something of a darling in the world of high-end Hi-Fi.
This latest review comes from the highly respected John Darko of Darko.Audio, who we're proud to hear has designated RME's USB-DAC and headphone amplifier as "the DAC to beat under 1000 euros".
Many thanks to John for the fab review! Make sure you visit the Darko.Audio homepage for all of the latest high-end Hi-Fi news.
Watch John Darko's review of the RME ADI-2 DAC FS
See more videos at Synthax TV
RME ADI-2 DAC FS – Reference-Class USB-DAC & Headphone Amplifier
Built from the foundations of the ADI-2 Pro FS, the DAC FS takes the many features of of RME's mastering-grade converter and adapts them for the Hi-Fi market.
Whilst retaining the main bones of the ADI-2 Pro series, the DAC features input and output options that better suit Hi-Fi and home listening. With connections for coaxial and optical SPDIF and ADAT, unbalanced RCA and balanced XLR, the DAC has an output option for every system.
Focussing on exceptional digital-to-analogue conversion, the ADI-2 DAC FS offers the transparent and balanced sound that RME are known for, and impressed John Darko who notes that "everything just sounded right".
"everything just sounded right"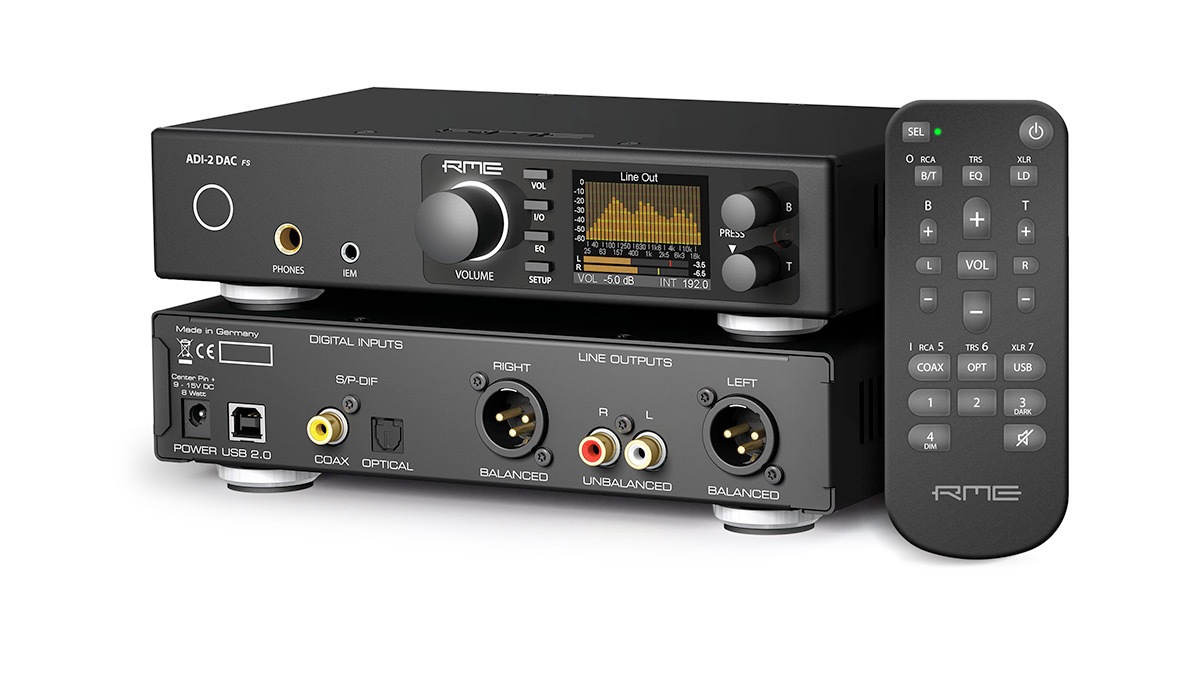 Direct Connections for IEMs
RME's "Extreme Power" headphone output is included for 6.3mm connections, offering the clearest and most detailed soundstage possible. This helps to reproduce pristine conversion quality regardless of the impedance of the headphones.
Another evolution of the DAC is its secondary headphone output, which is purpose-built for 3.5mm in-ear monitors. Designed to project the full dynamic range to even the most sensitive in-ears, the IEM output features a noise-floor even lower than the "Extreme Power" output.
John highlights these super-low-noise headphone outputs with their ramp-up volume feature, which "auto detects volume to give you time to react if something's wrong", saving expensive listening equipment and sensitive ears in the process.
"It's many of the little things that come from its
internal DSP engine that I really, really dig"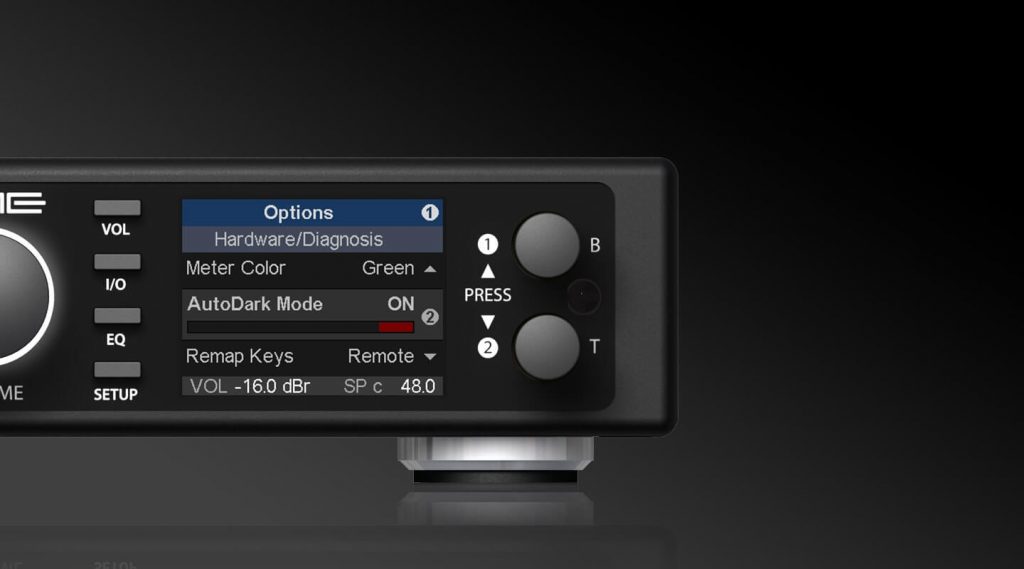 On-Board DSP Processiong & Remote Control
The DAC's DSP-powered processing is also a key talking point, with John also noting the ADI-2 DAC FS's 'Crossfeed' feature, which allows a small amount of the left channel to be passed to the right channel (and vice versa), adjusting the soundstage to create what John found to be a "more forward focussed" sound.
"In terms of value for money, I've never come across a DAC
beneath a grand that offers so much"
With an abundance of additional features compared to your run-of-the-mill DAC, John concludes that he can't think of any other DAC at this price-point "that does so much on top of excellent conversion and excellent headphone amplification."
With a host of additional processing available such as Loudness, various Filter Types and an on-board parametric EQ, users can tweak the DAC's sound to their liking, saving preferred settings to perfectly match any set of headphones. "All of this comes from the power of DSP," John continues in the review. "Purists will be like 'I'm not having DSP anywhere near my precious DA conversion' – your loss, as there is so much more you can do with this DAC beyond decode music."
*The* DAC to beat at €1K
With reference-quality conversion, a plethora of additional features and "extreme power" headphone outputs built into an attractive half rack unit, the ADI-2 DAC FS is the perfect centre-piece for hi-fi enthusiasts, bringing studio-quality sound into the home.
Find out more about the RME ADI-2 DAC FS
Get a 5 Year Warranty when you purchase an RME device from one of our authorised UK Dealers.
5 Year Warranty (UK Only)
Over the past 20 years, the word 'reliability' has become synonymous with the RME Audio brand, thanks to both the exceptional build quality and the now industry-renowned, rock-solid drivers.
For this reason, we are happy to offer all of our UK customers a complimentary 5 year warranty on all RME products, when purchased either from ourselves, or from one of our authorised UK dealers, and remain the only interface manufacturer to offer this at no extra cost.
To activate your 5 year warranty, simply register your RME device with us within 30 days of purchase via our warranty page.
To ensure you are buying your device from a UK-based retailer, please check our list of authorised ADI-2 Series dealers before purchase.
---

If you'd like to know more about any of RME's audio interfaces, soundcards, AD/DA Converters or microphone preamps, give us a call on 01727 821 870 to speak to one of our team or to arrange a demo.
You can also contact us here.