Inverness TV studios upgrade with Calrec's modular IP-based broadcast console
The Calrec Type R was recently chosen by one of our broadcast clients for their live TV production studios in Inverness, Scotland.
Supplied by Synthax Audio UK – Calrec's UK distributor for the Type R and Brio consoles – and installed by John Battersby of More Power Engineering, the Type R is designed specifically for use in modern broadcast audio production environments, facilitating the use of virtual and remote workflows, as well as fully automated programming via its SMPTE 2110-compliant IP backbone. Fast access to operational controls make the Type R an excellent choice as a live broadcast mixer.
"Fast access to operational controls make this an excellent live broadcast mixer"
Overseeing the project was Simon Roome, Synthax Audio's Broadcast Sales Manager, who commented, "the flexibility of the Calrec Type R allowed us to build a multi-position setup, one that was ideally suited to the installation. The console also offers an extensive level of configurability, meaning it could easily be built to recreate the workflows of the desk it was replacing. This makes the transition for the operators – from their old console to the Type R – very smooth indeed."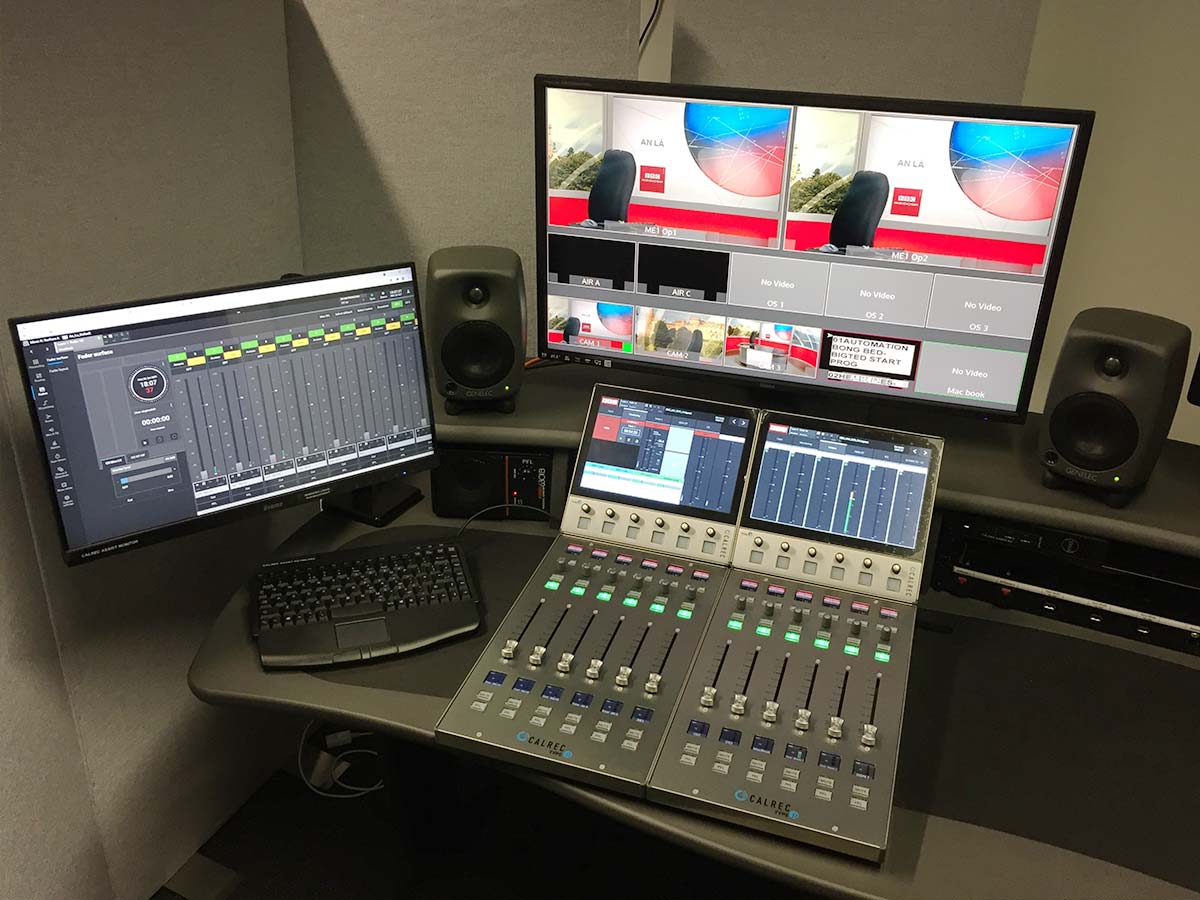 Built on an IP-backbone, the Calrec Type R is a modular broadcast console powered by a 2U Core, with each Core featuring enough resources to power up to three different console configurations simultaneously, either locally or remotely. Additional analogue and digital I/O options are available in the form of the Type R Analogue I/O Box, AES I/O Box, and Combo I/O Box.
Physical controls are offered via 6-channel fader panels, alongside large and small soft panels, which can be customised via Calrec's Soft Panel Designer software. Additional fader and touch-screen control panels can be added to a system at a later date if required, allowing the console to be tailored to the needs of any broadcast audio application across TV, Radio and Outside Broadcast.
Find out more about Calrec Audio broadcast consoles
If you'd like to know more about the Calrec Brio or Type-R,
give us a call on 01727 821 870, or contact us to book a demo.
Calrec Type R – Modular IP-based Broadcast Console
Any number of Calrec Type R Fader Panels, Large Soft Panels (LSPs) and Small Soft Panels (SSPs) can be supplied together to create a custom, expandable console surface that perfectly suits the user's requirements.
Each system is also fully controllable over IP, making it possible for operators to mix and monitor remotely from different locations to the main production. Calrec Assist, a browser-based interface that creates a fully-featured virtual console environment to compliment the hardware, allows for full remote operation, automation and interactive real-time control.
Different levels of access can be granted to individual users – an operator can be provided with a basic set of control functions, whilst an engineer can have further access for fine-tuning or making alterations to the UI.
The Type R is also fully redundant, with an option for automatic and seamless switchover to an additional Core whenever a loss of signal is detected.
New Pricing for Calrec Brio Medley & Duet consoles
Earier this year Calrec also updated the popular Brio console with two new bundles. Named Brio Duet and Brio Medley, the new packages offer greater channel counts and expanded connectivity as standard, and at an even more competitive price.
Dave Letson, VP of Sales, said, "We're very proud of the way the Brio has been embraced by the market and that its versatility has been so widely recognised, but it's so important to keep across market requirements. We've listened to our customers' changing needs and our new Brio Duet and Brio Medley packages have increased capabilities at excellent value for money."
"With Brio Duet we've upgraded the Brio's base specification, and Brio 36 Duet becomes the baseline Brio console with an increased input channel count of 96 channels (up from 64) to deal with more surround and immersive mixing as well as standard or slim trims (where space is at a premium), and at a reduced price of £22,500. The Brio Medley package adds a Dante or MADI expansion card and a Br.IO I/O box with 24 mic/line inputs, 16 analogue outputs and 8 x AES I/Os at a reduced list price of £25,950."
"Both packages provide better value for money to our customers, and a much broader appeal to people working in more specialist areas like smaller outside broadcast units and flypacks."
For existing Brio customers, Calrec is offering an upgrade option to 96 channels on a 64 channel Brio.
Find out more about Calrec Brio Medley & Duet
---

If you'd like to know more about the Calrec Brio 36 Duet & Medley, Type R or Hydra2 network, or would like to arrange a practical demonstration, give us a call on 01727 821 870 to speak to one of our team.