Lauten Audio LA-320
Vacuum Tube Condenser Microphone
1 inch dual large diaphragm pressure gradient transducer microphone.
Polar Pattern: Cardioid
Circuit Vacuum tube with transformer balanced output
Frequency Range: 20Hz-20KHz
Dynamic Range: 120dB minimum
Selectable, independent 120Hz low-cut & 12 kHz high-cut filters
Included Accessories:
Shock mount
5-pin tube microphone cable
Custom dedicated power supply
Hard case for safe storage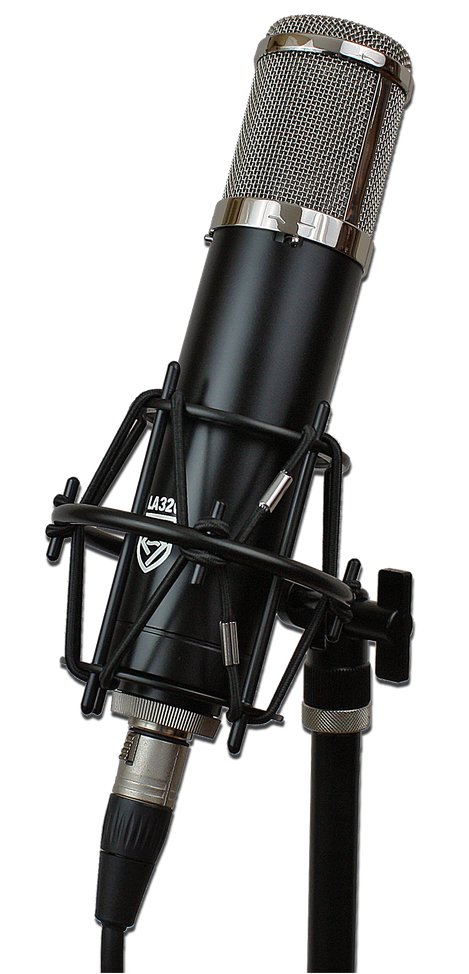 Your Professional Recordings Begin Here
The Series Black LA-320 large diaphragm vacuum tube condenser microphone is a professional and versatile microphone for studio and vocal recording.
This microphone features a 1″ gold sputtered diaphragm with cardioid polar pattern, dual-triode vacuum tube, 120 Hz low-cut filter, 12 kHz high-cut filter, and transformer balanced output.
The low-cut filter helps reduce boomy lows or low-end rumble; the high-pass filter helps to tame bright sources.
These features help you to achieve excellent recordings regardless of your skill level.


Listen to the Lauten Audio LA-320 on a wide range
of instruments, drums, percussion and vocals


Lauten Audio LA-320 At A Glance

Designed for budding engineers and home recordists
Intelligent features get you great recordings with ease
High-cut filter tames bright rooms and sources
Low-cut filter takes away room rumble and muddiness
Dual-triode vacuum tube and 1" capsule reminiscent of classic German mics
Vintage inspired transformer balanced output



You Are Ready For This
You've been recording for a while, you're starting to learn the sonic difference between different microphones, and now you're ready to enter the world of vacuum tubes. It's time for you to let the Series Black LA-320 lead the way into that vintage vacuum tube tone you've heard all about. Designed for budding recordists, the LA-320 is the best entry into professional quality recordings with a tube microphone. We've made it easy to use and affordable for anyone to get serious about their sound.
Independent Filters Clean Your Tone
The high and low cut filters make solving common problems in home, basement or bedroom recording environments easy. The LA-320 features two independent filters located on the microphone and easy to engage via switches located on the front of the microphone. If the room or source is boomy, or you have low-end rumble from outside sources like road noise, furnace, air conditioner etc., turn on the low-cut filter and eliminate the problem. Use the high-cut to roll-off above 12k and tame a bright room or a bright source. What's even cooler is you can use both filters at the same time resolving many problems before the recording hits your hard drive.

Incredible Price Performance Ratio
Inside the LA-320 is a 1 inch pressure gradient true-condenser capsule and dual-triode vacuum tube inspired by those used in classic German microphones. Don't be fooled by the affordability, the LA-320 features high quality components often found in much more expensive microphones. We have used our years of experience to create the best performance for the price of any large diaphragm vacuum tube microphone. Any budding engineer is sure to be pleased with the microphone.
Check out the Lauten Audio LA-320 on vocals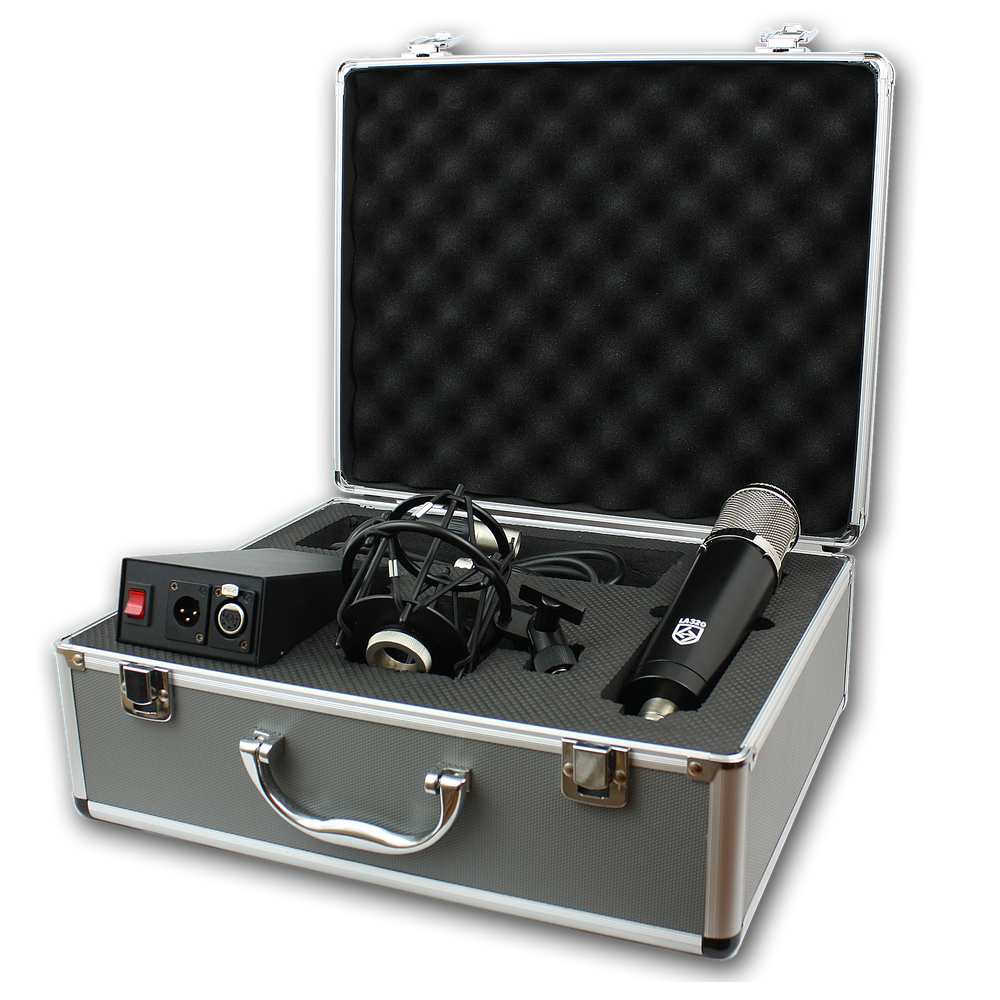 Fully Equipped And Ready For Recording
The LA-320 comes fully equipped to get you recording with great results fast. Each microphone includes a classic inspired spider shock mount to isolate the microphone from vibrations, a quality 5-pin tube microphone cable, custom, stable, dedicated power supply with a selectable mains voltage for use in all countries (100, 115v, 230v etc.), and a durable hard case to keep your microphone safe and clean when not in use.

Type: 1 inch dual large diaphragm pressure gradient transducer microphone.
Polar Pattern: Cardioid
Circuit Vacuum tube with transformer balanced output
Frequency Range: 20Hz-20KHz
Dynamic Range: 120dB minimum
Impedance: < 200 ohms
Max. SPL: 0.5%THD@1000Hz: 130dB
Self-noise Level: <17dB-A
Sensitivity: 14mV/Pa (@ 1 kHz, 74dB SPL)
Special Features: Selectable, independent 120Hz low-cut & 12 kHz high-cut filters
Connector: 5-pin XLR (PSU to microphone) and 3-pin XLR (PSU to Preamp)
Power Requirement: Custom power supply (Switchable 100v to 240v compatible range)

Pro Tools Expert - Lauten Audio Series Black Review
Sound Pure Studios - LA-120, 220 & 320 samples
User video - BMG Loft Studios - LA-320 on acoustic guitar
User video - audioczarnet - LA-320 first impressions
Riffs, Bears & Gear Lauten Audio LA-320 Review
NAMM 2017 - Lauten Audio Series Black & Signature Series
Performer Magazine - LA-320 unboxing
Vintage King - Large Diaphragm Condenser Shootout
This item currently has no reviews.
Purchased this product?