RME's Head of Design Matthias Carstens introduces three new products at Winter NAMM 2017

The Winter NAMM show in Anaheim, California is one of the largest MI (musical instrument) and pro audio trade shows in the world, and this year it was home to the launch of three new products from German pro audio manufacturer RME. After celebrating 20 years of designing and manufacturing pro audio technology last year, 2017 looks set to be another big year for the company, who chose the Winter NAMM show to unveil the latest additions to their line of professional recording solutions.
In this video, RME's Head of Design Matthias Carstens takes us through the three new products, the RME Fireface UFX II audio interface, the ARC USB (Advanced Remote Control USB), and the new RME Digiface USB interface.
RME Fireface UFX II and ARC USB

With the RME Fireface UFX+ only released at the tail end of last year it remains a focal point for many, having recently received a 10/10 from MusicTech in their review. The big news at this year's NAMM however was the arrival of the new RME Fireface UFX II, a scaled down version of the UFX+ that features the same pristine sound.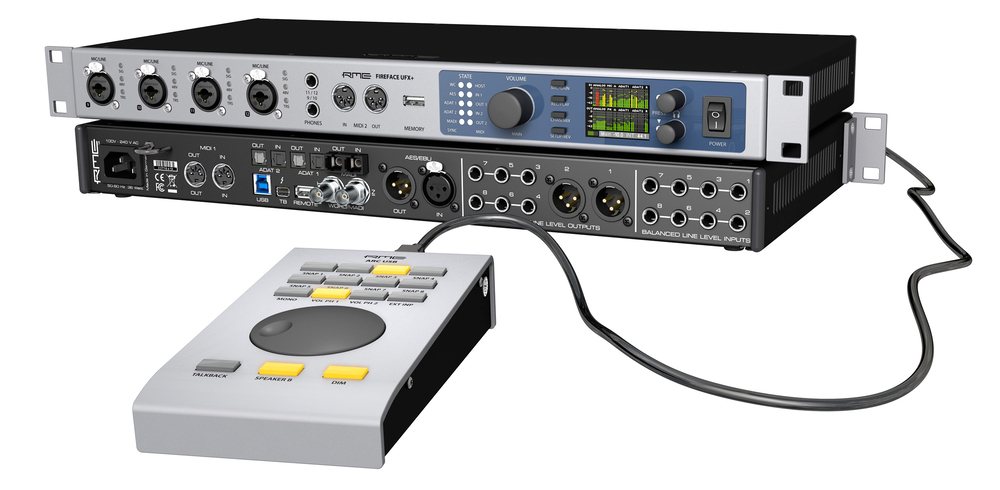 Everything that was great about the original Fireface UFX has been combined with RME's latest research – new high-end AD/DA converters, optimised analogue I/O circuitry, improved SNR and THD values, redesigned preamps and brand new headphone outputs. The new silver housing also means the Fireface UFX II fits nicely alongside other recent products from the latest range, such as the Fireface 802, Babyface Pro and the new MADIface Pro.
If you want to take further control of your RME interface, you'll definitely want to check out the new RME ARC USB. This new remote control features 15 freely assignable, backlit buttons for controlling all the most used functions on the UFX+. As Matthias reveals in this video, the other big news is that the ARC USB will actually work alongside any RME interface that supports TotalMix FX. This includes interfaces from as far back as 2001! RME show once again why they're at the top of their game, continuing to reward their users by providing support for long-discontinued products.
RME Digiface USB

There's also the RME Digiface USB, a compact and lightweight audio interface for connecting ADAT and SPDIF equipment directly to a Mac or PC via USB. This unique little box will be great for anyone who wants a quick an simple way to add a bunch more analogue channels to their setup – you could combine it with an AD/DA Converter such as the Ferrofish A32, or add more microphone inputs with a high-quality preamp such as the RME Octamic II.
Find out more about the RME Fireface UFX II
Find out more about the RME Advanced Remote Control USB