RME gives us a sneak preview of the RME ADI-2 Pro Anniversary Edition at Musikmesse 2017, a special limited edition of the RME ADI-2 Pro that will be restricted to only 500 units worldwide.

We recently reported that a few lucky members of the Synthax Audio UK team got a first look at the new RME ADI-2 Pro Anniversary Edition at Musikmesse 2017. The original version has been available for a few months now, and it's been receiving consistent recommendations from reviewers, most recently in an excellent and detailed writeup from Sound On Sound magazine.
A mastering-grade headphone amp and DAC, the ADI-2 Pro has really struck a chord with users from a variety of backgrounds. From mastering engineers and musicians who need a reference-class monitoring solution, to audiophiles who are on a search for the holy grail of headphone amps, the ADI-2 Pro has received warm approval for its highly detailed and transparent audio conversion and unique, intelligent and practical feature set.
RME ADI-2 Pro AE – Black housing with perspex top

When we first took the original ADI-2 Pro prototypes along with us to various high-end HiFi shows, many visitors commented on how much they liked the perspex top, which allowed you to get a look at the impressive amount of components that have been perfectly arranged in the small 1/2U housing.
Whilst this part of the design was initially only intended for the prototypes, we passed this feedback on to RME's Head of Design Matthias Carstens. Needless to say, Matthias liked the idea so much that he decided to create a special run of limited edition ADI-2 Pros, designed specifically for the world of HiFi.
And so the RME ADI-2 Pro AE was born! Boasting the same great sound and functionality of the original, the ADI-2 Pro AE is housed in a slick black casing, and features the aforementioned perspex top, so you can check out this feat of German engineering in all its glory. In the past, RME have tended to keep all of their pro audio products in a similar silver and blue styling, however as this version is designed to meet the needs of HiFi enthusiasts, it instead comes in an all-black finish. We think you'll agree the result is one sharp looking device that will fit perfectly into any high-end HiFi setup!
On top of this, production will be strictly limited to only 500 units worldwide, making the RME ADI-2 Pro AE a real collector's item.
RME ADI-2 Pro AE – Smart new look, same great sound

The RME ADI-2 Pro AE shares all of the same great features and functionality of its namesake, including two servo-balanced analogue inputs on combo XLR/ TRS jacks, two separate balanced and unbalanced outputs on XLR and TRS, two stereo 'Extreme Power' headphone outputs on the front, an optical SPDIF I/O that also understands ADAT, plus coaxial SPDIF (RCA) and AES I/O (XLR) via an included breakout cable, and class-compliant / plug and play use with a Mac or PC via USB.
There's also a a high-resolution frequency analyser and metering, plus an onboard 5 band parametric EQ for tuning your headphones, with the ability to store up to 10 EQ states, so you can create the perfect EQ curve for each pair of headphones you own.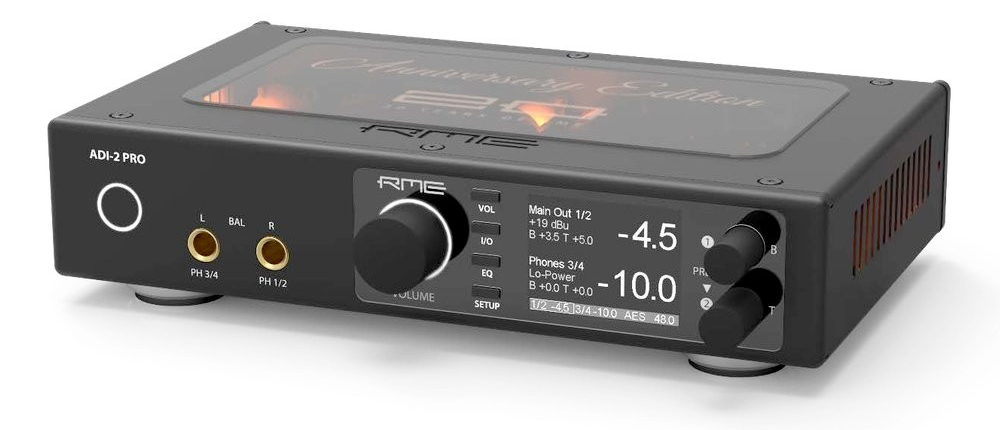 On top of this, the left and right channels can be EQ'd independently of one another – perfect if you have hearing problems in only one of your ears!
UK customers can also benefit from a 5 year warranty, which is included as standard on all RME products when purchased from an authorised UK dealer.
Find out more about the RME ADI-2 Pro Anniversary Edition
Find out more about the RME ADI-2 Pro
---
If you'd like to know more about RME's pro audio solutions, give us a call on 01727 821 870 to speak to one of our team or to arrange a demo.
You can also get in touch with us via our contact us page.