RME MADIface USB in use for Gianni – Musical theatre by Brandt Brauer Frick and Martin Butler

Gianni is a musical theatre production celebrating the work of Italian fashion designer Gianni Versace, which premiered on October 1st 2016 at the Tischlerei of the Deutsche Oper Berlin. The show's audio needed to be captured as a multi-track for creating video, and to give the production team the option of releasing a live album. To find out more about how the show's audio was handled, Synthax spoke to engineer Jan Brauer (of Brandt Brauer Frick) about how the RME MADIface USB was used for recording and playback duties.


Recording every single channel with only a MADI interface

To start with, Jan provided an overview of what the team was looking to achieve with Gianni. "The themes are desire and adoration, the promise of youth and beauty, the trappings of power and riches and auguries of unlimited sexual potency. Fashion can be defined as the presentation of the individual in an everyday setting, a presentation in which semblance merges with reality. It is also the international world of runways and supermodels. A designer will be hailed as the high priest of this world if he can promise to fulfil an existential expectation of happiness and do so in a way that appeals to the spirit of the times."
"Gianni Versace was one such high priest, yet there have been few other cases of star designers where such a meteoric rise has been followed by such an abrupt and tragic end. His path from Calabrian tailor and buyer of fabrics to fashion empire mogul ended with his murder by male prostitute and serial killer Andrew Cunanan outside Versace's villa on Ocean Drive, Miami."
"The show is a parable of Versace's rise and fall using the format of a voguing ball, hosted by Amsterdam voguing queen Amber Vineyard. The GIANNI ensemble also features Alexander Geist, the new "Boy Hero" of Pop, soprano Claron McFadden and Seth Carico, a member of the ensemble of the Deutsche Oper Berlin."
The show's soundtrack is a mixture of vocals, drums, percussion, electronic instruments and piano, with 48 channels in total being fed from the mixer (40 inputs, plus 8 FX returns) to Jan's laptop. To act as the link between console and DAW (Nuendo), Jan opted for the RME MADIface USB, a compact MADI interface that allows for the transfer of up to 64 channels of audio (at 24 Bit, 44.1 / 48 kHz) each way via USB.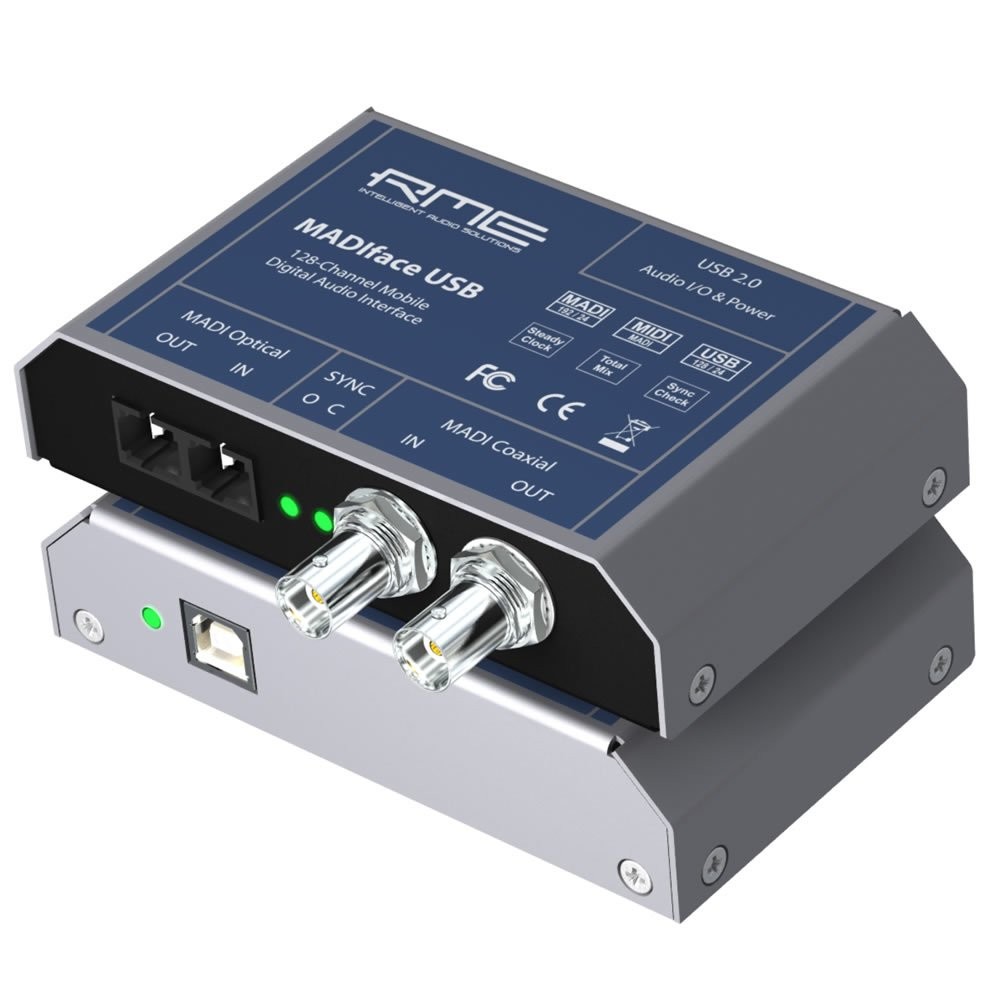 This simple, cost-effective and highly portable solution does away with the need for the expensive and physically heavy analogue multicore cabling. MADI optical cabling can also be used up to 2km (with coaxial cable effective up to 100m), making it perfect for recording and playback systems in locations such as theatre, festivals, outside broadcast etc. The MADIface USB features both optical and coaxial I/O, making it an ideal solution for touring engineers who need to connect to a wide range of mixing desks when switching venues.
"I knew that I would be easily able to record
every single channel with only a MADI interface."

"The in-house console was a Soundcraft Vi-1 which handles up to 64 channels, and the physical input channels as well as FX returns from within the console are all sent to the MADIface USB right after the head amp gain section and pre-processing, which is the classic "direct out" you want for a multi-track recording."
"The optical MADI interface for the Soundcraft Stage Rack was bought earlier by the Tischlerei for broadcast multi-tracking, convincing me once more that MADI is the industry standard. So after I got that information from the in house sound engineer, I felt much better since I knew that I would be easily able to record every single channel with only a MADI interface. An analogue routing would not have been possible due to the consoles limited analogue outputs. This is why we decided on the RME Madiface USB to record GIANNI. The interface is easy to use, easy to carry and quickly set up, so I felt quite flexible during the whole production. Plug, patch, play!"
"The interface is easy to use, easy to carry and quickly set up,
so I felt quite flexible during the whole production. Plug, patch, play!"

By routing the MADI-stream back out to the FOH console, Jan also found he was able to quickly monitor the multi-track over the PA. "The MADI Rack was placed right on stage right next to where I stand during the show. Before every show, I would connect the Madiface to my laptop and start Nuendo to do the recordings. Since I was using a 2 channel optical connection, the setup was immediately ready to play the recordings back into the FOH console, which became very handy for listening back to the takes during rehearsals."
Who else is using the RME MADIface USB for live?

The MADIface USB continues to be a popular choice for live engineers, with Synthax Audio UK having also recently spoken to Oliver Waton, Monitoring and Systems Engineer for Emeli Sandé, who's using the RME MADIface USB as part of Emeli's playback system.
There's also Peter Gabriel's FOH engineer Ben Findlay, who used the MADIface USB for recording and mixing "authorised bootlegs" of each night's performance, as well as Annette Guilfoyle, who used the RME MADIface USB whilst working on tour with Goldfrapp. By working with material recorded from previous shows, Annette used the MADIface USB to perform virtual sound-checks, with previously recorded material outputted to the venue's console – a very useful trick for helping to speed up show setup times!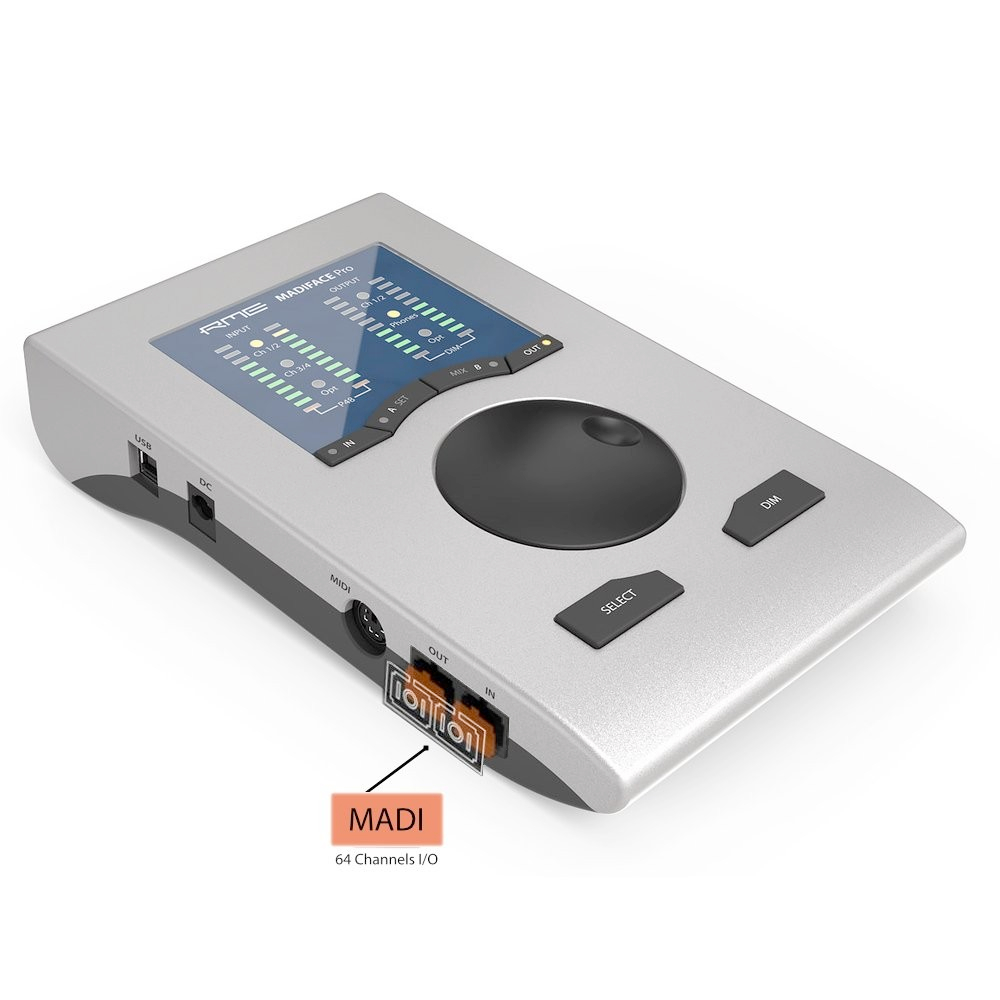 RME MADIface Pro – Portable Desktop Audio Interface With MADI I/O

RME's latest addition to their line of portable MADI interfaces is the RME MADIface Pro, which brings together the high-channel count of the MADIface USB and combines it with RME's popular desktop interface, the RME Babyface Pro. Using the same form factor as the Babyface Pro, the MADIface Pro replaces the ADAT I/O with MADI optical I/O, increasing the channel count to 136 channels (64 in / 68 out).
The MADIface Pro also gives you access to TotalMix FX, with a high quality digital EQ on every channel, reverb and delay send effects, and unlimited routing and mixing capabilities. Other features include the addition of analogue I/O (Mic, Line, Instrument), MIDI I/O, and 2x headphone outputs (for low and high impendence headphones) for direct monitoring.
This article has been adapted from the original which appeared on Synthax Inc.
Find out more about the RME MADIface USB
Find out more about the RME MADIface Pro
---
If you'd like to know more about RME's pro audio solutions, give us a call on 01727 821 870 to speak to one of our team or to arrange a demo.
You can also contact us here.