First announced at NAMM 2017 earlier this year, the RME ARC USB controller & the RME Digiface USB interface are now available to buy in the UK.

RME ARC USB (Advanced Remote Control USB)

The RME ARC USB is RME's new control surface that provides quick access to all of the most used functions in TotalMix FX, RME's comprehensive routing and mixing software that's included with all RME audio interfaces.
The ARC USB is the perfect companion for the recently introduced Fireface UFX+ and UFX II audio interfaces, which both feature a dedicated onboard connection (for standalone operation). At the same time, the remote can be also be used with any RME interface that is compatible with the latest RME drivers – this includes a range of USB and Firewire interfaces, plus PCI and PCIe cards, dating all the way back to 2001!
Operating as a UAC 1 class devices, the new ARC USB is natively compatible with Mac and Windows based systems. The ARC USB is a Plug 'n' Play device, so as soon as the ARC USB is detected by the operating system, you'll have immediate control over TotalMix FX. It's also bus-powered, so no external power supply is required. Also, because the ARC USB uses the USB 1.1 protocol, USB 2 cables can be used to a distance of up to 10 m. If you want to control your interface at an even greater distance, RME recommends using active USB 2 cables (extension or repeater cables), which are both inexpensive and can work up to lengths of 20 m or more!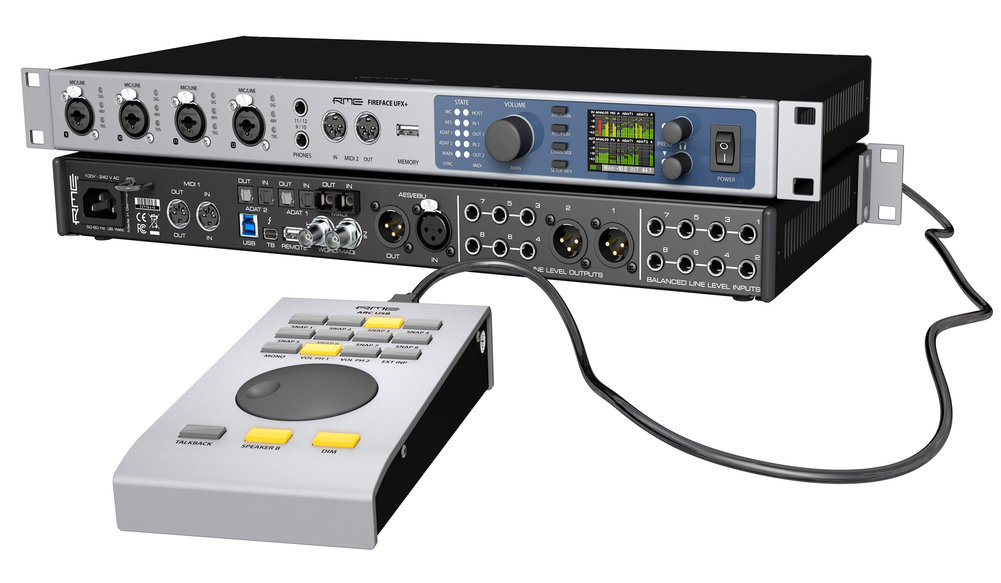 In use, the ARC USB is both intuitive and versatile. Features include a jog wheel for making parameter adjustments; 15 illuminated, freely assignable buttons; plus a TS (Tip / Sleeve) connection for a foot switch, which is also freely assignable. You could use it as a remote Talkback switch for example; as a Global Mute switch; a Dim switch (reducing your main output by a predefined number of dB); or as a Speaker B select, for switching between your main monitors and a second pair of speakers.
On top of this, the ARC USB can also be used to control multiple RME units simultaneously. When more than one RME interface is connected to the same computer, each interface gets its own dedicated TotalMix FX window. By accessing the Key Commands menu of each window, the ARC USB's function keys can then be set to control functions on any of the devices you have connected. Once set, the keys and encoder wheel will control the assigned functions of the respective interfaces, without needing to further select anything else.
The RME ARC USB is another intelligently designed product from RME, designed to give you quick access to all of the most-used functions of your RME audio interface. The combination of a jog wheel and user-definable buttons will allow you to maximise the potential of your RME device, helping to streamline the workflow of musicians, producers and audio engineers.
The RME Advanced Remote Control USB is available now.
Find out more about the RME ARC USB
Watch the video from NAMM 2017 –
RME Fireface UFX II – RME ARC USB – RME Digiface USB
RME Digiface USB – The Optical Box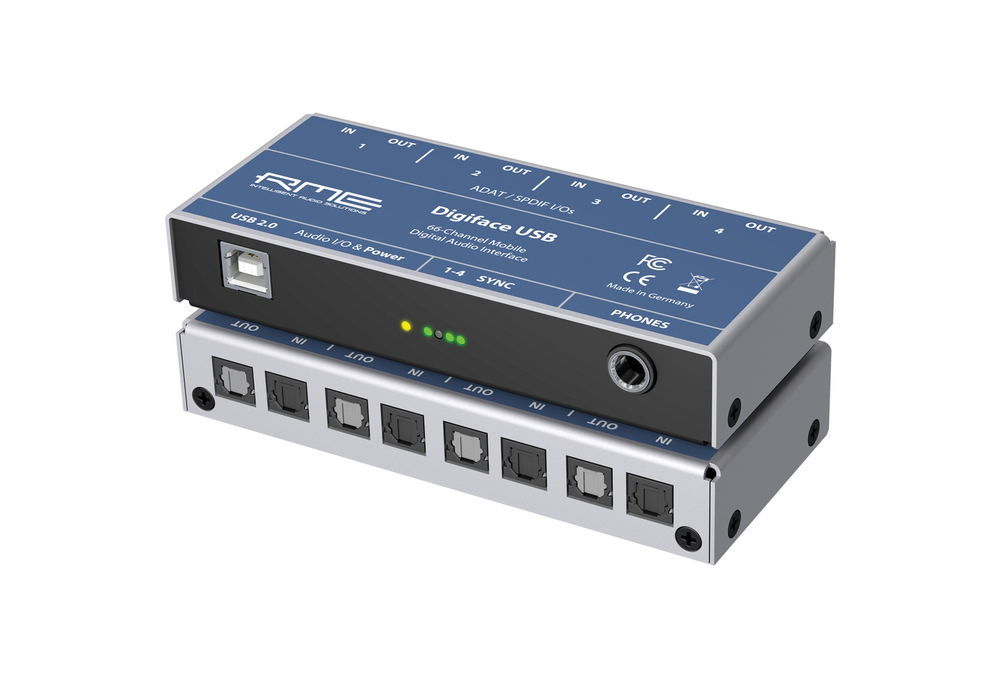 The RME Digiface USB is a compact, lightweight and highly portable audio interface for transferring digital audio via ADAT and S/PDIF to Mac and Windows computers. Building on the success of RME's HDSP Digiface, a triple ADAT I/O PCI card, the new RME Digiface USB provides a simple method of connecting your ADAT and S/PDIF equipment to a computer via USB 2.
As a class compliant device, the Digiface USB can be connected to any computer for immediate use (Plug 'n' Play). Equally, RME's robust drivers can also be installed to provide access to TotalMix FX. As the Digiface USB does not have DSP there is no FX section, but all other monitoring, routing and mixing capabilities can be used as per other RME audio interfaces.
This unique little box will be great for anyone who wants a quick an simple way to add a bunch more analogue channels to their setup – you could combine it with an AD/DA Converter such as the Ferrofish A32, or add more microphone inputs with a high-quality preamp such as the RME Octamic II.
In comparison to the HDSP Digiface, the Digiface USB also provides an additional set of optical I/O, with a total of 32 channels in and out via the 4x ADAT I/O (which is also S/PDIF compatible). The Digiface USB is also bus-powered over USB, so no external power supply is needed, and features a high-quality analogue line / headphones output, allowing for direct monitoring of all incoming and outgoing audio signals. This output is represented as channels 33+34, control of which is accessible via TotalMix FX.
Each optical port can transfer up to 8 discrete channels of audio (ADAT), or a stereo signal when operating as S/PDIF. The Digiface USB also supports both SMUX and SMUX4, allowing for 8 channels of audio at 192 kHz via the 4x ADAT (or S/PDIF) on both inputs and outputs. The inputs automatically detect what format the incoming signal is presented in (ADAT or S/PDIF), whilst the format for each output can be selected by the user.
With its small size, light weight, USB bus-powered operation, stereo analogue output for monitoring, and TotalMix FX operation, the RME Digiface USB is a simple yet versatile solution for connecting your ADAT or S/PDIF equipment to your studio or live rig.
The RME Digiface USB interface is available now.
Find out more about the RME Digiface USB
---
If you'd like to know more about any of RME's range of pro audio solutions, give us a call on +44 (0)1727 821 870, or contact us here.