We open the first RME ARC USB to arrive in the UK

Here at Synthax Audio UK we were lucky enough to get our hands on the first RME ARC USB (Advanced Remote Control) in the country, so we thought we'd put together an unboxing video to show you "what's in the box'. First announced at NAMM earlier this year, the ARC USB is RME's new control surface that provides quick access to the functions of TotalMix FX, RME's comprehensive routing and mixing software, that's included with all RME interfaces. It's also an update to the original RME ARC which has now been discontinued, and features improvements over it's predecessor such as the addition of a foot switch, and more freely assignable buttons (which now light up too).
Watch the RME ARC USB unboxing video

See more videos at Synthax TV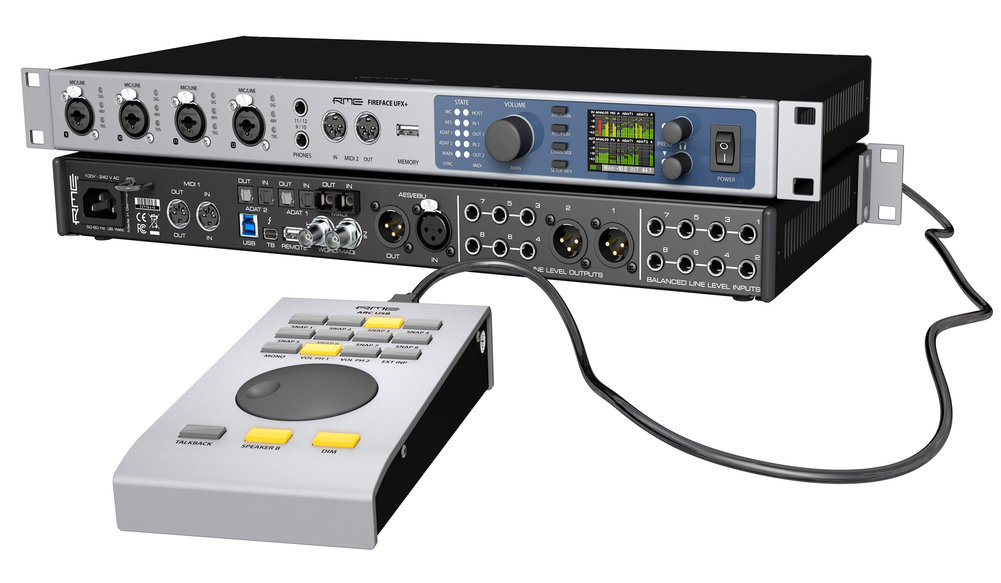 Both the new RME Fireface UFX+ and Fireface UFX II audio interfaces feature a special USB connection on their rear panels, for connecting the ARC USB directly (and for controlling each interface in standalone mode). At the same time, RME have also made the ARC USB backwards compatible with a wide range of RME interfaces and soundcards (dating all the way back to 2001). So if you're the owner of an RME Firewire or USB interface such as the Fireface 400, 800, UFX, UC, UCX, 802 etc, then the ARC USB will also work perfectly with your device.
The 14 buttons can be assigned to control whatever functions you like in TotalMix FX, so you can customise the ARC to suit your preferred workflow. You also have the jog wheel for making adjustments to parameters (such as volume and channel gain), plus a TS (Tip / Sleeve) connection for connecting a foot switch (you could use it for remote talkback, or switching between sets of speakers for example).
Find out more about the RME ARC USB
---
If you'd like to know more about any of RME's range of pro audio solutions, give us a call on +44 (0)1727 821 870, or contact us here.