Musician and Producer Phil Greiss recently took the RME ADI-2 Pro headphone amp and USB-DAC for a test-drive. Having spent some time exploring the many features on offer, he gives us his thoughts on RME's finest sound converter to date.

The RME ADI-2 Pro continues to receive both critical and commercial success, thanks to it's combination of flexible features like onboard EQ for adjusting the balance of headphones; powerful headphone amplifiers with 1.5 W per channel, cabaple of driving headphones of all impedances; and incredibly precise audio reproduction (including sub bass frequencies as low as 5Hz!).
The critical response has been extremely positive, with Sound On Sound describing the ADI-2 Pro as delivering "similar technical performance to units costing significantly more, while offering greater flexibility and a useful suite of high‑quality digital processing."
We've also heard great feedback from end users too, such as HiFi enthusiast Robert Slowley who told us "you will be able to hear detail and micro detail in your favourite tracks that you just haven't heard before. I guarantee it will absolutely blow your socks off".
So we're pleased to bring you another user review, this time courtesy of musician, producer and mix engineer Phil Greiss, who's been putting the ADI-2 Pro through its paces in his studio, giving his opinion on the sound quality and comparing it with some of his other high-end converters.


RME ADI-2 Pro User Review By Phil Greiss

Kudos to RME for their latest jewel, after a few months with it I can really say the unit exceeded my expectation both in DA performance +headphone amplification and functionality.
First with such a powerful headphone amp, I found low end information to be more discernable (not louder, not fatter, "discernable/clearer/more effortless restitution) than usual, on the same pair of cans I would normally use on a different interface.
It allowed me to work at a lesser volume than I normally would if I were to make decisions down there while stuck with a pair of cans on the road or in a hotel room. To me this was reminiscent of coupling a very powerful amp with NS10's (Like a 300W Bryston 4b / sst) in order to get a usable low end out of boxes that are normally pretty shy under 100-150 hertz when amped to spec (with a 60/100W Bryston 2b for example).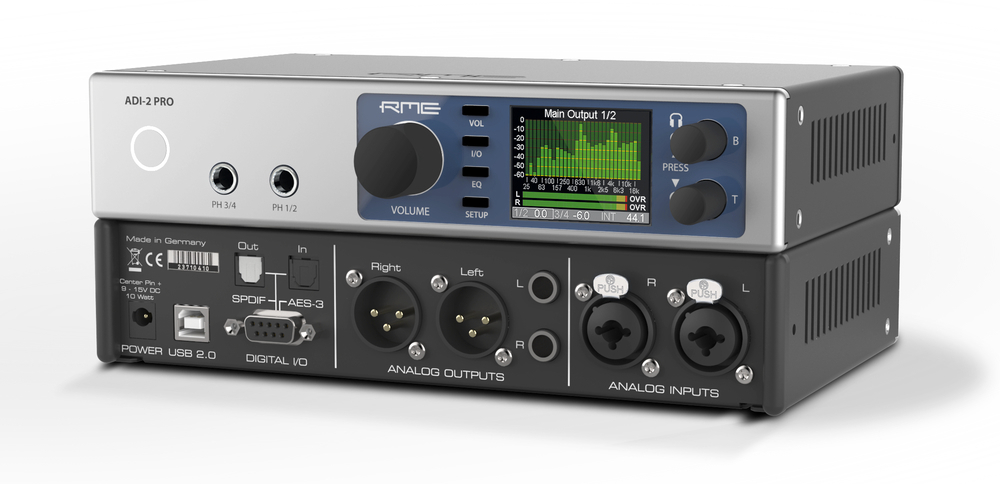 The RME ADI-2 Pro Headphone Amp and USB-DAC
The restitution of the mids and highs were really precise and dimensional, giving me way to make easy decisions when dialing EQs and effects on a vocal while mixing at the studio. I ran the unit against my Auroras and my Lavry Blue converters, the ADI-2 Pro belongs in that category of converters. Great imaging, revealing low, mid and top restitution, very high end conversion.
The game changing feature for me is the ability to correct the output of the ADI-2 Pro using the integrated very high quality 5-band parametric EQ. This feature on its own is worth the price of the unit because no matter how good a unit, the resulting sound is always subject to room properties/anomalies and the ADI-2 lets you address this directly from within the unit. I spent some time marvelling at how bad some modes were resonating in a particular room and how I was able to tame some nasty modes quickly, by ear, using a tone generator and sweeping in the problem area until the signal became more even.
All in all, difficult to look back after a few months spent with it…
Great job RME
Phil Greiss
Our thanks to Phil Greiss. To find out more about his work as a producer and engineer, visit his homepage here, or connect with him on Facebook here.
Find out more about the RME ADI-2 Pro
---
If you'd like to know more about RME's pro audio solutions, give us a call on 01727 821 870 to speak to one of our team or to arrange a demo.
You can also contact us here.