Tracktion and Socalabs release four new freeware plugin emulations of audio hardware from classic games consoles.

Tracktion programmer Roland Rabien has developed four new plugins, emulating the audio hardware found in classic games consoles the Nintendo Gameboy, the Nintendo Entertainment System (NES), the Commodore 64 and the Sega Master System. Each plugin features a single UI page and aims to stay true to the original chip it emulates, with nothing added to the feature set.
As a free set of plugins, this download pack is a no-brainer for lovers of retro sounds and chiptune artists. And with a recent upsurge in the popularity of retro-style games (particularly for tablets and smartphones), these plugins could also make a useful starting point for composers and sound designers who are working on old-school gaming soundtracks.
The sonic characteristics of the original sound-chips have been faithfully recreated, allowing you to reproduce the authentic gritty sounds of games from Nintendo, Sega and the C64 (check out the crunchy, lo-fi noise generators found on the Gameboy, NES and Master System emulations), with simple controls for adjusting the volume, amplitude, pitch, pulsewidth etc.
So if you're looking to inject some 8-Bit sounds into your music production, head over to Tracktion's website, where you can also listen to audio examples. All four plugins can be downloaded as a single pack, with each one available in VST, Audio Unit and Linux VST formats, and support for 32-Bit and 64-Bit hosts (Mac and PC).
Download the Tracktion / Socalabs 8-Bit Treats Plugin Pack
Find out more about Tracktion's DAW Software & Plugins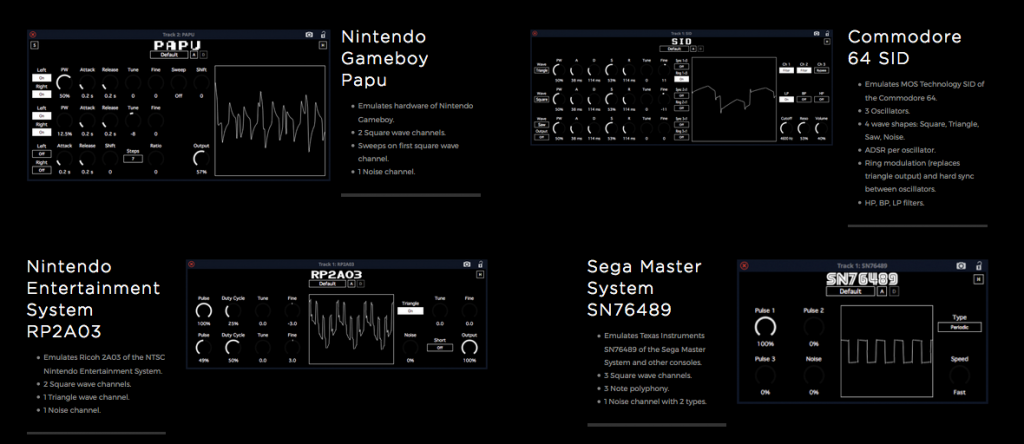 ---

If you'd like to know more about any of the products in the Tracktion range, give us a call on 01727 821 870 to speak to one of our team, or visit www.tracktioneurope.com.
You can also contact us here.