Thanks to everyone who stopped by the Synthax Audio UK stand at SoundPro 2017

Big thanks to everyone who came to visit us at SoundPro 2017. Hosted by Resolution Magazine in Ealing Town Hall in London, this year's event featured showcases from pro audio manufacturers, distributors, dealers and service providers, with representatives on hand to demonstrate the latest microphones, loudspeakers, controllers, converters and audio interfaces.
The exhibition provided a great opportunity to network and socialise with other members of the industry, attracting freelance engineers, location sound recordists, production sound operators, sound mixers and students with an interest in broadcast, film, TV, post and game audio.
Along with providing a platform to check out the latest gear, SoundPro also featured a selection of guest speakers discussing topics like recording location sound, dialogue and foley. There was also a series of practical demonstration sessions from the Institute of Professional Sound, who this year are celebrating their 40th Year Anniversary.
Members of the Synthax Audio UK team were there with a selection of our favourite products from our brands, including Appsys ProAudio, Ferrofish, Icon, MicW and RME.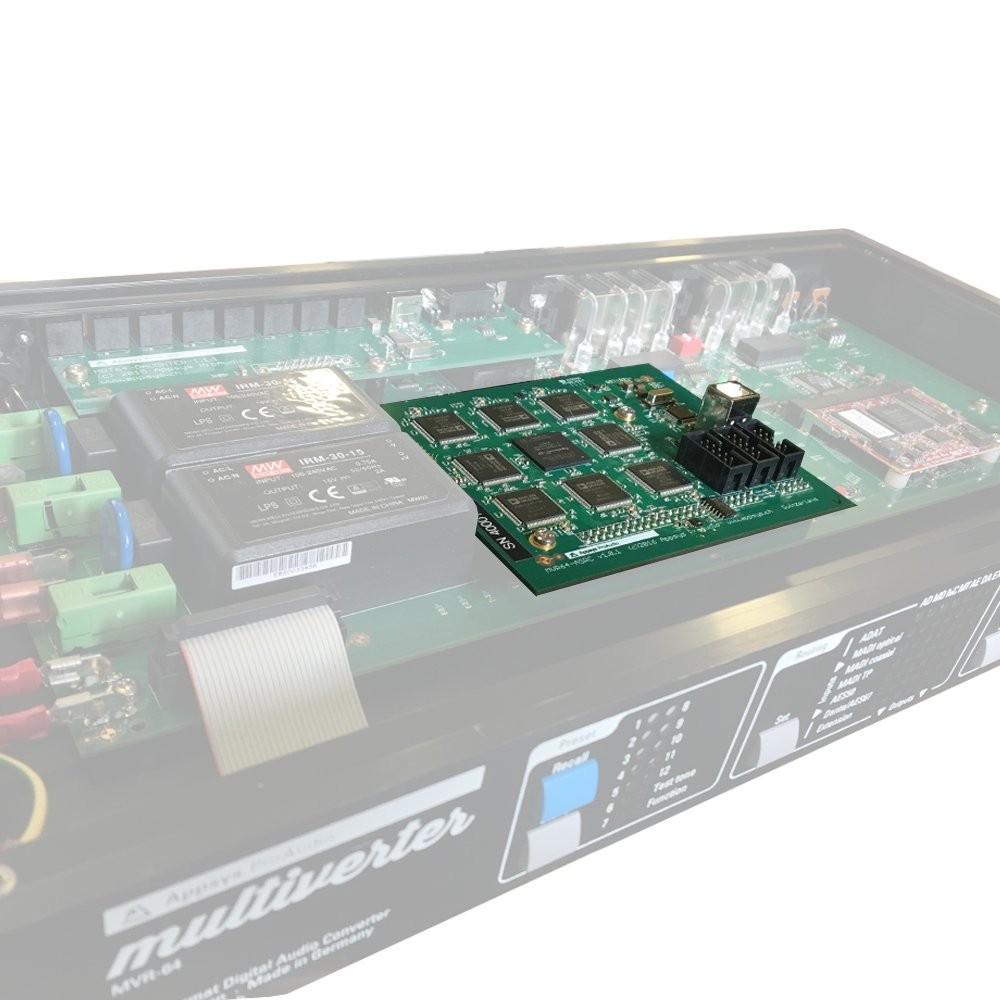 Appsys Pro Audio Multiverter & SRC-64 (Sample Rate Converter)

The Appsys ProAudio Multiverter is a digital format converter that features support for ADAT, MADI, AES50 and Dante/AES67 (with more in the pipeline via breakout cables) at sample rates of up to 192kHz. It can act as a master clock, includes word clock I/O and can be slaved to other digital devices. Triple redundant power supplies provide an unprecedented level of failsafe, with even the option to battery power via industry standard 4-pin XLR battery packs.
Appsys also recently launched the SRC-64, a user-installable upgrade that adds considerable sample rate conversion capabilities to the Multiverter.
Find out more about Appsys ProAudio
Ferrofish A32 Dante & Verto Series Converters

The Ferrofish A32 Dante adds Dante connectivity to the already extensive I/O of the Ferrofish A32 AD/DA Converter. With 32 analogue inputs, 32 analogue outputs, MADI, ADAT and Dante functionality, plus redundant power supplies and internal routing, the Ferrofish A32 Dante packs an incredible level of functionality into a 1U box.
Also featuring at SoundPro was the new Verto Series, Ferrofish's latest range of format converters. Taking up only 1/2U of rack space, the Verto Series come in three different types and provide a simple method of integrating ADAT and MADI devices into existing Dante networks.
Find out more about Ferrofish Converters


Icon Pro Audio – Platform M+ & D2 Display

Icon Pro Audio have been making a name for themselves with their range of cost-effective USB-MIDI controllers. Featuring motorised faders for easy recall of mix and project settings, the Icon Platform M+ controller is a compact desktop mixing controller that's great for mobile setups or where space is at a premium.
When used with the attached D2 display (sold separately), information such as channel names, level and pan settings can be viewed at a glance.
Find out more about Icon Pro Audio Controllers
MicW Microphones & 3D Recorder Kit

MicW is a Chinese manufacturer whose measurement microphones are extremely popular in the Far East. Designed to work with iPhones, smartphones and GoPro cameras, the MicW range are regularly cited as having both excellent sound quality and strong durability.
MicW recently added the MicW 3D Recorder Kit to their range, which we had great fun exhibiting at SoundPro. This ingenious mic and soundcard set provides a simple and compact method of making 3D and binaural recordings with an iPhone!
Find out more about MicW Microphones
RME Fireface UFX+ & MADIface Pro

The RME Fireface UFX+ is RME's latest flagship audio interface, and the first from RME to feature USB 3, Thunderbolt and MADI Connectivity. The UFX+ features everything we've come to expect from RME, with crystal-clear AD and DA conversion, unlimited routing between inputs and outputs with TotalMix FX, simultaneous backup recording with DURec, and fully comprehensive standalone operation.
We also took along the RME MADIface Pro, which combines MADI capabilities with the popular RME Babyface Pro audio interface, resulting in a compact desktop interface with 68 inputs and 68 outputs. We recently spoke to Sound Supervisor Pete Cowasji, who's using 5x RME MADIface Pros in his work recording location sound for TV shows like Top Gear, Geordie Shore and Single AF.
Find out more about RME Audio Interfaces
Thanks to everyone at Resolution for putting on the event and to everyone who stopped by for a chat! If you'd like to know more about any of the products we had on show, give us a call on 01727 821 870 to speak to one of our team or to arrange a demo. You can also contact us here.
For more information about SoundPro, visit www.soundpro.org.uk.