Immersive Audio specialist Marco Perry speaks to us about large-scale audio installations, designing and mixing spatial audio experiences, and using RME M-Series AD & DA Converters

Marco Perry is a London based composer, engineer and producer with over 30 years experience in recording, mixing and live music. His company Immersive Audio specialises in creating spatial and 3D audio installations for events, performances and venues around the world, regularly collaborating with the likes of Bjork, Rob Del Naja (of Massive Attack), Chris Levine (Canadian Lighting artist) and production engineer Tyler LeDent, and the Eden Project.
Marco's mobile setups frequently include a selection of RME M-Series Converters, and his studio in London is kitted out with with RME MADI cards. Having recently finished a number of events, including a large-scale installation at the Dark MoFo Festival in Tasmania for Chris Levine's iy project, Synthax Audio UK spoke to Marco about his approach to 3D sound, and to get his opinion on the evolution and future of immersive audio experiences.
Tasmanian Devils – RME M-Series Converters At Dark MoFo Festival 2017

"I sourced the sound system locally from the very helpful and sympathetic Nick Morse at PLMS in Hobart" Marco told us. "Each tower with an 8 box hang of D&B including flown subs plus infra subs on the floor."
"ER Productions delivered a metric ton of lazers, hazers, foggers, LED's control systems etc. Another 150KG's of our audio control gear was flown in from London. The Immersive Audio Ltd London team designed special software for sound control and object based audio in the installation."
"The soundscape for this was created with my long time musical collaborator David Clayton and Rob Del Naja from Massive Attack. Chris and Ty worked together to choreograph the One hour laser program, which was synched to our audio."
"I began in my London production studio where we have a 43 loudspeaker production and mix rig, which can be configured appropriately for any spatial audio production and mixing work. The AD and DA conversion is always performed via RME M-Series converters, firstly due to the sound quality, but also the reliability too."
"Ultimately as usual, on site live mixing was required to best decode the audio program on this extraordinary sound system. Hobart winter nights in June are c…c…cold! Fortunately, I was able to set up a temporary studio in a nice warm ground floor office overlooking the site, and to refine the content on a 3-point Jerry rigged loudspeaker system. When I was confident with the parts and had experimented with additional performance effects, I moved a mobile audio control system to the centre of the circle and mixed the whole piece live from there."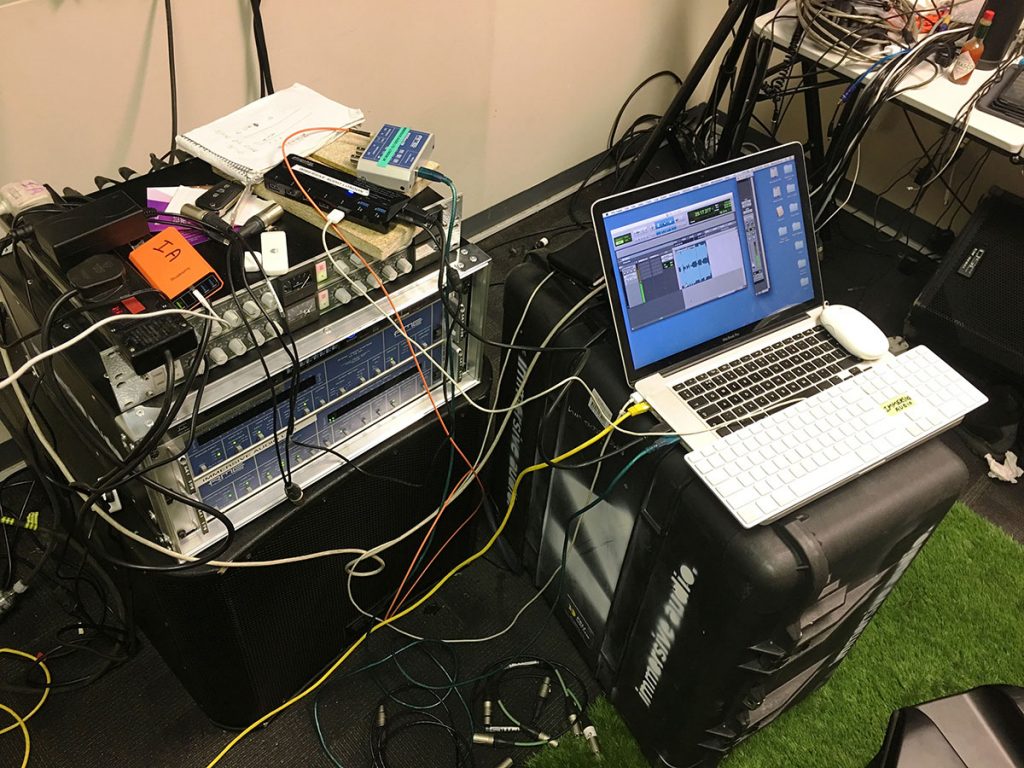 "I recorded this performance with all the live desk and effects feeds. These movements and the object pans and levels then became the basis for the subsequent one-hour playback performances of the work, 4 times a night at the festival. We were still able to tweak both the audio and the visual program whilst running it live – both Tyler [LeDent] and myself made further adjustments along the way. It is indeed a work in progress both in art and tech."
"I was also required to design and produce another audio installation to be performed in a huge 40 x 120 metre-long tin shed at the dock side in Hobart. This featured a large hanging laser cross projecting end to end in the shed, and other visual effects to accompany another original sound track, again composed and produced with David Clayton using our AKA "Mighty Monks". The resulting audio production came together as a rumbling, shaking, mind-bending audio-scape journey of 20 minutes. It ran on rotation in there as a complementary piece to the outdoor composition."
"Back in London I'd finished pre-production on this, having made a guesstimate of what would work in this shed, and essentially I was balancing and mixing the parts and stems I'd created in object based audio, which I did on site. Again I used custom software, built for me this time by my good friend and Immersive Audio Ltd colleague Mr Dave Hunt."
"This ambisonic system works well in there over a 6 point D&B system, with subs and full range boxes on poles positioned around the area. The whole shed resonates and echoes naturally like one huge living, breathing animal. The response inside the shed has been amazing, the punters genuinely affected… in really good way! Fun to observe and hear them as they walk the 200 metres over rough ground between the two art works, which are also connected by another triangular laser beams moving sculpture, fired onto the shed wall from the outdoor 3 point system towers. I love to be like a fly on the wall, and to observe reactions in any of my work. This one has been most satisfying."
Marco Perry on Immersive & Spatial Audio

Although experiments with spatial audio have be around since the 1930s, it's the recent advances in VR that's arguably driving the current interest in 3D audio. Marco was happy to give us his thoughts on this continually evolving technology.
"Large and emerging VR companies like Magic leap, along with Apple, Microsoft, AMD, Sony, Samsung HTC and all the rest including gaming companies, are most likely 90% of the driving force behind the resurgence in spatial audio interest, because positional audio information in a VR headset is important, and binaural information is useful for this in headphones."
"The Binaural algorithm specific to you can be calculated for your own HRTF (Head Related Transfer Function). This is the ability that your brain has to derive the information it receives from your ears, that let's it know where you are based on audio reflections in the environment. It will give you directional clues that tell you where a sound is coming from, going to, the acoustics of the space, and much more information besides."
"Of course there are arguments from industry pros and engineers. For my own part, I believe that a binaural decode for VR is often best derived from an ambisonic sound field, and the use of 360 degree convolution reverb is crucial to creating the experience, either static or in a real time interactive experience."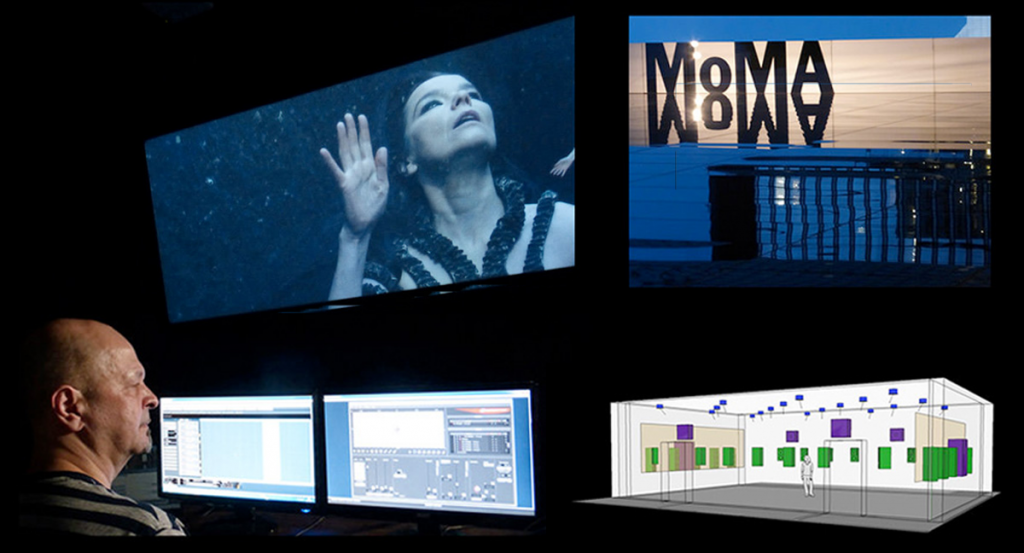 "I have worked on projects mixing for Virtual Reality experiences in my production studios, and it really is like compiling and producing content for a film. Reverb, along with delay, amplitude and panning, are an important part to the trick of convincing the brain into believing it is really in that space. This is often a neglected feature when physically moving in VR experiences. Other more static VR and also AR (augmented reality) experiences can be enhanced to work with more conventional techniques."
"Apple took the UK 2 Big Ears Company to develop their 3D audio concepts. Google and Facebook have now gone 360°, with Facebook / Oculus VR releasing their own audio visual tools for commercial use and content creation."
"Headphone companies are also re-visiting spatial audio techniques, and new ones are emerging which use multiple transducers, specifically for best binaural decoding, and even incorporating self analysing HRTF functions, so you can personalise your listening experience. For VR this is particularly useful, as we can thereby get the correct size of our individual heads dialled into the equation!"
"At Immersive Audio we can cater for all VR, AR and binaural formats. We can enhance and augment with wireless headphones, and in installations we can deploy interactive sensors and motion triggers. However, we do specialise in live amplified audio content, and where possible we prefer the ability to experience and share the moment with our fellow humans without wearing HMD's (head mountable devices)".
"I have always preferred to stay format agnostic, so on my spatial audio rig in the I A production studios in Wandsworth, we can cater for all types of audio decodes. Ambisonic, Wave field synthesis, Barco Iosono systems, Dolby Atmos, Auro 3D methods, and all surround sound types in various formats, as well as other psycho acoustic techniques, which we can decide to use to create the most appropriate sound design, for any installation of any size, anywhere. So it's become like a lab for us to try things out on our 3D audio production rig."
So, does Marco see more artists and bands using immersive audio in their live shows? "Absolutely – it won't go backwards from here! Pink Floyd were way ahead of their time, and Tangerine Dream too. It's certainly something that I believe more and more artists will want to be involved in, and I'm part of that, and it's very exciting to be so!"
"We've also seen clubs beginning to embrace immersive audio experiences. Ministry of Sound for example – I used RME to create the first Ambisonics installation in Ministry of Sound! I was actually the first to use spatial audio there, before dolby atmos, upmixing stereo to a 3D audio mix."
Marco Perry on RME Audio M-Series AD/DA Converters

"In the work I do worldwide we just can't afford to have anything go wrong, or be worried about downtime in any installation system design in multichannel audio. Rock solid reliability is an absolute priority. I'm currently working with a well known artist on the application of a live multichannel loudspeaker set up, using beam steerable loudspeakers and line arrays in a multichannel art installation, which may use up to one hundred channels of RME D/A! Whichever format or most appropriate hybrid system we create for Immersive Audio installations and events, I always choose to use Synthax supplied RME AD and DA converters."
See more videos at Synthax TV
Unlimited routing & mixing with TotalMix FX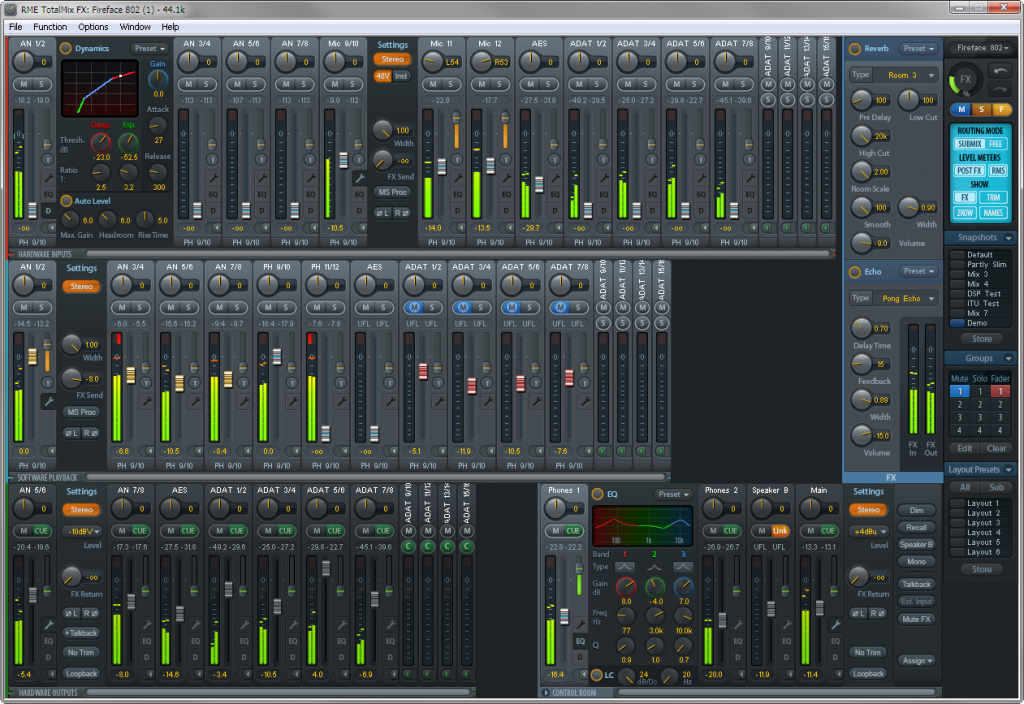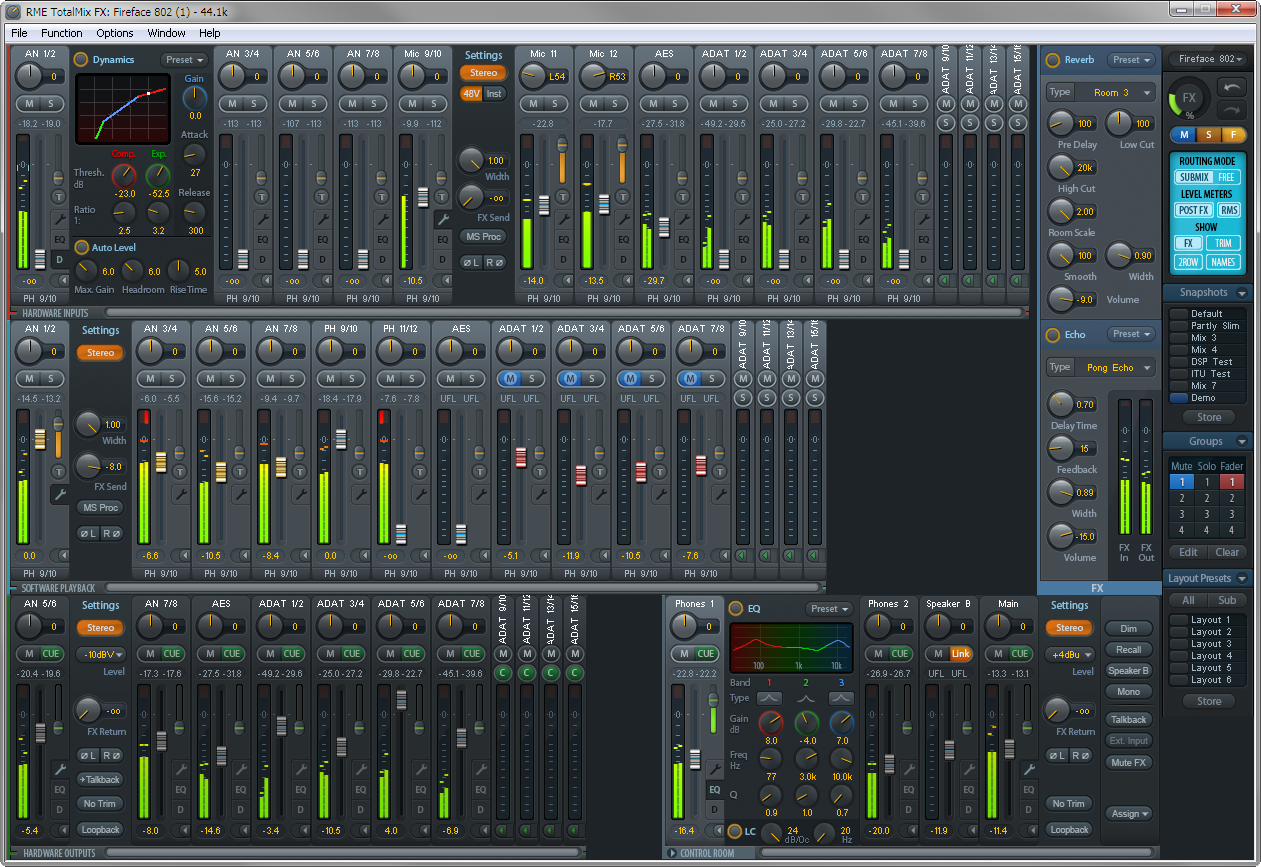 TotalMix FX is RME's comprehensive routing and mixing software that's included with all RME audio interfaces, along with RME's set of analysis tools DIGICheck. TotalMix essentially turns each audio interface into a full-blown mixing desk, complete with a 3-Band EQ plus Reverb and Delay on every channel, and unlimited routing functionality. Different sub-groups can be set up very quickly, providing individuals with their own personalised mixes, and can even be used with an iPad via the TotalMix app.
"TotalMix FX is brilliant. Once you get your head around it, it makes perfect sense. It's a really good system. There's a lot of possibilities there, and there's clearly a lot more you can do with it than what I currently use it for."
"For someone who's running a project studio or a smaller pro studio, Totalmix is a really great option – you really don't need much more, you can pretty much do it all in the box! And you can accommodate engineers who are using different software."
"Regardless of your DAW it can easily be incorporated, and when different users who are used to using different DAWs collaborate, they can use TotalMix without having to go into different routing matrixes. And that speed of workflow is of course really important!"
Our thanks to Marco Perry. Marco is a member of the Audio engineering society and the Music Producers Guild. His recent and upcoming projects include the creation of multi-channel installations in Moscow; Dubai; Houston, Texas; Skyfest in Barcelona; the Eden Project; and the BODE museum in Berlin.
You can find out more about his work by visiting www.immersiveaudio.net
Find out more about RME's professional AD and DA Converters
Find out more about RME MADI solutions
---
If you'd like to know more about any of the RME pro audio solutions mentioned in this article, give us a call on 01727 821 870 to speak to one of our team or to arrange a demo.
You can also contact us here.