Musikmesse 2016: RME have announced the launch of no less than 4 new products at this years Musikmesse in Frankfurt as part of the German manufacturers 20th anniversary celebrations.
RME MADIface Pro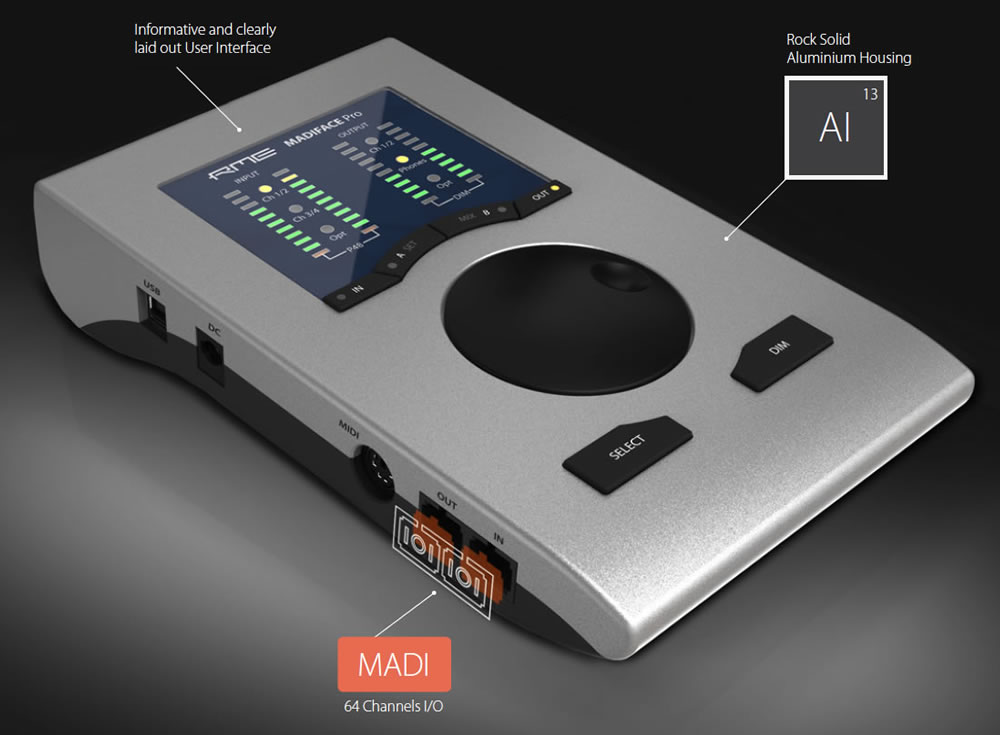 The RME MADIface Pro is a variation of the well established Babyface Pro audio interface. The MADIface Pro includes the original high-end 4 x analogue inputs (Mic, Line, Instrument) and 4 x analogue outputs (2 x XLR, 2 x headphones) found on the Babyface Pro, but the 8 I/O ADAT has now been replaced with 64 channels of MADI I/O, giving you a staggering 68 channels of I/O.
The MADIface Pro can be used in stand-alone mode when not connected to your Mac or PC. The control surface features dedicated tactile buttons and four level meter bars, along with independent storage of all current settings.
A MADI monitor feature has been included which offers a number of functions including the ability to listen to any incoming MADI channel pair.
Find out more about the RME MADIface Pro
RME Fireface UFX+
The RME Fireface UFX+ once again raises the standards of professional performance. This robust and beautifully designed 1U interface is fully Thunderbolt and USB 3 compatible with PCI Express audio performance under both Mac and Windows. The Fireface UFX+ offers a staggering 188 channels of I/O over analogue, ADAT, MADI, AES and SPDIF.
The Advanced DURec feature allows you to record up to 76 simultaneous channels via the analogue and MADI I/O, directly down to a compatible flash drive. Perfect for critical recording situations, both live and in the studio. 
The Fireface UFX+ of course guarantees RME's maximum performance, stability and ultra-low latency operation, and with all new AD/DA converters, optimised analogue I/O  circuits, as well as improved SNR and THD values, which guarantee pristine, crystal clear and transparent audio.
The new optional ARC (Advanced Remote Control) USB is also available for the Fireface UFX+. 
Find out more about the RME Fireface UFX+
RME ADI-2 Pro: High-end AD/DA converter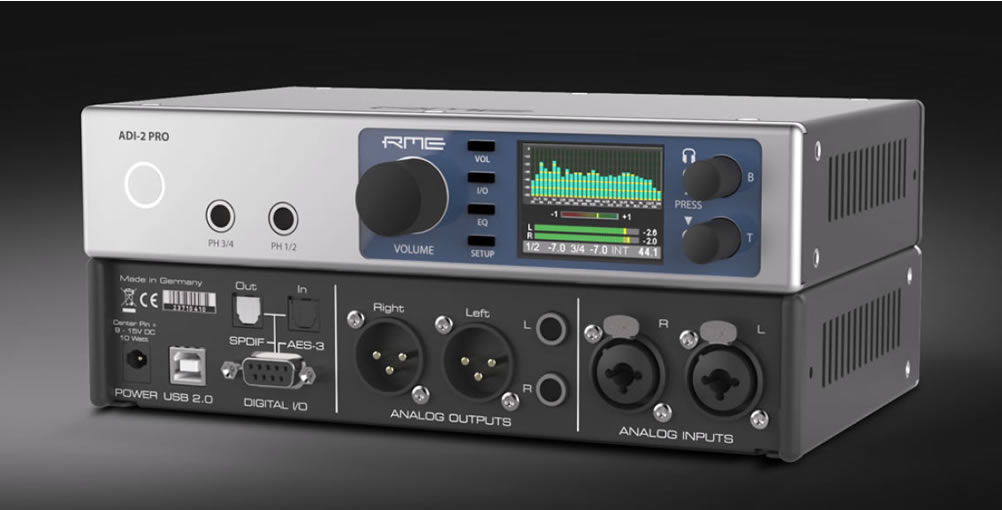 The ADI-Pro is a truly high performance AD/DA converter, USB 2.0 DAC, USB 2.0 class compliant interface and high-end headphone amplifier from RME. It's unparalleled specifications and features deliver crystal transparency and a professional performance that makes it the right choice for mastering and measurement applications as well as the ultimate tool for audiophiles everywhere.
The ADI-2 Pro combines a high-class USB DAC with a multi-format converter (AES, SPDIF and ADAT) and a superb headphone amp that features two separately controlled outputs. It supports sample frequencies of up to 768 kHz, a parametric 5-band EQ as well as low cut for all analogue I/Os allowing effective response correction for headphones and speakers.
Thanks to the excellent SNR (Signal-to-Noise Ratio) and reference-class THD (Total Harmonic Distortion), the ADI-2 Pro is perfect for both mastering and measuring systems. It is also suited for mobile use in combination with an Apple iPad. You don't even need a power outlet: An optional power bank offers up to five hours of mobile operation. The high-resolution IPS display also ensures perfect overview over all parameters.
Find out more about the RME ADI-2 Pro
RME ARC USB (Advanced Remote Control)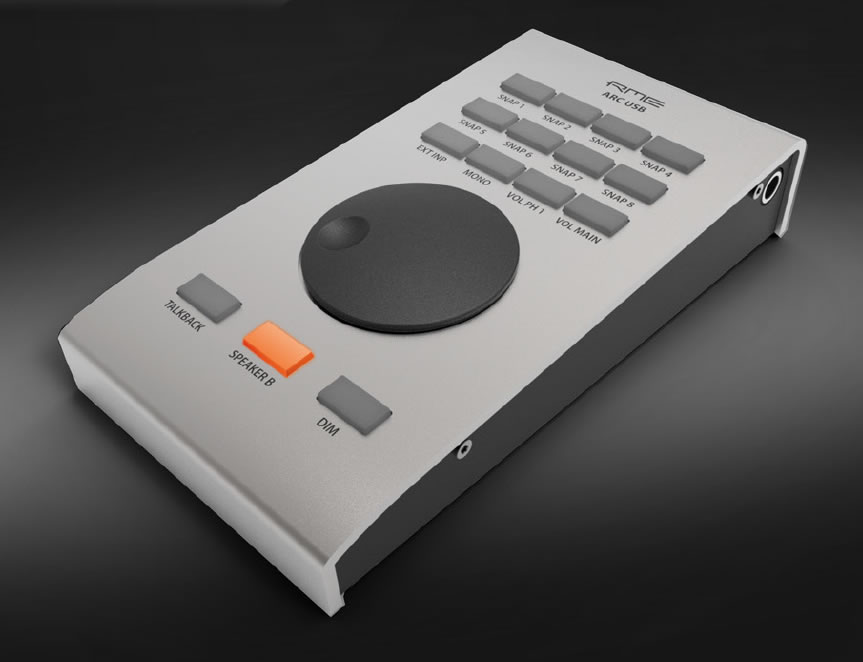 The ARC (Advanced Remote Control) USB is RME's new control unit for easy and tactile operation of TotalMix FX. It's optimised to be used with the new Fireface UFX+ and offers intuitive control over the DSP-based routing and effects section.
The RME ARC USB can be connected via USB to your computer (Mac OS / Windows) or directly to the Fireface UFX+ when employing the stand-alone mode. The control unit features a jog wheel, 15 freely assignable, illuminated buttons as well as a connector for a foot switch that can be assigned individually. The RME ARC USB will also simultaneously  control multiple units.
Find out more about the RME ARC USB
If you are lucky enough to be at Musikmesse, Frankfurt, make sure you stop by the stand in hall 9.1, booth D21 to see the new products, and help RME to celebrate 20 years of innovation in pro audio design and manufacture.  We've also heard a rumour that they will be giving away a Babyface Pro everyday on the stand, so make sure you enter their on-stand competition.