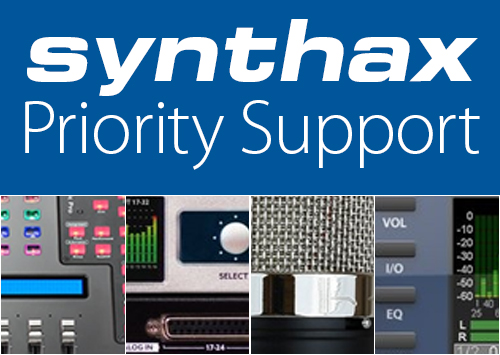 Supporting our customers has always been a priority for the team here at Synthax Audio UK. But there are times when support is delayed while we try and verify that the customer has bought the product from an authorised UK dealer. So, we've been looking for a solution that will help those of you needing timely support, and we now have the answer.
We are pleased to announce that we can now offer our Synthax Audio "Priority Support" to anyone who has bought any of our distributed products from one of our authorised UK dealers. All you need to do is register your new product at www.synthax.co.uk/register and you'll get:
Priority Support – If you need help with your product, simply complete our support form, tick the box marked "Priority Support" and you'll jump to the front of the queue.
Product Notifications – We'll notify you as and when new updates, firmware, etc. become available for your registered product.
Exclusive access to offers and events – You registration will assure that you will be one of the first to receive any special offers and to be invited to our key events.
It's FREE – That's right, this service is absolutely free to those who have bought from one of our authorised dealers and has registered their new product on our website at www.synthax.co.uk/register
So, make sure that you register your product today.
Please contact us if you have any questions about our Priority Support or want to arrange a demo for any of our products.