'Roaming band' NOMAD and Eastwood Records creates the first 360° music video to use dynamic spatial audio with head tracking.
Eastwood Records is a production company run by London-based producer and engineer Myles Eastwood. Having studied Music at Cambridge, Myles has carved out a niche for himself as a versatile location recording specialist, working with artists and bands across a wide range of genres, from classical to bluegrass, and capturing performances in venues around the UK and beyond. Offering a variety of services including remote recording, mixing and mastering, Eastwood Records recently created the first 360° music video to use dynamic spatial audio with head tracking, creating a fully immersive and interactive experience for the viewer. The result is part of the company's DynaMix™ service, with potential uses extending to drama, dance, art installations and sound design as well as music videos.
The video features the band NOMAD, one of the UK's only amplified 'roaming bands' (if you've not heard the term before, you'll understand when you watch the video!), and was recorded live with an RME MADIface Pro audio interface and RME Micstasy preamp. Make sure you're wearing headphones to get the full experience, and use your mouse or a VR headset to look around as the action unfolds – you'll notice how the direction of each musician's playing changes in time with your movements!
Myles also gave us a run-through of how the audio was recorded – scroll down to find out more.
Recording a 360° music video with RME
"We wanted to record a live 360° music video to showcase the interactive performance style of an amplified roaming band called NOMAD," Myles tells us. "Technically I was keen to combine conventional multitrack techniques with more advanced elements of spatial audio. The venue we chose was The Postal Museum in London, which has an underground section called Mail Rail."
"I ran eight channels through the Micstasy linked to a MADIface Pro. A MADI setup was important because we weren't sure how far we'd have to position ourselves from the band (there's no getting away from a 360° camera!), and there were lots of potential sources of interference from the lighting and building works going on. Also the Micstasy's LED meters looked great on set!"
If you're not familiar with MADI, this digital audio format allows for the transfer of up to 64 channels of audio via a single cable each way. Connections are made over coaxial cabling or via optical fibre, with a range of up to 100m via coax, and up to 2km via optical! This occurs with no deterioration in sound quality, and with minimal latency. MADI is also unaffected by interference, so you don't need to worry about power supplies or cables causing problems with your signal. The cabling itself is also far cheaper than traditional analogue multicore cabling, not to mention incredibly light-weight by comparison.
"The first four channels were dedicated to an ambisonic mic array – the aim of VR is immersion so we needed some nicely recorded ambience on the final mix. The other four channels were dedicated to the four band members who were using wireless equipment. I used TotalMix FX to set up a monitoring mix for the band in the room which we fed via AES to a Fireface UFX. This meant we also had DUREC for backup."
"The mix was done in the box, monitored binaurally through our trusty RME Babyface. Most 360° music videos by mainstream artists put all the effort into 3D visuals and then superimpose a headlocked stereo mix. This is fine but it's not taking full advantage of the medium. There are a handful of exceptions by orchestras and indie artists that use spatialised audio with head tracking, but none of them make use of fluid movement – ours is the first! It's this aspect that encourages the viewer to turn around when they're watching with a headset and it's what makes 3D audio so exciting."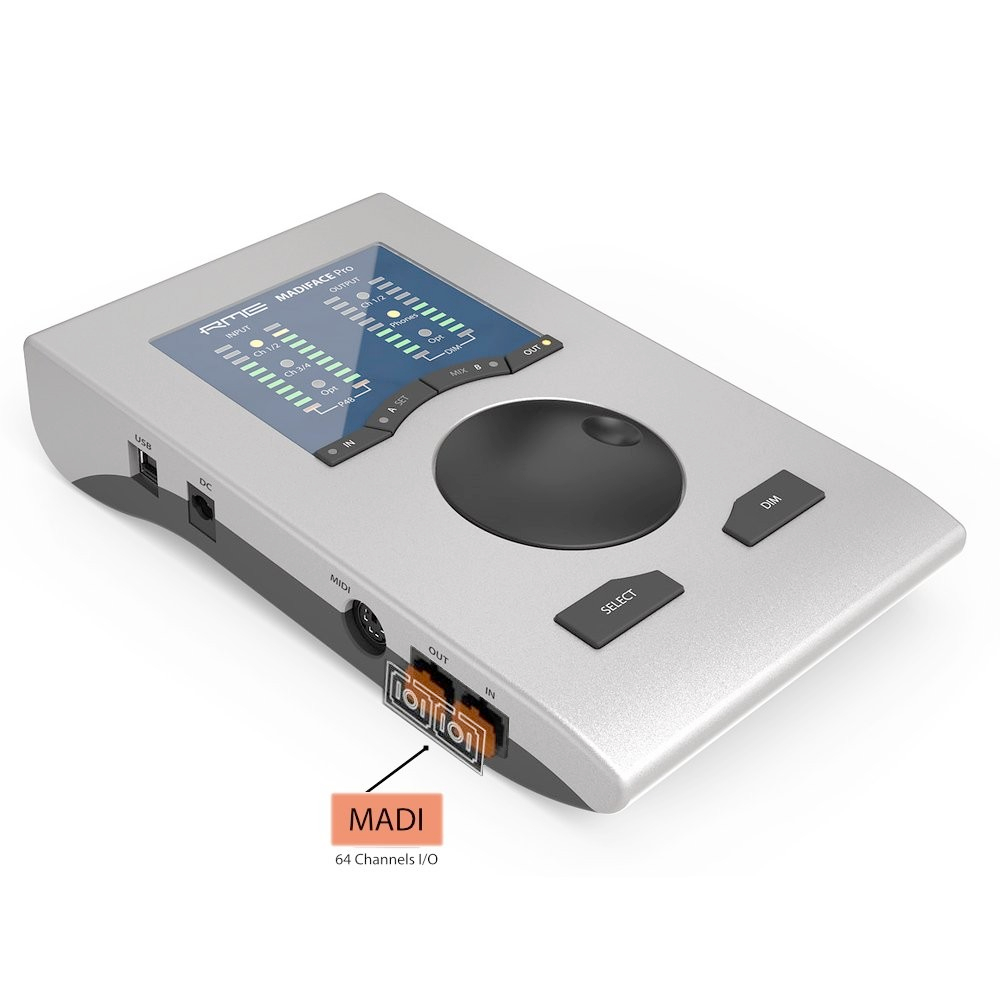 RME MADIface Pro – Portable Desktop Audio Interface With MADI I/O
RME's latest portable MADI interface is the RME MADIface Pro, which combines the high-channel count of the MADIface USB with additional I/O and form factor of the RME Babyface Pro. The ADAT I/O has also been swapped out for MADI optical I/O, increasing the channel count to a total of 136 channels (64 in / 68 out).
The MADIface Pro also gives you access to TotalMix FX, with a high quality digital EQ on every channel, reverb and delay send effects, and unlimited routing and mixing capabilities. Other features include the addition of analogue I/O (Mic, Line, Instrument), MIDI I/O, and 2x headphone outputs (for low and high impendence headphones) for direct monitoring.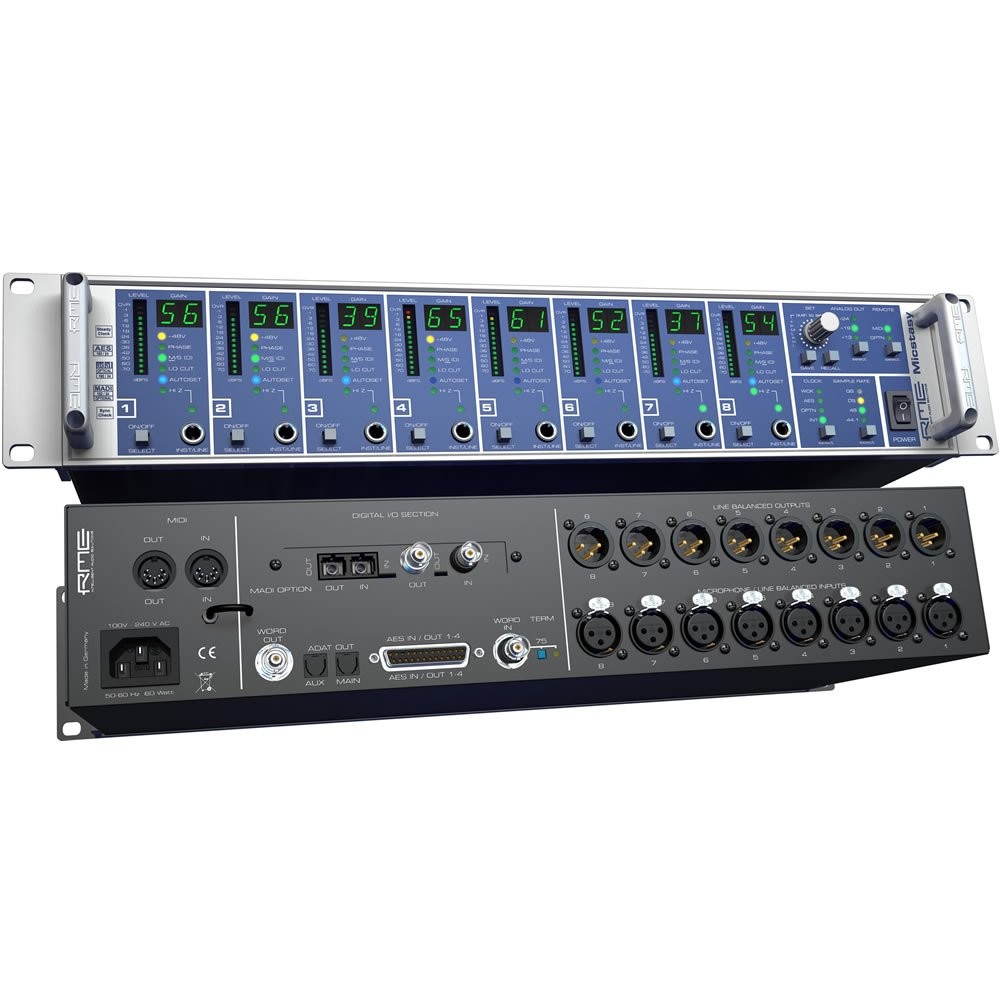 RME Micstasy – 24-Bit/192kHz 8-Channel Full Range Preamp & AD Converter
The Micstasy is RME's top of the range 8-Channel mic/line preamp and AD-converter. It can be used analogue (Mic/Line In to Line Out) and digital (Mic/Line In to Digital Out), with both signal paths operating simultaneously, and is also fully remote-controllable via MIDI and MIDI over MADI (with the optional MADI card installed).
The Micstasy's innovative concept allows for amplification and digitization of all analogue signal sources, be it high-level stage signals, typical studio signals, lower level and high-impedance instruments, or dynamic, condenser or ribbon microphones: the RME Micstasy understands them all! If you're looking for the highest quality microphone preamp with signature transparent RME sound, the RME Micstasy will make a formidable addition to your recording arsenal.
TotalMix FX – Unlimited Routing, Mixing and Monitoring
TotalMix FX is RME's comprehensive routing and mixing control software. Included free with all RME audio interfaces, TotalMix essentially turns each interface into a full-blown digital mixing desk, complete with EQ, Reverb/Delay and Compression on every channel.
Each channel features an independent EQ and compression section, M/S processing and phase invert, along with stereo reverb and delay effects sends. TotalMix provides further functionality too, such as grouping faders for level control, soloing and muting, as well as enabling all channels to be routed to one another with zero latency.
In this way, different monitoring mixes can be created for musicians, removing the need for any external effects. The effects are primarily designed to be used for monitoring, so only the dry signal will be recorded by default. It's simple enough however to record a wet mix, using TotalMix FX's Loopback function.
DURec – Direct USB Recording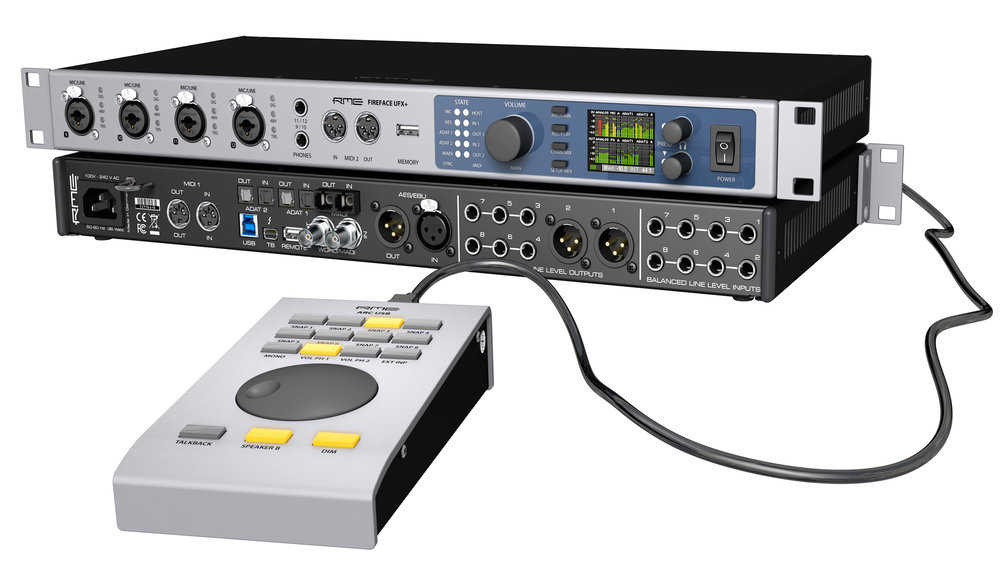 One of the most unique functions of the original UFX was the DURec feature. DURec stands for Direct USB Recording, and allows for all channels to be recorded directly to a thumb drive or external hard drive via the USB port found on the front of the device, turning the UFX into a standalone hard disk recorder and playback device. Alternatively, you can also use DURec to simultaneously make a backup multi-track recording of your session. If you suddenly have an unexpected issue with your computer during a take, no problem – that perfect performance will still be saved, thanks to DURec.
Both the RME Fireface UFX+ (pictured right) and the Fireface UFX II feature DURec, with improved functionality in comparison with the original UFX. This second generation hardware offers better compatibility and reliability, even with slower or multi-partitioned USB hard drives, and audio files can also now be time-stamped, with each file containing accurate timecode information (stored as a BWAV file), providing seamless playback of tracks in every project.
Our thanks to Myles Eastwood and NOMAD. To find out more about Eastwood Records, visit www.eastwoodrecords.co.uk.
If you'd like to book NOMAD for your party or function, you can get in contact with the band via their FixTheMusic page.
Find out more about the RME MADIface Pro
Find out more about the RME Micstasy
---

If you'd like to know more about any of the RME pro audio solutions mentioned in this article, give us a call on 01727 821 870 to speak to one of our team or to arrange a demo.
You can also contact us here.