We're pleased to announce that RME will be sponsoring the MPG Awards 2018 "Studio of the Year" category. As well as being a landmark 10th year for the awards, it's defying the presumption that music production is a male-dominated business by revealing a Shortlist in which nearly a quarter of those named are female.

Catherine Marks, Manon Grandjean, Lorde, Marta Salogni, Steph Marziano, Mandy Parnell, Adele White and Jane Third have all been shortlisted for these prestigious Awards for their various production, engineering, mastering and A&R talents. The artists they have worked with are among the music industry's most successful and critically acclaimed names and include Stomzy, The Amazons, London Grammar, The xx, Kasabian, Feist, Goldfrapp, Frank Ocean and Slaves.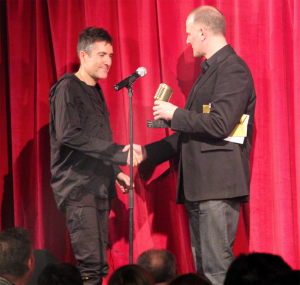 "Winning or being nominated for the MPG Awards shortlist is a huge honour – it's a big acknowledgement and achievement to even be considered," says artist and producer Youth, who received the PPL-sponsored MPG Award for Outstanding Contribution to UK Music in 2016. "What's great about the MPG Awards is that they recognise the diversity of the music industry – something that is very important today. It's refreshing to see that the 2018 shortlist includes men and women from lots of different backgrounds and genres."
[Image right: Richard Russell collects the "MPG Inspiration Award" 2015, on behalf of Damon Alburn, from Martin Warr of Synthax Audio UK – Read more]
The MPG Awards feature 15 award categories that celebrate the best and brightest talent in music production, along with the industry's rising stars. Previous award winners have included Sir George Martin CBE, FKA Twigs, Roni Size, Sylvia Massy, Brian Eno, Trevor Horn and Dave Stewart.
The 2018 Shortlist, which was announced today, was fiercely contested with a record number of MPG Full Members casting votes. Final judging will take place at RAK Studios on December 4th 2017 and the winners will be announced at the Awards ceremony on March 1st 2018 at the Grosvenor House, Park Lane, London, where broadcaster and breakfast show presenter Shaun Keaveny will be the host.
"Producers rarely get recognition for all the work they do, as they are behind the scenes," adds Youth. "What makes the MPG Awards so great is that they celebrate all the talent and work producers do across all genres. Winning and MPG Award changed my life because you win from the votes of your peers – other music obsessed, kick ass producers like yourself. That's what makes winning so very special."
The shortlists for each of the MPG 2018 Awards categories (in no particular order) are as follows:
• UK Producer Of The Year
Catherine Marks
Charlie Andrew
Tom Dalgety
• Studio Of The Year, sponsored by RME
Abbey Road Studios
RAK Studios
Strongroom Studios
• Recording Engineer Of The Year, sponsored by AMS Neve
Manon Grandjean
Matt Wiggins
Neil Comber
• Mix Engineer Of The Year, sponsored by Solid State Logic
Cenzo Townshend
David Wrench
Mark 'Spike' Stent
• Re-mixer Of The Year, sponsored by Novation
Ewan Pearson
Matthew Herbert
UNKLE
• Breakthrough Producer Of the Year, sponsored by Focusrite
Ben Baptie
Guy Massey
Jolyon Thomas
• Self-Producing Artist Of The Year, sponsored by Spitfire Audio
Brian Eno
Glass Animals (Dave Bayley)
Sleaford Mods (Jason Williamson & Andrew Fearn)
•Breakthrough Engineer Of The Year, sponsored by Genelec
Jake Gordon
Marta Salogni
Steph Marziano
• International Producer Of The Year, sponsored by British Grove Studios
Garret 'Jacknife' Lee
Lorde
T Bone Burnett
• Mastering Engineer Of The Year, sponsored by Miloco Studios
Barry Grint
Mandy Parnell
Matt Colton
• UK Album Of The Year, sponsored by Universal Audio
alt-J: 'RELAXER'
Glass Animals: 'How To Be A Human Being'
Royal Blood: 'How Did We Get So Dark?'
• UK Single Song Release Of The Year, sponsored by Shure
Arcade Fire: 'Everything Now'
Harry Styles: 'Sign Of The Times'
Royal Blood: 'Lights Out'
• The A&R Award
Adele White
Ben Durling
Jane Third
Tickets for the 2018 MPG Awards are now on sale. For price information and bookings, please follow this link: http://www.mpg.org.uk/mpg-awards/2018-tickets/