RME adds to its range of high-end converters with new remote controllable headphone amplifier and USB-DAC, the RME ADI-2 DAC

In 2016, German pro audio specialists RME released the extremely popular RME ADI-2 Pro, and the now sold out limited edition, the RME ADI-2 Pro AE. A powerful headphone amplifier and AD/DA Converter packed with innovative features, the award-winning ADI-2 Pro has sold in large numbers worldwide and continues to receive critical acclaim from major pro audio, HiFi and tech magazines and websites.

Now, RME brings us the RME ADI-2 DAC, a 2-channel headphone amplifier and USB-DAC with transparent, pristine sonics, on-board DSP processing, an exhaustive set of features, and an included remote control. The remote control has buttons for Standby On/Off, Volume, input selection (Optical, Coaxial, USB) and Mute, plus four programmable buttons which can be assigned by the user to control a selection of 20 different commands for total flexibility.

Like its siblings, the ADI-2 DAC is aimed at both audio professionals and HiFi enthusiasts who demand only the best in transparent digital to analogue audio conversion. Housed in the same all-black finish of the ADI-2 Pro AE, the analogue circuitry has been fine-tuned to perfection, with a specification that even surpasses the ADI-2 Pro's already formidable spec. The converters reveal a breath-taking level of detail, with the characteristic transparency that has become a signature of RME devices.

The ADI-2 DAC shares many of the great features found on the ADI-2 Pro, such as 5-Band parametric EQ for adjusting headphones, or for applying room correction to speakers and studio monitors. The 2x headphone outputs cater for headphones with 6.3 mm jacks, and now direct connection of IEMs (3.5 mm) too, which RME say is "the most advanced IEM output imaginable". With the ADI-2 DAC, fans of IEMs are in for a real treat, with RME's newly developed "Super Low Noise" IEM output's incredibly low THD values.
Watch the RME ADI-2 DAC Overview Video


Other new features that will surely appeal to the HiFi community include the "AutoDark" mode, and the latest version of RME's renowned digital clocking technology, SteadyClock FS. When "AutoDark" is activated, all of the ADI-2 DAC's lights completely switch off after 10 seconds, so HiFi users can now sit in total darkness, and enjoy a truly immersive musical experience with the finest audio quality!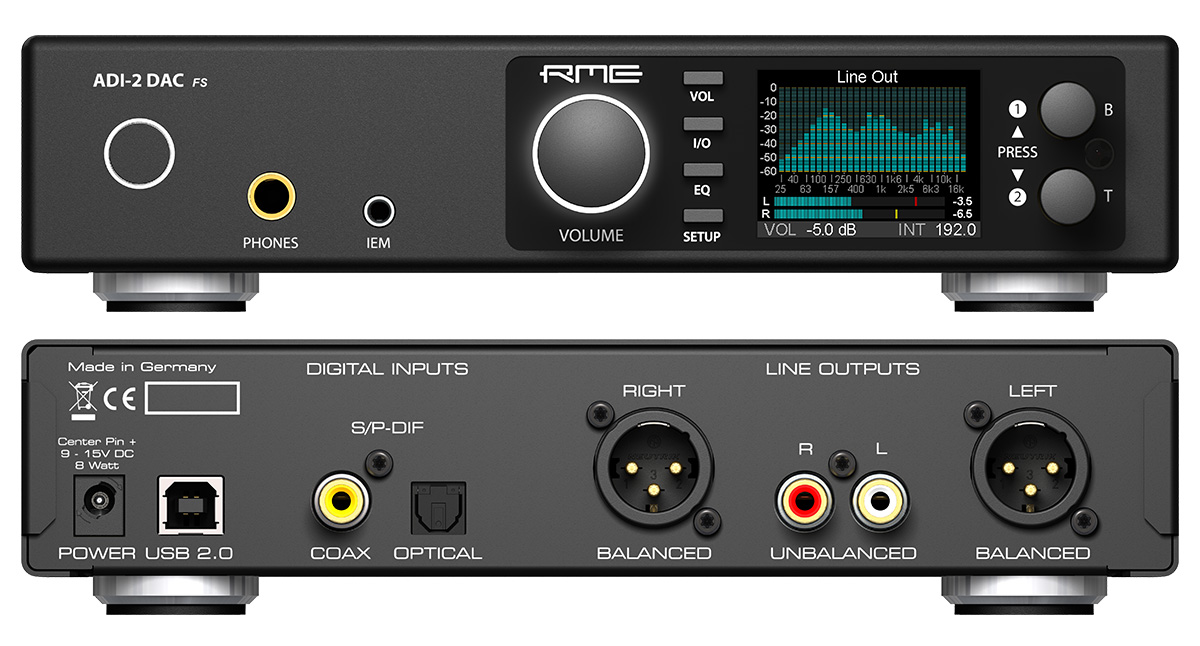 RME ADI-2 DAC Summary

The RME ADI-2 DAC is a 2-channel DA converter with 1x "Extreme Power" headphone amplifier and 1x "Super Low Noise" IEM output, DSD playback, USB operation, digital SPDIF / ADAT support, and an included remote control. Other features include a perfectly transparent sound signature, full DSP processing with Bass, Treble, Loudness, 5 Band Parametric EQ, Crossfeed and much more. With its simplified operation and stunning design, the RME ADI-2 DAC is the ideal centrepiece for critical home listening and professional studio reference playback.
Find out more about the RME ADI-2 DAC
Find out more about the RME ADI-2 Pro
---

If you'd like to know more about RME's pro audio solutions, give us a call on 01727 821 870 to speak to one of our team or to arrange a demo.
You can also contact us here.