The RME ARC USB has been reviewed by Pro Tools Expert.

RME's ARC USB remote control has been reviewed by Pro Tools Expert, the number one independent resource for Pro Tools users. Having started as specifically aimed at Pro Tools users, the website has grown into one of the most popular music production resources on the internet, regularly featuring new hardware and software reviews, tutorials, news and competitions under the name Production Expert.
As an RME Fireface 802 owner himself, reviewer Alan Sallabank has been using the origial RME ARC remote control in his studio for several years now, and was therefore keen to try out the new ARC USB for himself. In his review, Alan says "Altogether this is a must-have piece of kit for any RME interface owner, and at only in the region of £110 in the UK currently, is a real no-brainer. I can't imagine being without my ARC remote and the USB version is a big improvement on an already great product."
"this is a must-have piece of kit for an RME interface owner"

Big thanks to Pro Tools Expert and to Alan Sallabank for conducting the review. Along with the writeup Alan has also put together a great video review too, which you can check out below.
Remote control any RME device that has TotalMix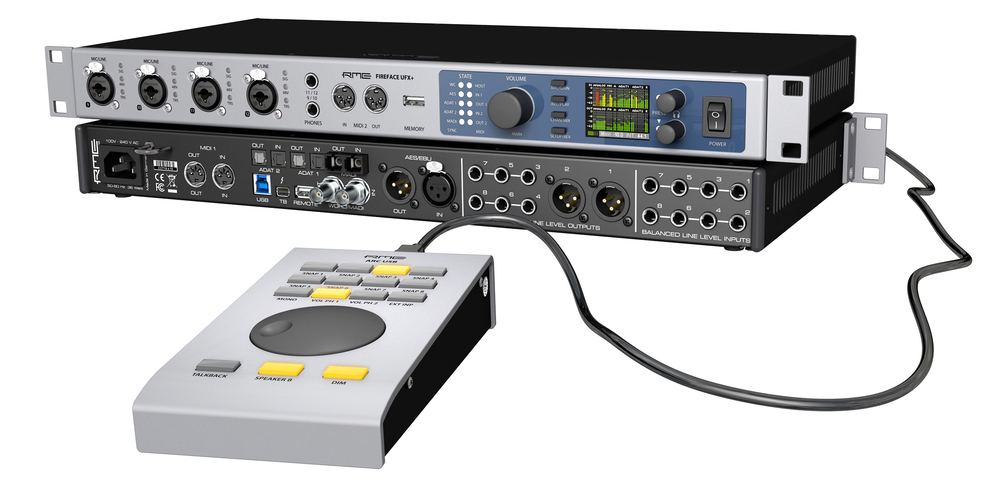 The ARC USB is compatible with all RME USB and Firewire interfaces, plus PCI and PCIe cards, dating all the way back to 2001. It's also the perfect companion for the RME Fireface UFX+ and RME Fireface UFX II, which both feature dedicated onboard USB ports for direct connection and even better standalone operation.
Quickly access functions like Talkback, Dim, switching between speakers, monitor and headphone control, setting your mix to Mono, muting all of your inputs simultaneously, turning your mic inputs on and off, or dialing in effects like Reverb and Delay.
All of the ARC USB's command keys are user-definable, so you can customise the controller to perfectly suit your workflow. MusicTech gave it a 9 out of 10 in their review, describing it as "sleek and sexy, unleashing additional power within TotalMix FX. ARC USB streamlines studio workflow making sessions a delight to produce and record."
Read the Pro Tools Expert review of the RME ARC USB
Find out more about the RME ARC USB
---

If you'd like to know more about RME's pro audio solutions, give us a call on 01727 821 870 to speak to one of our team or to arrange a demo.
Alternatively, you can contact us here.