Congratulations to the winner of the Pro Tools Expert competition to win an Icon Platform M+ control surface and D2 Display

At the end of 2017, we ran a competition in association with music production gurus Pro Tools Expert, giving visitors to their music production website the chance to win an Icon Platform M+. And we're pleased to announce the winner is Ian Heginbotham of Telford in Shropshire!
Having spent some time with his new controller, Ian was kind enough to give us his thoughts on recording with his new Platform M+.
Ian says "I received the Icon Platform M+ within a few days of the announcement that I'd won the Pro Tools Expert Christmas competition and really couldn't be happier. I've been mixing in the box with just a mouse for a long time and the difference of being able to use faders in real time when writing automation is massive."
"the difference of being able to use faders in real time
when writing automation is massive."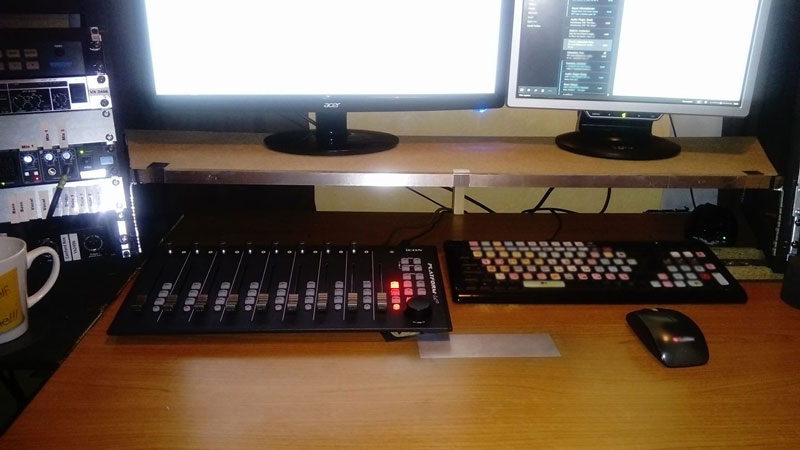 "I've been a musician on and off for over thirty years and am currently working on 2 albums for bands I'm in and another for someone else's band, as a producer and mixer. This small DAW controller is going to make (and already has made) a huge difference to my workflow. It fits easily on to my desk and took about 2 minutes to set-up."
"I've rarely been surprised as much as I have been by this piece of gear. Very happy competition winner here." 😊
Congratulations Ian, we wish you many happy years of recording and mixing with your new control surface.
We've more giveaways planned for the future, so make sure you follow us on Facebook and Twitter to keep up with all the latest news.
Big thanks to everyone at Pro Tools Expert / Production website. For more recording and mixing news, tips, tricks and tutorials, visit www.pro-tools-expert.com
Icon Platform Series – Take Control Of Your DAW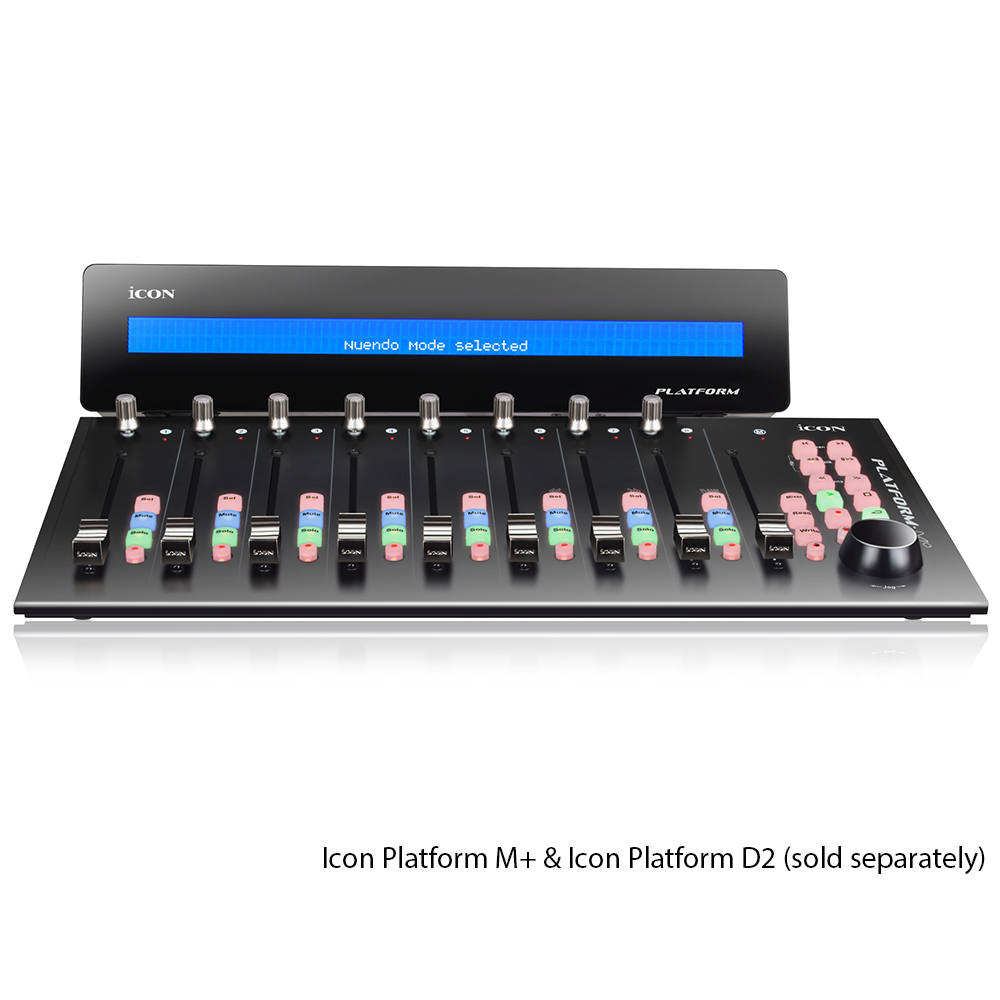 Icon Platform M+ and D2 Display

The Icon Platform M+ control surface is a compact desktop mixing controller that's great for mobile setups or where space is at a premium. Features include 9 x touch-sensitive, motorised faders; 8 x dual-function encoder knobs; Jog wheel for fast search and control; illuminated buttons for each channel (including Select, Mute, Solo and Record); 6 x illuminated transport buttons including Play, Stop, Record, Rewind, Fast Forward and Loop; USB 2.0 connectivity; Class-compliant with Windows and Mac OSX; and expandable up to 32-channels (with 1x Platform M+ and 3x units of Icon Platform X+ Fader Extenders).
When used with the optional D2 display (sold separately), information such as channel names, level and pan settings can also be viewed at a glance.


Icon Platform X+ Fader Expanders

Designed to work either alongside the Platform M+, the Platform X+ allows users to expand their setup in banks of 8 motorised faders, for up to 32 channels.
The Platform X+ can also be operated as a standalone USB-MIDI controller, although it will function much more effectively when used in conjunction with the Platform M+, as the Platform X lacks transport controls and the ability to switch banks of faders from the unit itself.


Coming Soon: Icon Platform B+ Button Expander

Announced at NAMM 2018, the Icon Platform B+ is a customisable bank of buttons for adding more shortcut keys to your setup. The 50 illuminated buttons give you quick access to all of the most used functions of your DAW, including cursor keys for zooming and moving about your project.
A selection of silicon overlays are also included, for using the Platform B+ with a variety of the most popular DAWs on the market – Cubase / Nuendo, LogicPro, Samplitude, Reaper, Studio One, Bitwig, Reason, ProTools, Sonar, Audition and Ableton Live. There's also a 'User define' mode for creating custom mappings, so you can customise your controller to suit your workflow.
Find out more about Icon DAW Controllers
---

If you'd like to know more about Icon's DAW Controllers, give us a call on 01727 821 870 to speak to one of our team.
You can also contact us here.