The Icon Platform M+ gets a 4.5 out of 5 rating from Future Music in their review.

Future Music is the latest magazine to take the Icon Platform M+ DAW controller for a test drive, and we were happy to hear they were pleased with what this motorised control surface can bring to a project. Anyone who's recorded with a console will know that a mouse and keyboard just doesn't have the same feel as working with a mixer – Icon's controllers bridge that gap, combining the simplicty of software with the hands-on control of hardware.
Reviewer Jon Musgrave was clearly impressed with the build quality for a control surface at this pricepoint, saying that "The build quality is excellent… …Overall a compact and robust DAW controller."
"The build quality is excellent…
…Overall a compact and robust DAW controller."

Icon Controllers – Take Control Of Your DAW

The Platform M+ is part of Icon latest generation of controllers, and is a low-cost alternative to the larger Icon QCon Pro X. The Platform M+ can also be expanded with further banks of 8 faders with the Platform X+ extenders, for a total of up to 32 motorised faders.
Icon also recently announced at (NAMM 2018) the Platform B+, a further add-on for the Platform Series, with 50 illuminated buttons providing shortcut keys for speeding up your workflow when you're working with your favourite DAW. A set of silicon shortcut overlays are also included for many of the most popular DAWs, including Cubase / Nuendo, LogicPro, Samplitude, Reaper, Studio One, Bitwig, Reason, ProTools, Sonar, Audition, Ableton Live, Digital Performer and FL Studio. There's also a 'User define' mode, so you can customise the Platform B+ to give you quick access to all of the most used functions, when you're creating and editing your music.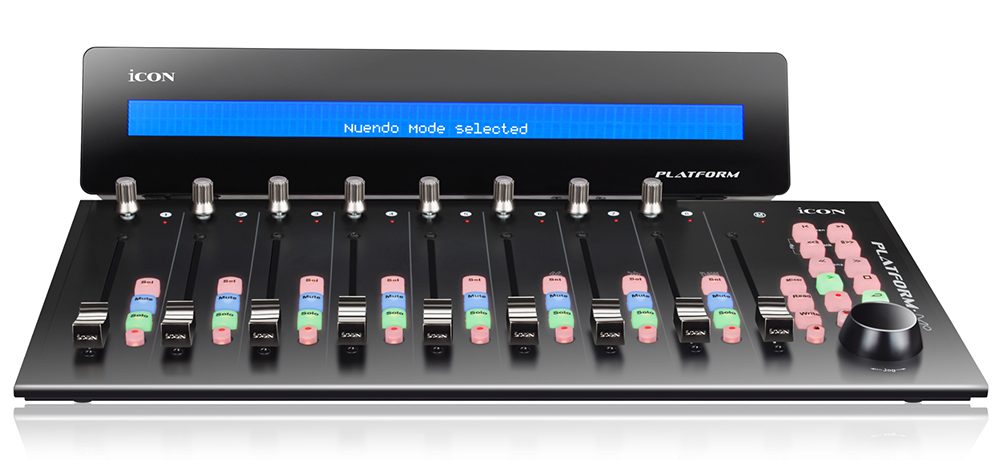 The Icon Platform M+ with optional D2 Display attachment.
Read the full review at Music Radar
Find out more about Icon DAW Controllers
---

If you'd like to know more about Icon's DAW Controllers, give us a call on 01727 821 870 to speak to one of our team.
You can also contact us here.