Recording with Lauten Audio microphones inside Sunset Sound Studios
YouTube channel and music production website Produce Like A Pro have put together a great new video with 7-time Grammy recording engineer Darrell Thorp. Known for his work as a producer and mix engineer, Darrell's career has seen him operating the controls on sessions with Paul McCartney, The Foo Fighters, Beck, Ray Charles, Goo Goo Dolls, Jay-Z and Radiohead.
Darrell's also a huge fan of Lauten Audio microphones. In this video shot in California's iconic Sunset Sound recording studio, Darrell gives us his thoughts on the strengths of each mic in the Lauten range, before showing us how he goes about recording a full band with his collection of mics from both the premium Signature Series, and the more affordable Series Black range.
Watch the full Lauten Audio microphone range in action at Sunset Studios

See more videos at Synthax TV
Sunset Sound Studios
Sunset Sound is one of the most iconic recording studios in the world. Built by Walt Disney's Director of Recording Tutti Camarata back in 1958, the studio became a recording destination for a huge number of international artists, and to this day it remains one of the best-known independent recording studios in the world. The list of famous musicians who've recorded there over the years is a literal A-Z of big names, including the likes of Alice Cooper, Bob Dylan, The Beach Boys, The Bee Gees, Celine Dion, Dolly Parton, The Doors, Elton John, Fleetwood Mac, Frank Zappa, James Taylor, Lionel Ritchie, Louis Armstrong, Michael Jackson, Miles Davis, Neil Young, Paul McCartney, Prince, Ringo Starr, Rolling Stones, Tom Petty, Tom Waits, Van Halen, Whitney Houston, Yes and many other household names.
About Lauten Audio Microphones
Founded over a decade ago by Brian Loudenslager, Lauten Audio has successfully established itself as a recognised producer of premium studio microphones, providing high-quality and well thought out designs that impart their unique character to every recording. Lauten microphones have become a staple of many recording engineer's studio arsenals, and serve as a continuous source of inspiration to the musicians who record with them.
The Signature Series includes the Eden LT-386, Lauten Audio's flagship Multi-voicing™ vacuum tube condenser microphone, as well as the Atlantis FC-387, Oceanus LT-381 (pictured) and Clarion FC-357, completing the range of large diaphragm studio microphones.
The Series Black LA-120 small diaphragm FET condenser pair, LA-220 large diaphragm FET studio condenser and LA-320 large diaphragm vacuum tube condenser microphones were launched last year and allow users with a more modest budget to experience and benefit from Lauten's professional, clean and unique sound.
Find out more about the Lauten Audio Signature Series
Find out more about the Lauten Audio Series Black
---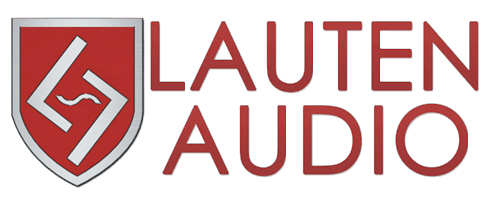 If you'd like to know more about the Lauten Audio Series Black microphones, give us a call on 01727 821 870 to speak to one of our team or to arrange a demo, or you can contact us via email.