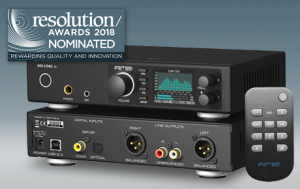 We are pleased to announce that the RME ADI-2 DAC has been nominated in the AD/DA Interface category of the 2018 Resolution Awards. This prestigious nomination was drawn from an exceptional panel of industry experts and practitioners.
The ADI-2 DAC has already won a number of awards for its uncompromising design, stunning conversion and unique feature set including the "Extreme Power" headphone and super low noise IEM outputs. And the DAC has since been further updated with RME's new Steadyclock FS (FemtoSecond) which offers enhanced clock performance by reaching jitter specs lower than a picosecond (ps), an area called "FemtoSecond".
Only registered Resolution readers are eligible to vote. Readers are required to log in with their unique subscriber number and are restricted to access the voting form once.
So, if you are a registered Resolution reader, then we would love for you to vote for the RME ADI-2 DAC.
Click here for full details on the RME ADI-2 DAC.