RME have chosen IBC 2018 to unveil the RME ADI-2 FS, the latest addition to their range of professional AD/DA converters.
A compact and flexible 2-channel AD/DA and format converter, the ADI-2 FS offers high-end analogue audio conversion to and from SPDIF, AES and ADAT, at sample rates up to 192 kHz. The three digital connections provide compatibility with a wide range of professional and consumer audio devices, with options for both SPDIF/ADAT optical I/O, and SPDIF/ AES-EBU coaxial I/O.
Other notable features include balanced analogue inputs and outputs; a High Power headphone output for monitoring; 3-stage hardware input and output level controls; and new A-A and D-D modes, for using the ADI-2 FS as a high-quality headphone amplifier and digital format converter.
The ADI-2 FS also features SteadyClock FS, RME's highly impressive clocking technology that provides jitter specs all the way down to the FemtoSecond, ensuring maximum jitter suppression and incredibly low self-jitter. SteadyClock FS also guarantees superb sound quality, completely independent from the quality of other reference clocks.
RME ADI-2 Series Converters
The newest member of RME's high-end ADI-2 Series family, the ADI-2 FS shares many similarities with its critically acclaimed siblings, the RME ADI-2 Pro FS and RME ADI-2 DAC. The two servo-balanced XLR/TRS analogue inputs use the same advanced circuit design of the award-winning ADI-2 Pro, providing an extended frequency response and offering outstanding low levels of noise and distortion. The ADI-2 FS also uses the conversion technology of the ADI-2 Pro: the AK557x family and the AK4490 converter chips not only offer 192 kHz sampling frequency and extremely low distortion, but also a dynamic range of 120 dBA.
Alongside the pristine sound quality, the ADI-2 FS also offers a range of digital format conversion options. The coaxial RCA SPDIF I/O has a switchable Channel Status to make it fully AES/EBU compatible (cable adapter required). Additionally, the optical TOSLINK I/O can handle up to 192 kHz and also serve as ADAT I/O (even at 192 kHz). Outputting incoming SPDIF signals as ADAT (and vice versa) is also supported, in both AD/DA and D-D mode.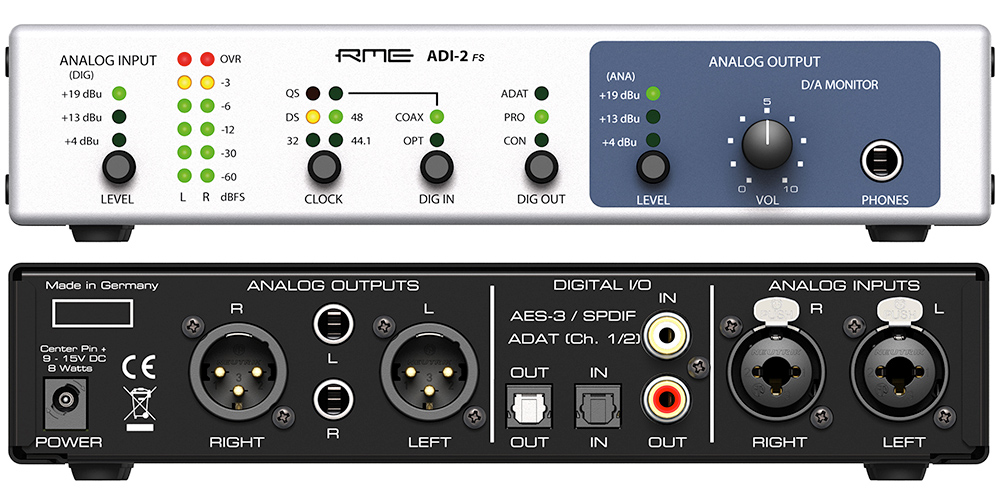 The new ADI-2 FS features 2x balanced analogue I/O; 1x High-Power headphone output; 1x SPDIF/ADAT Optical I/O; 1x SPDIF/AES coxial I/O;
support for samples rates up to 192 kHz; and comprehensive front panel controls.
Front Panel Control
The ADI-2 FS features a logical and informative front-panel, with clear and distinctive labelling and informative status displays. A 6 LED level meter also provides input level information at a glance, making the RME ADI-2 FS extremely simple to operate straight out of the box.
The RME ADI-2 FS will be on show at IBC 2018 in Amsterdam at the RME booth 8.D70 (14th – 18th September 2018).
For more information, call us on 01727 821 870 or contact us.
---


If you'd like to know more about any of the pro audio solutions provided by RME, give us a call on 01727 821 870 to speak to one of our team.
You can also contact us here.