We are pleased to announce that we have hit our first million views on our YouTube channel SynthaxTV, and it's all thanks to you and our loyal following around the world.
Our very first video was uploaded 8 years ago and was a box opening for the then brand new RME Fireface UFX. This rather shaky video featured our very own Rob Masters (Synthax Audio UK Product Manager) who demonstrated the features of the innovative audio interface.
Since then, we've produced over a hundred videos with product overviews, interviews, news from shows and of course the all-important tutorials, which we know have been helpful to so many musicians, engineers and producers around the world.
Thanks to the Pros.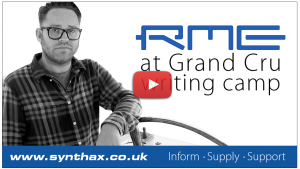 We're particularly grateful to those producers, engineers and techs who took the time out to talk to us about how and why they're using our products, especially RME. We have interviewed some of the best live professionals in the business including Miller (Coldplay), Tony Newton (Iron Maiden), Kerry Hopwood (George Michael & Depeche Mode) and Tony Smith (Elton John).
There have been many interviews in the studio and broadcast as well. Producers such as Kevin Porée, Marc JB, Myles Clarke, Josh Blair, Marco Perry and Conrad Fletcher have all been kind enough to give up their time to contribute to our ever-growing channel.
The Horse's Mouth.
Trade shows including NAMM and Musikmesse have also been the backdrop for many of our videos where we have interviewed some of the designers behind the gear allowing you to hear about new products straight from the horse's mouth.
More recently, this has included Matthias Carstens (RME head of design) on the new Digiface AVB and Dante, Jurgen Kindermann (Ferrofish founder) on the new Ferrofish Pulse 16 DX Dante converter, and Marc Shettke (RME M-32 Pro head developer) at IBC 2018 who told us all about the new RME M-32 Pro MADI and AVB converters.
Our Top 5 Most Viewed Videos.
1. RME TotalMix FX Tutorial Part 1 (of 2) – 117k views
2. RME Babyface Pro Review – 94k views
3. Coldplay – RME Fireface UFX, Fireface 800 & Babyface – 70k views
4. RME Fireface UFX – The box opening of the first in the UK – 47k views
5. RME TotalMix FX Overview for the Fireface UFX – 45k views
We already have plans for many new videos, so make sure that you subscribe to SynthaxTV and hit that notifications bell to be notified when we upload new videos.