Sound Engineer Jimmy Parkin of NEP UK explains how Calrec Audio consoles were used for managing audio at Wimbledon 2018
One of the most watched sporting events of the year, even those with only a passing interest in tennis will be aware of the huge popularity of Wimbledon, the longest running tennis tournament in the world.
An event of this scale brings with it a unique set of audio-related challenges to those tasked with supplying coverage to broadcasters and rights holders from across the globe.
This year for the first time in its history, control of Wimbledon's broadcasting was managed by the Wimbledon Broadcast Services (WBS), having taken over from the BBC in 2018 as the new host broadcast operation for the All England Lawn Tennis Club (AELTC).
The solution was provided by long-term collaborators NEP UK, who've worked with Wimbledon for the past 35 years. In this article originally featured in Resolution Magazine, NEP UK Sound Engineer Jimmy Parkin dicusses the distribution of audio at this year's tournament, and how the team created an advanced audio network using a selection of Calrec broadcast consoles, along with Calrec's Hydra 2 audio network.
Video Transmission
Providing both host and domestic coverage of the event since 2014, this summer NEP created eleven (de-rig) control rooms for the host broadcaster, plus another three for the Wimbledon Channel to serve the world feed and for the archive. In total, NEP employed 118+ camera positions and 41+ EVS servers, along with three major OB units and a large flypack to broadcast the event.
The video was taken care of by an IP-based setup operating with SMPTE ST2110-compliant technology, with content delivered directly to the BBC and to the individual MCRs of each rights-holding broadcaster, along with the World Feed, the Wimbledon Channel, the Central Content Store and a transmission/QC area.
Audio Transmission – IP-capable OB Trucks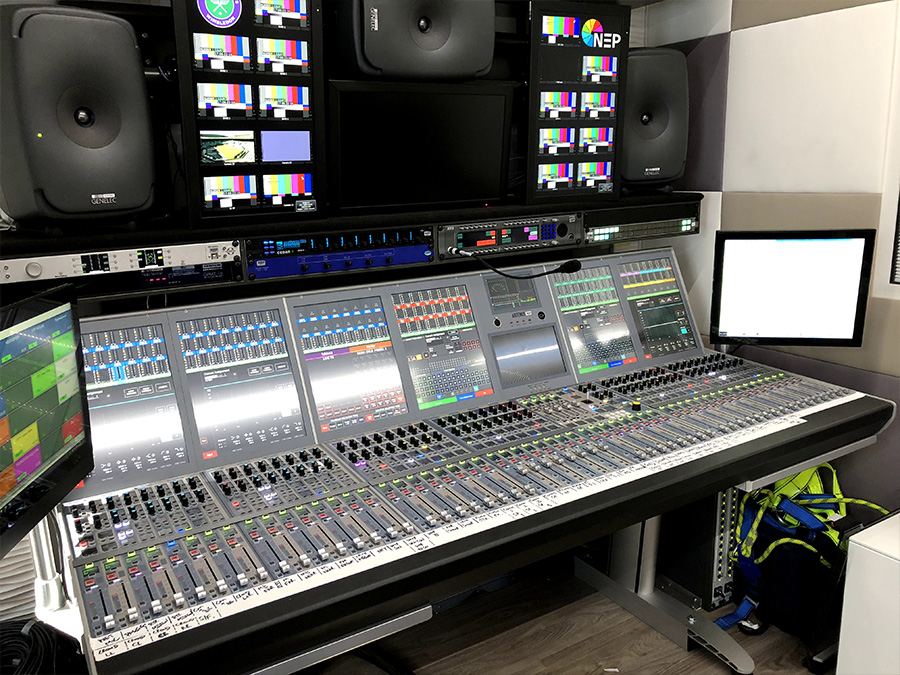 So, what about the audio side? Jimmy Parkin of NEP UK explains, "The central aim was to reduce the physical infrastructure that had to be installed, while providing as much audio I/O as possible across courts 3 to 18. Centre Court, Court 1 and Court 2 were standalone islands that were serviced by an OB unit each. Centre Court and Court 1 benefitted from our new, NEP UK IP-based trucks called Venus and Ceres. For Court 2 we used a slightly older OB unit. All three trucks have Calrec consoles."
"We unveiled these two new SMPTE ST2110-compliant trucks earlier this year.  We took the opportunity to invest in future-resistant IP-capable trucks. The ST 2110 system infrastructure is identical in both vehicles. Each system is built around Grass Valley (formerly SAM) IQ UCP 25GbE Gateway cards, which provide two-way links between the all-new robust and resilient IP-based equipment and the existing baseband technology that is still needed to accommodate clients using SDI feeds. The trucks can also offer dual level UHD and HDI-SDI simultaneously."
"[Our OB Trucks] Venus and Ceres are also equipped with PHABRIX's HDR and IP-enabled test and measurement solutions. This includes three Qx 12G signal generation, analysis and monitoring solutions, to accommodate clients regardless of whether they are using SDI or IP feeds. NEP also invested in four Rx2000 units, with each Rx providing up to 4 channels of 2K/3G/HD/SD-SDI video/audio analysis and monitoring (dual inputs per analyser)."
"the system requires far less fibre optic cable compared to the miles of coaxial cable previously required,
which proves quicker to integrate and is much lighter"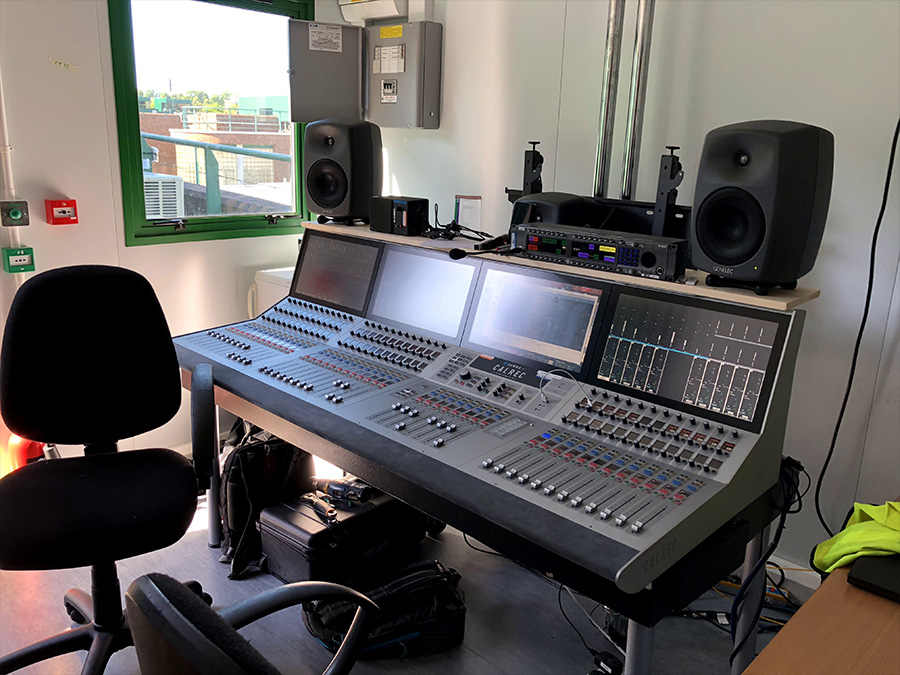 "The other major differentiator for these vehicles is the significant reduction in cabling; the system requires far less fibre optic cable compared to the miles of coaxial cable previously required, which proves quicker to integrate and is much lighter. The new equipment requires greater cooling; therefore, the truck design takes into account the ability to provide greater air conditioning, and all equipment can be cooled separately in operational areas. Venus and Ceres can also expand their capacity and facilities exponentially via modular connection with multiple IP fly-packs."
"Venus is equipped with a Calrec Apollo and Ceres with a Calrec Artemis working alongside Axon Glue (embedders and Dolby E creation), RTS Telex Comms System with KP5032 and KP4016 comms panels, and TAIT Radio Talkback base stations. Both are Dolby Atmos-ready, using Genelec 8351APM and 8331APM for main monitoring. Other audio monitoring includes TSL PAM-2, TSL Solo Dante and Wholer AMP-16. Audio glue includes TSL X-1 for up and down mixing and TSL Soundfield decoders with reverb from Bricasti and Yamaha."
Audio Networking With Calrec Hydra2

The audio specification was created with information provided by NEP UK's Technical Manager, who worked closely with the WBS to determine the requirements. Combined with NEP's years of experience and onsite expertise, the resulting discussions led to the decision to create an IP-based audio network, utilising the advanced networking capabilities offered by Calrec's Hydra2 system.
Jimmy Parkin continues, "I know these words tend towards cliché these days, but easy scalability and network flexibility were key to the success of this project. Audio operators had to be able to get whatever source they needed from whichever court without having to physically move or plug anything in. It's why we opted for Calrec and its (non-IP) Hydra2 networking capabilities. It's Hydra2 – and Calrec's H2O GUI – that underpinned all of this.  The key point is that any console can "talk" to any other console on this network."
"In terms of preparation, Calrec's H20 (Hydra2 Organiser) meant that port labels and naming could be carried out offsite before hardware was connected, and this could then be imported onto the live network. This allowed for some pre-configuration work to be achieved before the network was built. It was obviously impossible to build the entire network offsite during prep time, so this helped massively."
"port labels and naming could be carried out offsite
before hardware was connected…
…this helped massively"
"Heavy use of Hydra Patch bays – virtual patch points within the Calrec Network – meant that hardware IDs and card layouts of modular IO frames were also not needed to be known before arriving onsite, which was a major help when hiring in extra Calrec IOs."
Audio Routing
"External to that, we connected to the overall host broadcaster infrastructure using MADI. We believe that it's the greatest number of Calrec consoles that the company has seen on a de-rig network, with 11 across it in total. At this point we needed to separate out the BBC, as although it was no longer the host broadcaster (rather a rights holder), it did have some understandable special privileges. It also used Calrec consoles via its OB supplier."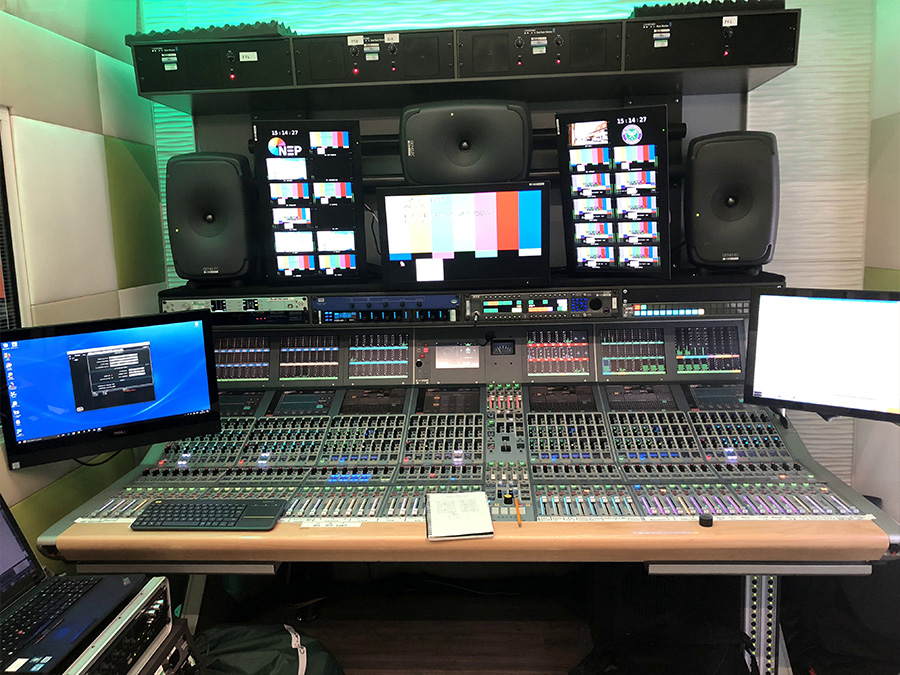 "Our OB trucks were connected to the Hydra2 network via MADI – they didn't need the backbone interconnectivity. Both Centre Court and Court One are separate buildings, which obviously isn't the case with the outside courts. In addition, a Calrec Brio was used for the media facilities; press conferences etc."
"As well as the flexibility to access whatever audio was required, the other core benefit of this network architecture was its inherent redundancy and that was, of course, vital. Everything has both primary and secondary connections. Once it was on the Hydra2 network, it was dual-pathed, where MADI suffers from single points of failure."
"There was also the ability to share the inputs of I/O boxes. For example, Number Three Court Commentary had I/Ps shared amongst many users (Number Three Court, Wimbledon Radio, Centre Court and some beauty mics). In a usual setup, the amount of differing I/O boxes in that area would be at least four, whereas now only one I/O box was needed."
"As mentioned, the video was IP-based (SMPTE ST2110). We interfaced with the IP video network via 32 Grass Valley MADI inputs (four of their cards). We co-existed as two separate routing infrastructures, joined via MADI."
The console surfaces were in Grass Valley production control rooms, very close to the MCR, where the heart of the Hydra2 routing sat. There were 37 I/O boxes on the de-rig side (18 court side for mic inputs and the rest in the MCR for monitoring/interfacing) with a total of over 200 mics. All courts were 5.1 surround."
Mixing multiple courts & commentators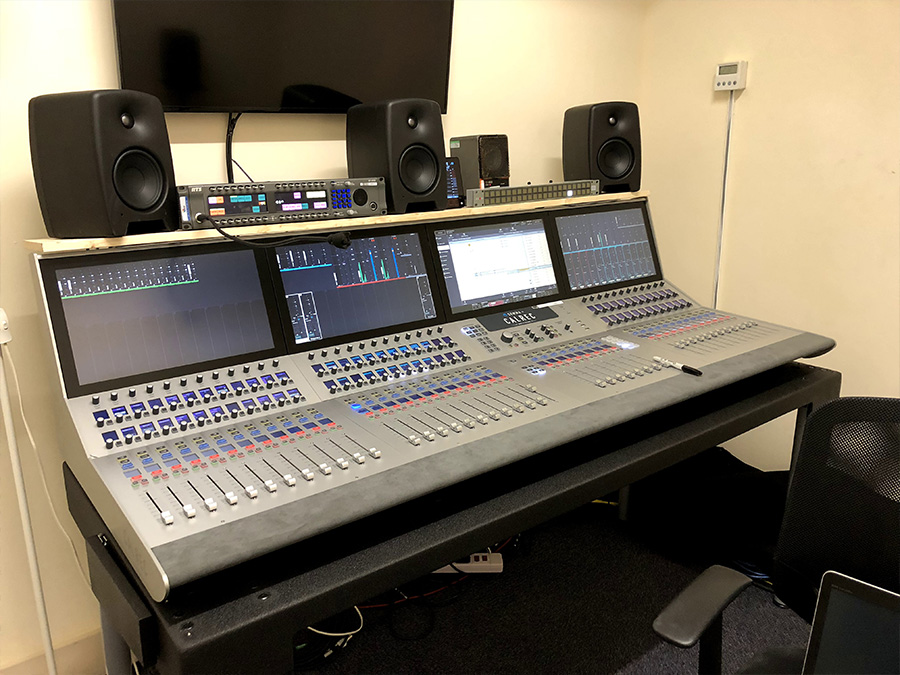 "The big pressure for us came in the first week where all the courts were covered with a minimum of three cameras. Centre Court and Courts 1, 2 and 3 all had dedicated consoles. From court 4 onwards, two courts were mixed per console. In the second week, the number of courts being used was reduced for obvious reasons."
"The Wimbledon Channel, from an audio perspective, was another Calrec desk that was attached to the Hydra2 network. It enabled Wimbledon Channel to get all the court feeds directly as well as all the effects mics; whatever they wanted. The way we thought about it was that it was simply another production facility sat on our network."
"In terms of commentators, Centre, 1, 2 and 3 had dedicated boxes overlooking play. There are another three commentator boxes looking over courts 12, 14 and 18 respectively and then we had an additional four off-tubes, which were switched as required between the remaining courts. We didn't offer commentary on every game all the time; it was decided on merit, both in terms of which games needed to be live and/or archived with commentary."
"the way resources appeared on the network and how easy
it was to move them across the network was a dream"
"The biggest challenge was the sheer number of feeds and productions running. Because of the way that we designed the network, adding I/O boxes and other additional infrastructure was really easy. That's the beauty of what Calrec has designed and what we implemented. It was so scalable; the way resources appeared on the network and how easy it was to move them across the network was a dream. In terms of planning, it was about making sure there was enough capacity and flexibility."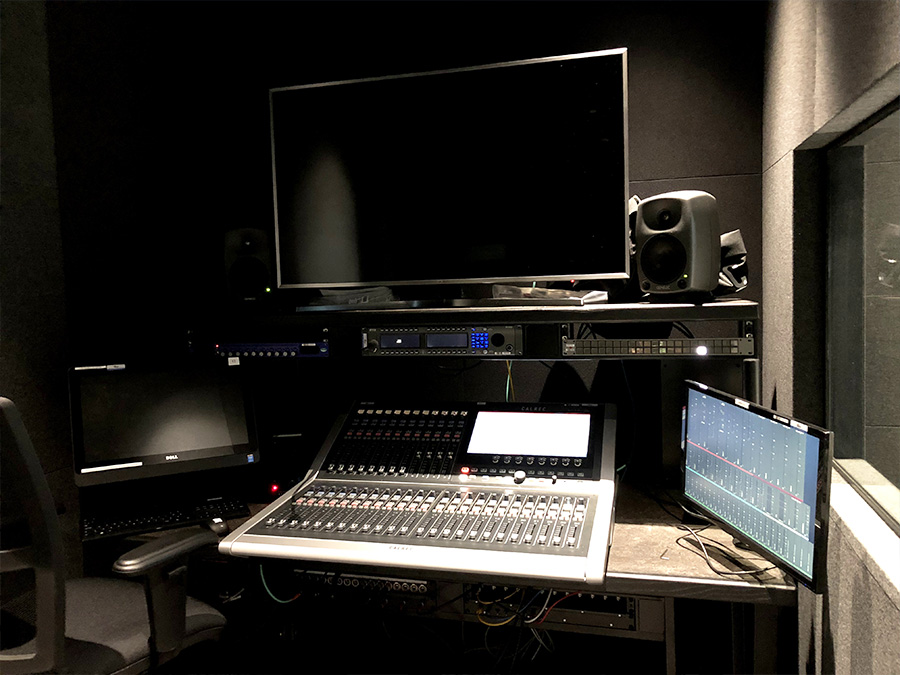 "On a single fibre with Calrec's Hydra2 network we could get 512 mono channels, which is fantastic compared to MADI. We weren't restricted by cable infrastructure. The media facilities were quite a distance away in another building, but the way this was architected meant that was easily accommodated, which was brilliant."
"Lastly, we used IP (Dante) to make the commentary work because this prevented cabling issues, and allowed us to use one-person comm boxes (Glensound Inferno). This is preferable for sports broadcasting, especially on Centre Court and Court 1, where there were three commentary positions; a box-per-commentator is easier and more manageable in the room, where table space is at a premium and a large, multi-person comm box would have been too big and unwieldy."
"The ease of the way Calrec's cards handled this interfacing and the fact that they were so resilient, meant this was a plug-and-play operation to connect all the commentary feeds. It was a big Dante network but it really was a very easy integration."
Jimmy Parkin's thoughts on Calrec
"Again, without wishing to stray into cliché, very little went wrong at all. This was helped by the fact we retained on-going knowledge of the job as a whole, and we have a great deal of experience using Calrec networking on other large jobs in the lead up to this event."
"While this was clearly a complex project, we achieved everything that we set out to, following a clear design brief and using technology that did exactly what it was claimed to do."
Calrec Brio 36 and Brio 12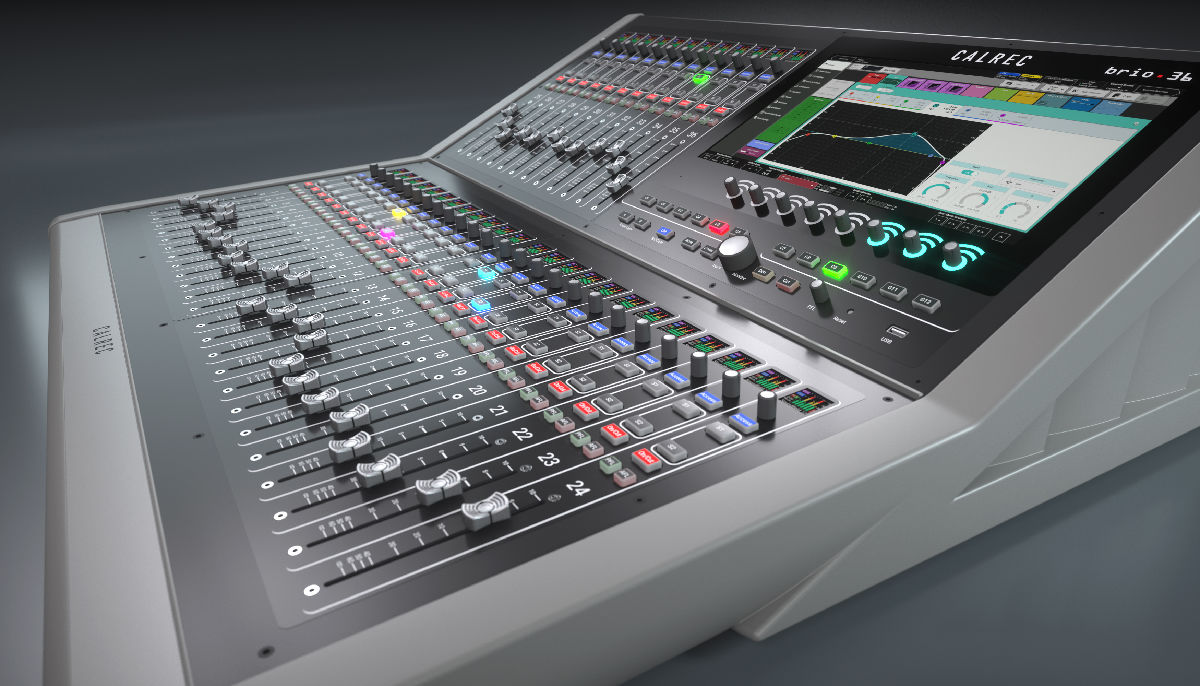 The Brio36, and the new Brio12, are the most powerful and compact digital broadcast audio consoles in their class. Both consoles feature a comprehensive broadcast feature set to support a wider breadth of broadcasters, and the same market-leading levels of quality and customer support which Calrec is renowned for.
Brio36 is 892mm wide with a 36 dual-layer fader surface, while Brio12 is only 484mm with with standard trims, and just 430mm with Calrec's slim trim option. Additional expansion I/O slots are fitted, while the Brio36 also has I/O built directly into the rear of the console.
With lots of delay resource, dynamics, integrated talkback, and multiple monitor outputs, Brio is broadcast-ready with no compromise or workarounds. With their small form factor, broadcast-focused feature set and affordable price point, Calrec Brio consoles are suitable for a wide range of applications to accommodate the expanding needs of broadcasters.
Find out more about Calrec Brio consoles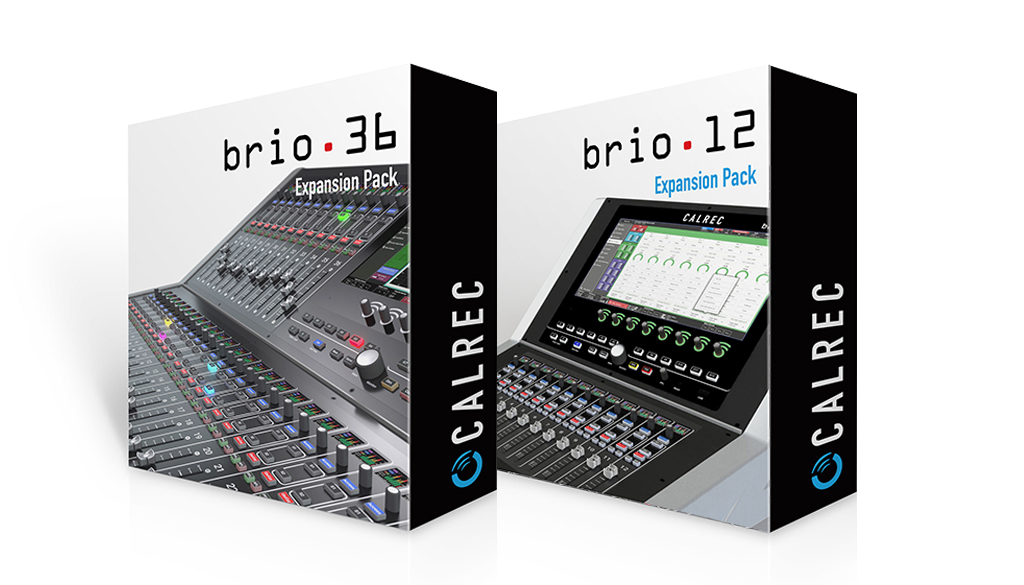 Add more channels to your Calrec Brio console
Calrec Audio has just announced the release of two new expansion packs for its popular range of compact broadcast consoles, the Brio 36 and Brio 12, increasing the number of internal DSP channels by 50%. This takes the total number of available DSP input channels from 64 to 96 on the Brio 36, and from 48 to 64 on the Brio 12.
Find out more about upgrading your Brio channel count
---

If you'd like to know more about Calrec Brio and Hydra2 broadcast audio hardware, give us a call on 01727 821 870 to speak to one of our team, or to arrange a demo.
You can also contact us here.