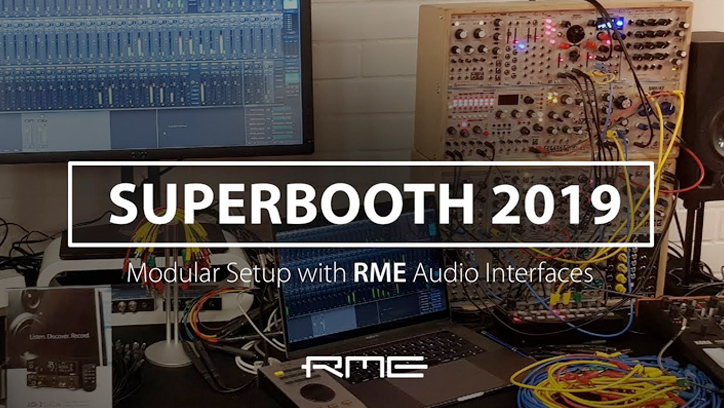 New videos showcase RME audio interfaces at Superbooth 2019
The synth-focused trade show Superbooth 2019 took place in Berlin last week, with this year's event featuring over 200 exhibitors and manufacturers. Attracting musicians, producers and sound designers in their droves, the show continues to be one of the best places in Europe to check out the latest in synths, drum machines, controllers and effects units.
Thanks to the renewed interest in modular synthesizers these past few years, more and more specialist companies have sprung up to provide an array of unique options for building customised synths and effects racks. And with DAWs like Bitwig (and now Ableton too) adding CV features for controlling external analogue synths, there's never been an easier time to get into the world of modular synths.
Below you'll find a selection of videos filmed at the RME stand, who teamed up with producer Wim Daans and instrument designer Leaf Audio to demonstrate how RME audio interfaces can be used in a modular setup.
RME @ Superbooth 2019: Hybrid Modular Setup with Fireface UFX+ and M-32 Pro
In this first video, producer, sound designer and synth fanatic Wim Daans gives us a look at his modular synthesizer setup, which he uses for live jamming and processing sounds from his DAW, with filtering and LFO modulation.
At the centre of Wim's setup lies an RME Fireface UFX+, which he uses for sending CV control data to his modular rig, along with RME's software controller TotalMix FX for channel routing.
Of the UFX+, Wim says, "the UFX+ is just an awesome centrepiece for your studio, it's so flexible for connectivity. It's just reliable, it's rock solid, it never crashes, it sounds great. I mean, what could you want?"
As you'll see in the video, Wim is also using RME's ARC USB remote control as a live controller, using the shortcuts keys for soloing and muting his outputs at the touch of a button.
RME @ Superbooth 2019: Leaf Audio and the Fireface UCX
In this second video, Manuel Richter of Leaf Audio presents their unique sound design instrument, the Microphononic Soundbox mk2, an experimental box of tricks that excels in creating organic, atmospheric drone and impact sounds.
Manuel also shows how a high-quality mobile recording setup can be achieved with just an RME Fireface UCX and an Apple iPad. Monitoring and control over the inputs is provided by the official TotalMix FX app, with the UCX's built-in EQ and compression effects used to ensure there's no clipping or distortion on the way in.
"The good thing with the UCX", Manuel explains, "it's totally new to me in this setup. But I connected it only two days ago – it works class compliant with the iPad – and I had 16 outputs directly on the iPad. And this is amazing!"
"It's like being in the studio but it's mobile, on the iPad, I mean wow!"
RME Audio – Superbooth 2019
This third video comes from Amsterdam-based recording studio RedStone Productions, who were keen to check out the new multi-channel M-32 Pro AD and DA converters, along with the ADI-2 Pro FS and ADI-2 DAC.
Massive thanks to everyone involved with the show, and of course to everyone who stopped by the RME stand!
Find out more about the RME Fireface UFX+
Find out more about the RME Fireface UCX
Find out more about the RME M-32 AD and DA Pro
---

If you'd like to know more about any of RME's pro audio products, give us a call on 01727 821 870 to speak to one of our team or to arrange a demo.
You can also contact us here.