Another great review of the RME ADI-2 DAC, this time courtesy of US-based audio technology and HiFi specialists The Master Switch.
Click here to read the full review.
Regular visitors to Synthax.co.uk will no doubt be aware of the many positive reviews recieved by the RME ADI-2 DAC.
RME's critically acclaimed audio converter and headphone amplifier has found consistent praise across the board, with sites like Headfonics stating "I can't think of any other desktop DAC/amp combo that would be easier to recommend", and Resolution Magazine saying that "the sound quality of the ADI-2 DAC FS is superb… …you have to audition this!"
A quick Google will also reveal many happy users on both HiFi and music production forums, with the DAC's reference-level sound and crossover appeal tempting users from both circles.
This latest review comes from Hi-Fi website The Master Switch, who specialise in reviewing high-end audio devices for HiFi and home theatres aficionados, and also included the ADI-2 DAC in their 'Best DACs of 2019' roundup!
"We'll put this as simply as we can: the ADI-2 DAC is one of the best-sounding pieces of audio equipment we've ever heard", The Master Switch exclaims. "Not just one of the best DACs; one of the best anything, period."
"We'll put this as simply as we can: the ADI-2 DAC is one of the
best-sounding pieces of audio equipment we've ever heard"
"We are talking absolutely astonishing clarity. Every single element of every song we listened to felt as precise and machined as a freshly-cut diamond, with incredible realism… This DAC elevated every piece of equipment connected to it, from amp to headphones, sharpening the detail and polishing it beautifully."
"We don't think we've found a DAC that impressed us
as much as the ADI-2 DAC. It's quite extraordinary."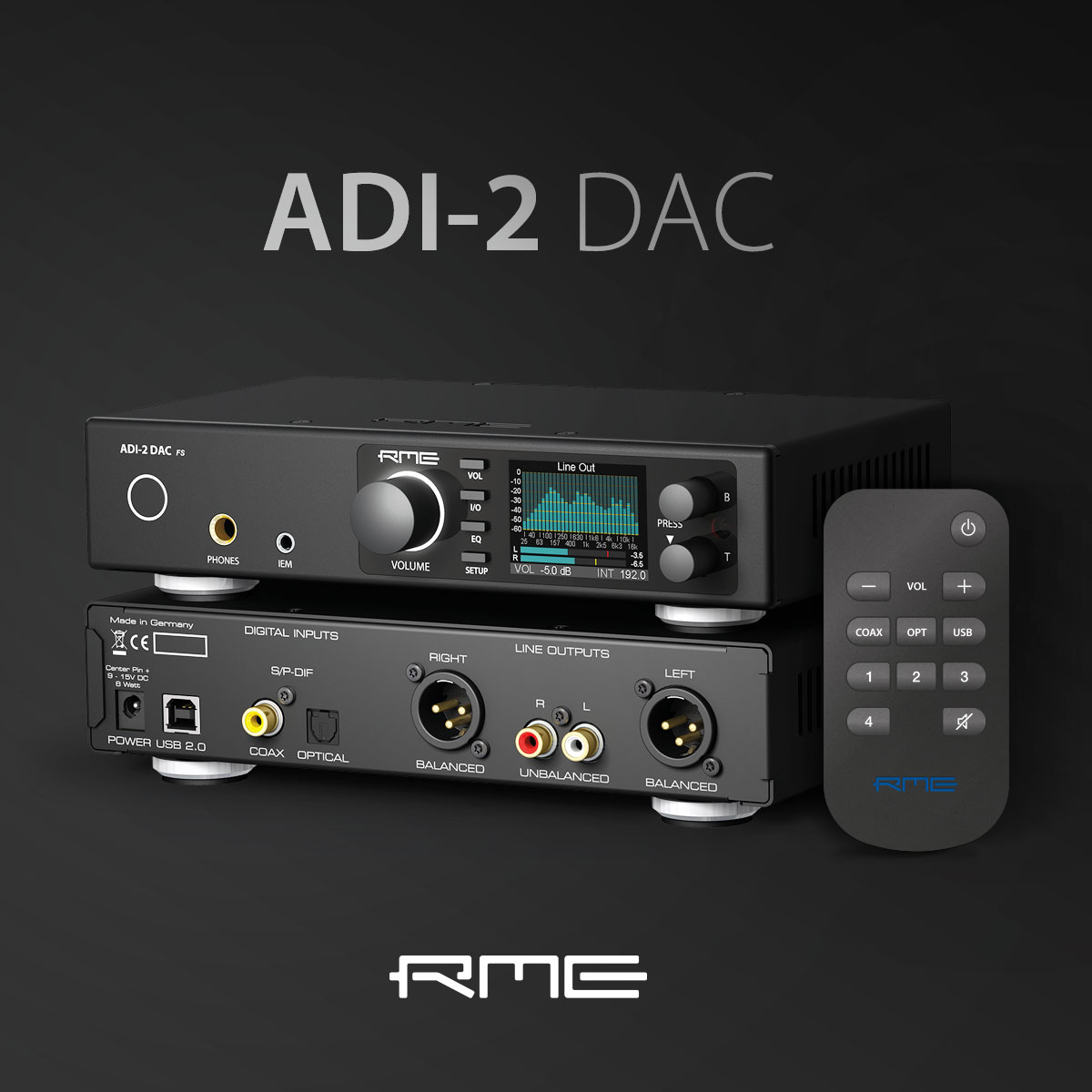 If you're a music producer or audio enthusiast looking to add high-end monitoring to your recording or listening setup, the ADI-2 DAC's sound quality alone makes it worthy of your attention. At the same time, the sheer amount of functionality crammed into this little box of tricks means there's a whole additonal side of the DAC to explore, with features like Loudness mode, Treble and Bass boost/cut, 5 band parametric EQ, DSD playback and sample rates up to 768kHz, and the user-definable remote control.
"We are not even halfway through this review, and it's already significantly longer than most other reviews on this website," the review continues, "simply because there is so much to take in. We say again: for under $1,500, the value here is absolutely staggering."
Of course, what else would you expect from RME?
Find out more about the RME ADI-2 DAC here
---

If you'd like to know more about any of RME's pro audio products, give us a call on 01727 821 870 to speak to one of our team or to arrange a demo.
You can also contact us here.