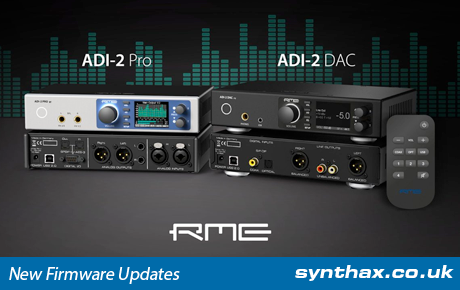 New video showcases some of the extra features added to the RME ADI-2 Series since its original release
It's been almost three years since the release of the RME ADI-2 Pro FS, and during that time a variety of new features have been added via regular firmware updates, available to download free from the RME website*.
* Go to the RME Downloads page, click on USB, expand the Flash Update section, then click the link to download the latest firmware update for Mac or PC (named 'fut_madiface_mac.zip' and 'fut_madiface_win.zip' respectively).
With each update, additional improvements and functionality have been added to a device that already punches above its weight in sound quality alone. Improved metering and menu functionality; the ability to re-map function keys and lock the volume control; separate trim gains for left and right channels; all functions which have been added since the original release, often in direct response to feedback and requests from users.
We're sure there'll be many more to come too! Check out the video below to find out more about some of RME's favourite feature additions.
Watch the RME ADI-2 Series – Features & Enhancements Video
See more videos at Synthax TV
RME ADI-2 Pro FS
The RME ADI-2 Pro FS is a 2-Channel AD/DA Converter and headphone amplifier with crystal-clear designed to perfectly capture and reproduce audio in its truest, unaltered form.
With sample rates up to 768kHz for both AD and DA conversion, the ADI-2 Pro offers an unprecedented level clarity for both recording and playback. When you need the highest quality in a converter, the RME ADI-2 Pro is the most affordable and feature-rich high-end converter in RME's range.
The perfect reference device for use in high-end audio applications, the ADI-2Pro FS offers class-leading recording playback for such as applications as mastering, scientific and measurement applications, or as the ultimate audiophile ADC/DAC and headphone amp.
Find out more about the RME ADI-2 Pro FS
RME ADI-2 DAC
The RME ADI-2 DAC also comes in AD/DA variant called the RME ADI-2 Pro FS. Featuring many of the same great features found on the ADI-2 Pro FS, the ADI-2 DAC is a crossover produce aimed as much at the HiFi world as professional audio.
A first for an RME device, the ADI-2 DAC also comes complete with a wireless remote control. Along with controls for adjusting volume, input selection and power on/off, the remote features four user-definable buttons (set to Mono On/Off, Loudness On/Off, Bass/Treble enable and Dim by default). In total, a choice of 21 different parameters can be programmed for precise control over the ADI-2 DAC's long list of features.
An additional 'AutoDark' mode, which switches off all lights on the unit during playback, allows you to enjoy your favourite music in total darkness.
Find out more about the RME ADI-2 DAC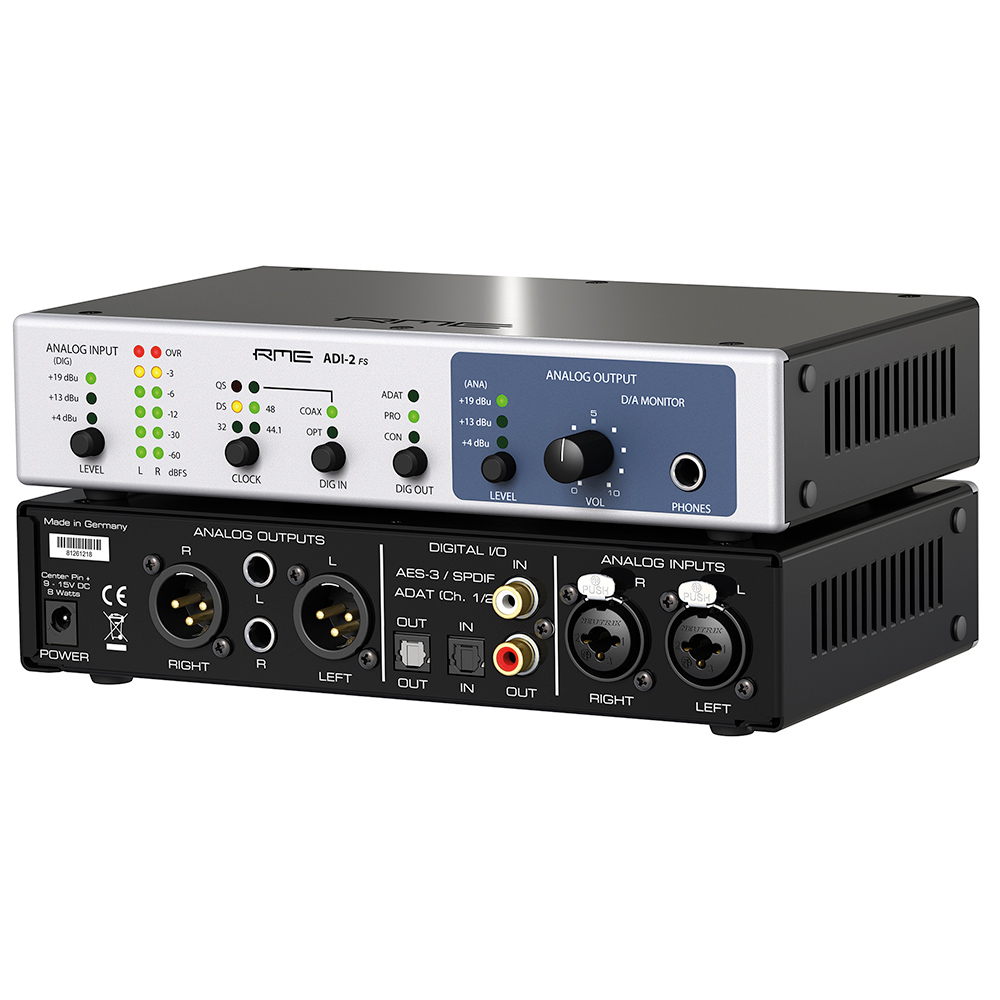 RME ADI-2 FS – Coming Soon!
The RME ADI-2 FS is a scaled-back version of the ADI-2 Pro FS. A 2 input, 2 output AD/DA converter and powerful headphone amplifier, the ADI-2 FS combines analogue and digital connectivity with the same incredibly transparent and detailed conversion quality of the other ADI-2 Series converters.
This makes it perfect for applications like smaller, 'in-the-box' mixing setups which require dedicated high-end stereo recording and monitoring, but don't need the many functions offered by the ADI-2 Pro FS.
Find out more about the RME ADI-2 FS
---

If you'd like to know more about any of RME's audio interfaces, soundcards, AD/DA Converters or microphone preamps, give us a call on 01727 821 870 to speak to one of our team or to arrange a demo.
You can also contact us here.