TV composer and musician Andy Neve on upgrading his studio with the RME Fireface UFX+ audio interface
Andy Neve is a professional songwriter, composer and musician who primarily writes soundtracks for Television, Radio and corporate videos. His music has featured on all of the major UK broadcasters including the BBC, ITV and Sky, along with large organisations like VW, ICI, Nationwide and BP.
As a songwriter, some of Andy's most famous work includes the two songs he wrote for Shirley Bassey's 50th anniversary hit album 'Thank you for the years' (including the Title Track); two tracks written with ex members of Genesis for the 'Harmony for Elephants' charity album; and a special song for the prestigious 'Wildlife Photographer of the Year Awards' ceremony, presented by Sir David Attenborough.
His additional work includes five children's albums and six production music albums, music from which has featured on TV and radio networks around the world, and last year he recorded top Classical Guitarist Christoph Denoth's latest album 'Tanguero', using only a selection of classic microphones, Steinberg Nuendo, and the original RME Fireface UFX.
He's also a session keyboard player and vocalist, working alongside artists such as Alison Moyet (Yazoo), Godley and Crème (10cc), The Move, and Steve Hackett (Genesis).
We spoke to Andy about his decision to upgrade his writing studio with RME's flagship audio interface, the 188-channel RME Fireface UFX+.
In the studio with Andy Neve
"My main setup consists of Steinberg Nuendo 10 on a 12 core Mac Pro, along with outboard gear from various different manufacturers," Andy tells us. "My interface is the Fireface UFX+, with the ARC USB remote for controlling TotalMix FX. This was an upgrade from the original (Firewire) UFX, as I wanted a Thunderbolt interface when I changed from a PC based system to a Mac."
"Although I did temporarily use a Thunderbolt interface from another manufacturer for a couple of months, I really missed RME's TotalMix FX software. TotalMix allows me to route any signal I want, including sending signals out of the RME through hardware outboard gear such as Moog filters, unusual pedals etc, and back into the system again with almost zero latency, or looping back signals from various computer sources back into the inputs. The sky's the limit!"
"[With TotalMix FX,] the sky's the limit!"
"I love all the control room functions of TotalMix, and the ability to add DSP-based reverb as 'comfort reverb' to any monitoring output. Even though I use various different microphone preamps, I really like the RME mic pres, particularly if I want something that is totally transparent and doesn't colour the sound at all. I also have a large collection of classic retro and modern keyboards, and having numerous inputs on the UFX+ allows me to connect as many as I want."
RME Fireface UFX+, ARC USB and TotalMix FX
The RME Fireface UFX+ is the flagship in RME's range of professional audio interfaces. With 94 inputs / 94 outputs, the UFX+ is the first to feature Thunderbolt and USB 3, a necessity for this device due to the incredibly high channel count, and thus requiring a wider bandwidth than other models.
RME can consistently achieve up to 70 channels (both ways) at super low-latency over USB 2 – the reason that many RME devices (such as the Fireface 802 and Fireface UFX II audio interfaces) continue to use the format. In the case of the Fireface UFX+ however, the uniquely high channel count specifically requires a Thunderbolt / USB 3 connection, to deal with the sheer number of discrete audio channels running to and from a computer.
Andy is also making use of the RME ARC USB, a dedicated remote control for TotalMix FX, the mixing and routing software included free with RME interfaces.
All RME interfaces feature a dedicated on-board DSP, essentially turning each device into digital mixing consoles in their own right, and providing full control over all inputs and outputs.
Other features found in TotalMix include control over all input and output levels, metering, monitoring and talkback, options for muting and soloing channels (and channel groups), assignable shortcut commands, OSC remote control, EQ and compression on every channel, plus Reverb and Delay sends. You can find out more about RME's TotalMix software with the Beginner's Guide To TotalMix FX video series.
"I really like the RME mic pres, particularly if I want something that is totally transparent
and doesn't colour the sound at all"
TotalMix setups can also be saved and recalled via presets, and you can even control your interface wirelessly via an iPad with the TotalMix Remote app, a free download from the RME website (found under the Software tab).
"My large 48 input digital desk has now totally been replaced by TotalMix!" continues Andy. "I've used several RME 'Nuendo Branded' units via PCI cards in the past, like the Audiolink 96 Digiset, and the Multiset units. My digital desk had TDIF inputs, and as such I used 2 x RME 'Nuendo Branded' ADI-8 I/O format converters to convert from ADAT to TDIF. That all seems so long winded now!"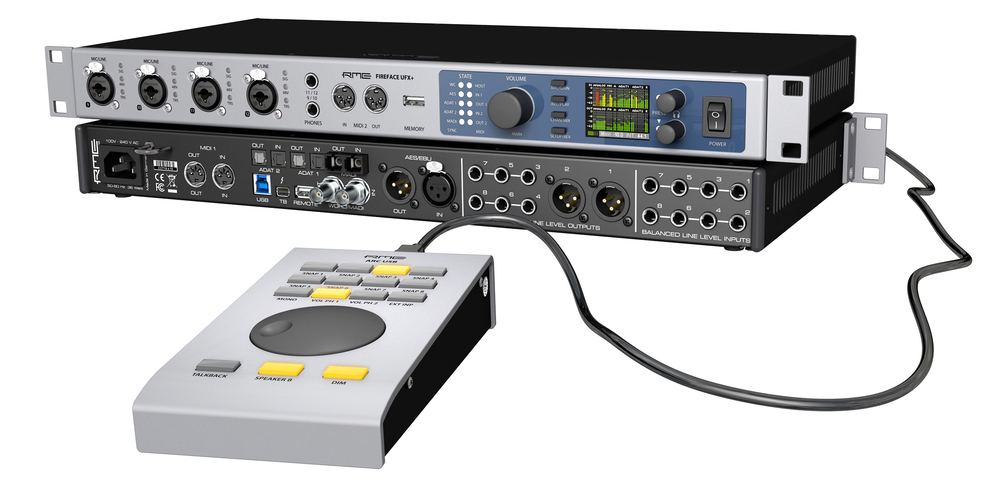 Andy Neve on RME's Reliability
To finish off, we asked Andy for some final thoughts on his experiences with using RME. "I've always found RME devices to be very reliable indeed," Andy says. "Never had a single problem. I also really love the new ARC USB remote control, and the new iPad controller for TotalMix is great too."
"RME has that reputation of being very reliable, and they sound great. But what really sold RME to me was the custom written low latency drivers. And TotalMix of course!"
"what really sold RME to me was the custom written low latency drivers.
And TotalMix of course!"
"I'd also like to give some feedback on the superb service I received from the Synthax UK team, who went out of their way to look after me and made sure I received the goods in super fast time. The team were also very knowledgeable and went that extra mile, a rare thing these days."
Our thanks to Andy Neve. You can find out more about his work as a composer via his website.
Find out more about the RME Fireface UFX+
Find out more about the RME ARC USB remote control
---

If you'd like to know more about any of RME's audio interfaces, soundcards, AD/DA Converters or microphone preamps, give us a call on 01727 821 870 to speak to one of our team or to arrange a demo.
You can also contact us here.