Unboxing our brand new Calrec Type R demo system
Last year, Synthax UK was appointed the official UK distributor for the Calrec Brio 36 and Brio 12, the small yet powerful broadcast mixing consoles from Calrec Audio.
And in 2019 we were once again pleased to extend our relationship with Calrec, with the awarding of exclusive UK distribution for Calrec's new control surface the Calrec Type R, a completely modular broadcast mixing environment with AoIP capabilities.
With our Calrec Type R demo kit having just arrived, we decided to film a quick unboxing video to showcase "what's in the box". Shot in the new Synthax HQ warehouse (proper demo room coming soon!), our Broadcast Sales Manager Simon Roome does the honours, taking us through the components of a basic Type R setup.
If you'd like to speak to us about the Calrec Type R or are interested in arranging a demo, give us a call on 01727 821 870 to speak to one of our team.
Watch the Calrec Type R Unboxing Video
See more videos at Synthax TV
Calrec Type R – The Building Blocks For Your Station
The Calrec Type R is a modular, scalable and AoIP-ready mixing controller, designed for modern and fast-paced radio and broadcast production environments. A basic Calrec Type R system consists of four main components – fader panels, small and large touchscreen displays, and a Core IO, a 2U rack unit which houses various options for analogue, digital and AoIP I/O.
Connection to fader banks and touch-screen panels is made via standard Cat 5e network cabling, with power provided by PoE.
Each fader panel features six motorised, 100mm faders and a selection of user-definable buttons, with two layers available (A and B). Essential controls can be programmed for easy access, and additional faders and soft panels can be added as required, creating a customised surface that perfectly suits the needs of the radio station, TV production house or OB truck.
The programmable small and large touch-screen control panels can operate in both landscape or portrait alignment, with simple and colourful on-screen elements offering control over a wide range of functionality.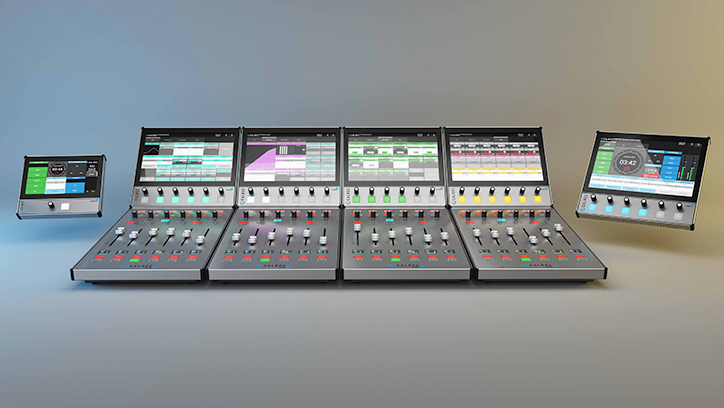 In a radio or production environment, specific functions can be tailored to suit the needs of the talent or programme, whilst overall control is maintained by the station's technical team. This functionality can be quickly changed from show to show, and adding / removing additional panels is as easy as plugging / unplugging an ethernet cable.
The 2U core can power up to three independent mixing environments with no sharing of DSP resources, whether used as independent studio consoles, microphone processors or utility mixing.
As you would expect from Calrec, the Type R is a resilient and hard-wearing console system designed for reliable, professional use, with all the requisite power, function and scalability to keep you on air for many years to come.
Find out more about the Calrec Type R
---

If you'd like to know more about the Calrec Type R or would like to arrange a practical demonstration, give us a call on 01727 821 870 to speak to one of our team.
You can also contact us here.