Iconic performing arts school chooses the Calrec Brio 36 audio console for its new state-of-the-art TV Studio
We dare say you've heard of LIPA? Having first opened its doors in 1996, the Liverpool Institute for Performing Arts was established by Sir Paul McCartney and Mark Featherstone-Witty (one of the founders of the BRIT School) in Sir Paul's old school on Mount Street, and maintains the highest reputation for the quality of its teaching and facilities.
The school produces huge numbers of highly talented graduates in both the performance and technical aspects of the performing arts every year – from recording studios to live music and theatres the world over, you are probably never far from a LIPA graduate!
But did you know that for the new academic year in 2019, LIPA opened its first fully functioning TV studio and suite of supporting rooms?
With the school choosing the Calrec Brio 36 audio console as the heart of their new facility, members of the Synthax UK team traveled up from our base in Hemel Hempstead to experience the new facilities first-hand, and to provide training on LIPA's new Brio console, which we offer as part of any sale.
We also spoke to Jon Thornton, Head of Sound Technology at LIPA, to get a run-through of their new multi-purpose, state-of-the-art TV studio, and to find out what influenced their choice of audio console.
Multi-Purpose TV And Recording Studio
Amazingly the project had only received the green light in June this year, yet the studio is already fully live when we visit, with the design and build completed in just 14 weeks! Despite this rapid timescale, the journey really began many years ago. "We had been developing elements of this module over a six year period, building up the students' understanding, but a lot of the opportunities were extra curricular," explains Jon. "We had a small fly pack that we could deploy for specific events – that culminated in a full multi-camera shoot, to televise a two week festival in the main auditorium for the last five years. All outside of a formally accredited programme."
"We've been offering undergraduate programmes in both performance and technical disciplines for years, but with LIPA graduates finding employment in places like Gearhouse, Riedel, and at Wimbledon, we started to think that we should update our 'couple of cameras and gaffer tape' approach to vision! We want to produce graduates with the necessary skills to enter the world of broadcast, and hit the ground running."
"We want to produce graduates with the necessary skills
to enter the world of broadcast, and hit the ground running."
"So it was time to create a new programme catering for vision. Because we're an Institute for the Performing Arts we wanted to cover several aspects of vision work, ranging from traditional multi camera capture, through non traditional uses of vision combined with theatre, and on into the growth areas of AR and VR."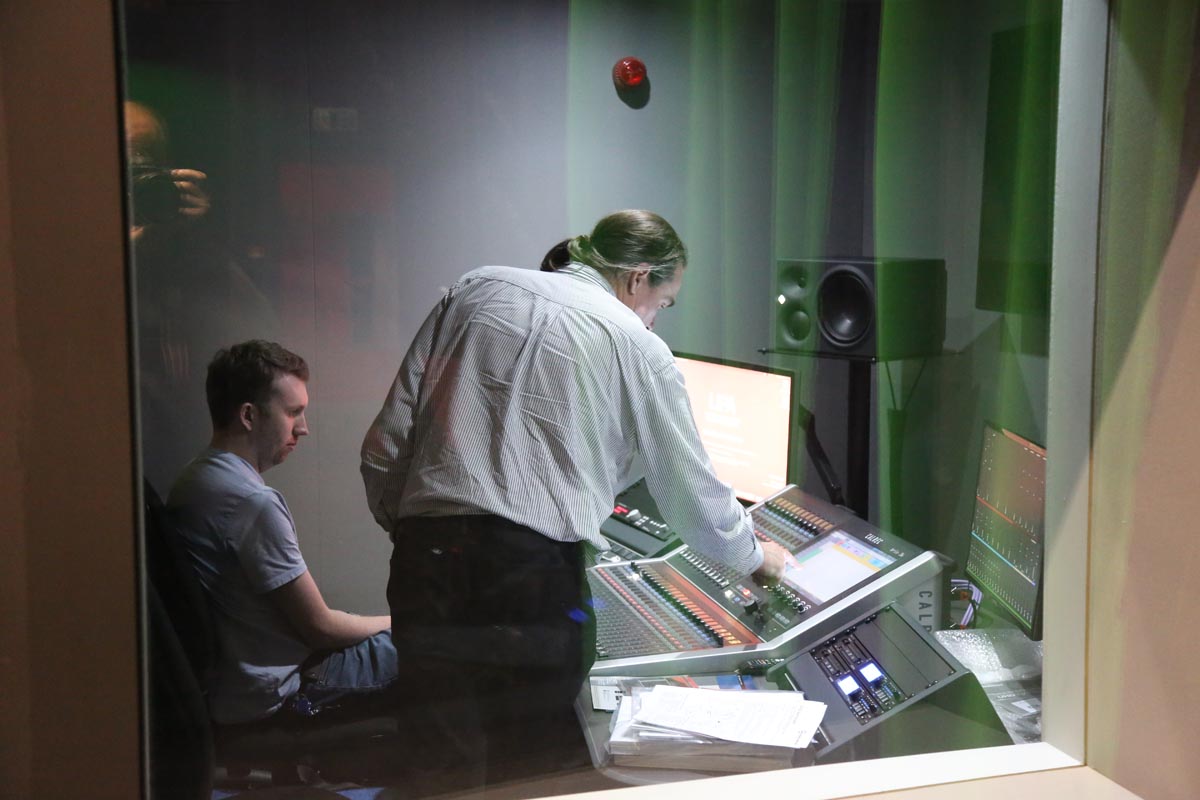 The decision was made therefore to repurpose one of their theatre spaces, The Sennheiser Studio, into a multi-purpose TV studio. "Everything here has to be flexible", Jon continues, "because every space has to be useful to multiple courses. This TV studio is used as part of the Sound Technology course, but also the new Creative Technology and Performance course. Having a TV studio allows students to practise the specific skill of acting to camera in a multi-camera setup, as well as to live audiences, and there's also motion capture for dancers. All of this helps to justify the investment, because the spaces can be of benefit to so many different courses."
The new facilities are comprised of the TV studio, with a full TV lighting grid, 4 Black Magic cameras and green screen, and a Vision Gallery with Black Magic vision mixer. Picture is recorded to Black Magic Hyper Decks.
Laid out a bit like an OB truck, the Sound Control Room is at the end of the Vision Gallery. Then there are separate rooms for Colour Grading (featuring DaVinci Resolve), Motion Capture, and a small Post Production room with ProTools and a 5.1 Neumann speaker system. The design of the acoustically important spaces was carried out by consultancy firm Whitemark who have a long-term relationship with LIPA, and give an annual lecture as part of the Recording Technology course.
"The Calrec Brio36 is great. It's a real broadcast product,
but flexible enough to fulfil our multi use requirements."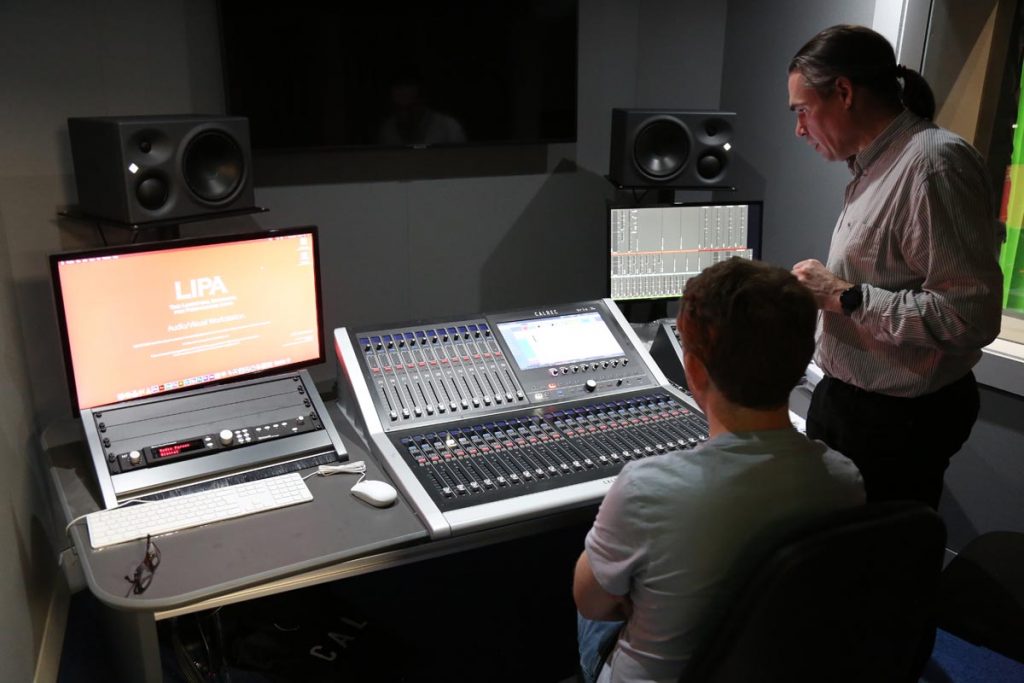 Of course, we're here to have a look in the Sound Control room, which consists of the Calrec Brio 36 mixer, ProTools, Neumann speakers, and a Bricasti M7 reverb. Unlike an OB truck, or the majority of sound rooms in large studio complexes, there is a window through to the studio floor. "That's all part of the multi use requirement" explains Jon. "We can use the TV studio as a live space, and the Calrec for normal sound mixing, with direct contact between the mix engineer and the artists."
Calrec Brio 36 – Flexible 36 dual-layer fader mixing console with a broadcast-focussed feature set
The Calrec Brio is the most powerful and compact digital broadcast audio console in its class. Equipped with a comprehensive broadcast feature set, the Brio features a 36 dual-layer fader surface and a myriad of options for expansion, from additional I/O to the most popular digital formats.
So why did LIPA choose a Calrec Brio 36 for their install? When we put this question to Jon, he responded "Firstly, I'd insisted that LIPA invest in a product from one of the 'big broadcast audio brands.' In this way, students leave LIPA having used real software from a real broadcast company, and have experience of a console they are very likely to encounter in the real world. It's the same reason we feature SSL in our main music mix room, and an AVID S6 in the main post-production suite."
"LIPA already has a good relationship with Calrec, who have always been helpful in offering students tours of the factory in Hebden Bridge, and at least two of our LIPA graduates have ended up working there."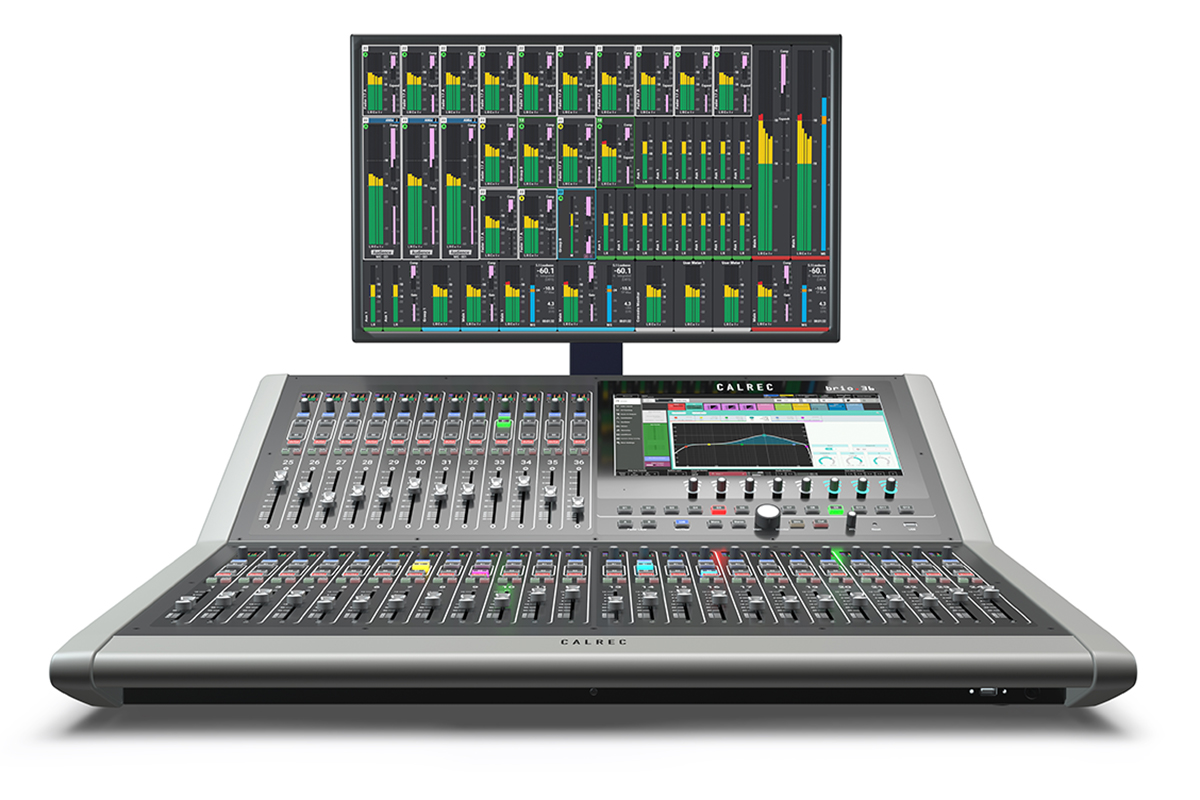 On the specific attributes of the Brio36, Jon explains "We wanted to be able to do real TV work, so we had to have a desk with all the dedicated broadcast features you need. That counts out powerful but generic smaller desks from Yamaha or Allen & Heath, for example. But we also needed the space to be flexible, and to that end we were looking for a single box, small-format solution that features a significant number of on-board mic pres for live work (24 in the case of a Brio 36). The Brio is a unique offering which ticks all of these boxes."
"The Brio is a unique offering which ticks all of these boxes."
The Calrec Brio was purchased through Studiocare in Liverpool, and equipped with three option cards for MADI, SDI embed and SDI de-embed. The new rooms are all equipped with 10 Cat6 and 12 fibre pairs for communicating with the main technical area, meaning the desk is already fully integrated with LIPA's existing infrastructure. With Calrec's option card structure and continually evolving networking capabilities, the desk is also future-proofed for any formats LIPA may decide to migrate to in the future, ensuring their facilities stay at the cutting-edge of broadcast and sound technologies for many years to come.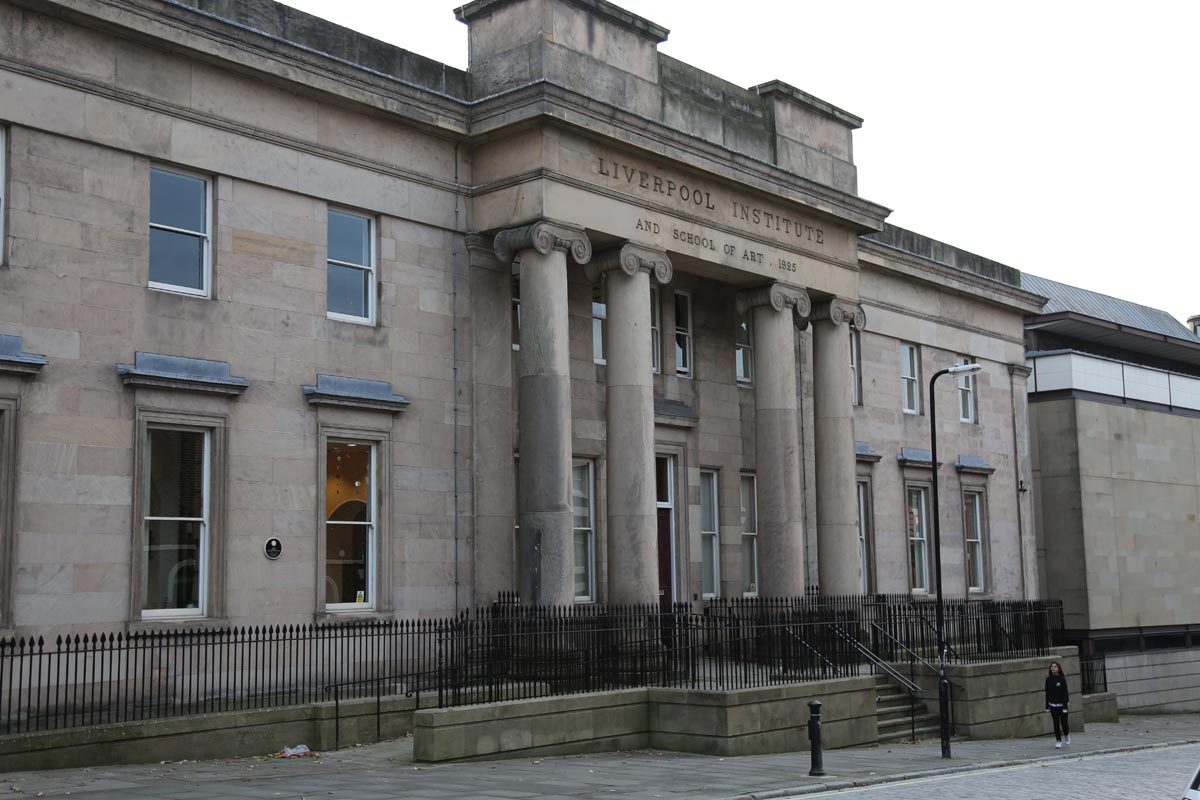 Systems integration was implemented by Wire Broadcast (Robin Howell), with the furniture designed by AKA Design. "The Calrec Brio36 is great," finishes Jon. "It's a real broadcast product, but flexible enough to fulfil our multi use requirements. It's also relatively cost effective, and so in my opinion offers an unparalleled bang for the buck."
"Thanks also to Synthax Audio UK for providing their demo Brio to AKA down in London, so that they could cut the desktop for a precise fit at their factory. When the AKA furniture arrived, everything just fitted together perfectly, saving us valuable time."
Our thanks to Jon Thornton and LIPA. To find out more about the courses and facilities available at the Liverpool Institute of Performing Arts, visit the LIPA website.
Find out more about the Calrec Brio 36
---

If you'd like to know more about the Calrec Brio and Hydra2 network, or would like to arrange a practical demonstration, give us a call on 01727 821 870 to speak to one of our team.
You can also contact us here.