Showcasing the Calrec Type R to UK radio professionals
Synthax Audio attended Radio TechCon 2019 on Monday this week, the technical and engineering conference dedicated to the UK radio industry.
Once again the show was very well attended, with attendees including broadcast and radio engineers, programme-makers and studio managers. A range of technical topics were covered during the various seminars held throughout the day, covering subjects like the benefits (and challenges) of 5G, IP, and DAB+; how the BBC's 'Fenchurch' project analyses and organises the data from the 57 hours of audio, produced by BBC Radio every 60 minutes; and advice on topics like studio design, and approaches to software UX/UI.
Synthax UK was in attendance to demo our modular Calrec Type R console, fully-equipped with the latest software release (V1.2), and the AES67-connected Combo I/O box.
"The Type R is Calrec's newest console, designed to integrate easily into any radio environment," explains Synthax UK's Broadcast Sales Manager, Simon Roome. "The Type R is unique in that it can be configured from a small, touch-screen operated console, suitable for Podcasting and similar sized operations, all the way through to a large production console, making it suitable for use in radio studios of any size."
Visit the RadioTechcon website
Calrec Type R – Combo I/O
The Calrec Combo I/O is one of several expansion options for the Type R. Featuring 8 x analogue and 4 x digital I/O, plus 6 x GPIO and redundant AoIP connections (AES67), the Combo I/O is a silent 1U rack device that provides additional Mic/Line and AES connectivity, along with headphone outputs for direct monitoring.
All of the Calrec Type R I/O boxes enable seamless distribution of audio in and around the studio, keeping wiring to a minimum and providing a simple IP-connection back to the MCR. What's more, the nature of distributed I/O means all studio sources can be accessed by any Calrec Type R console on the network.
All of the analogue and digital audio connections found on the Combo I/O are available on both DB25 and RJ45, for ease of installation.
Find out more about the Calrec Type R Combo I/O Options

Calrec Type R – The Building Blocks For Your Station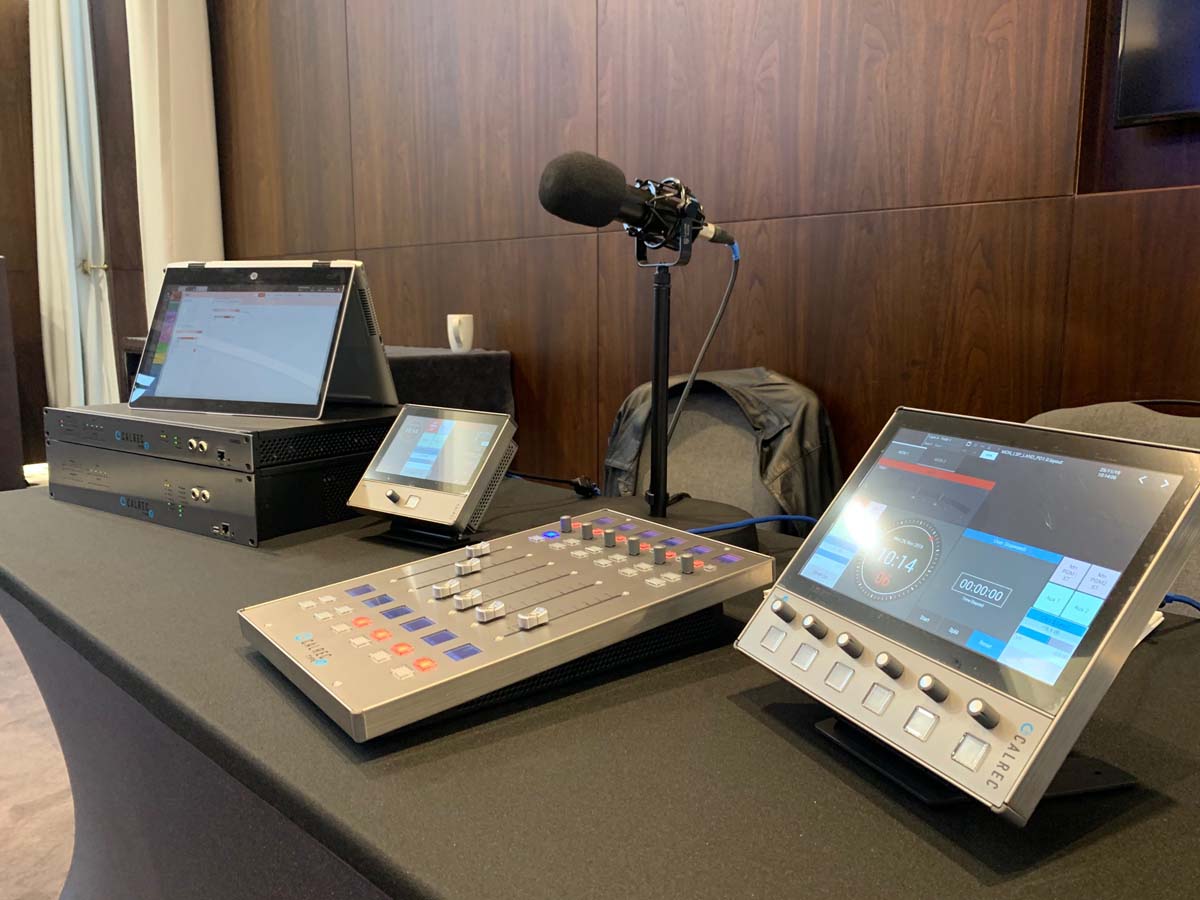 The Calrec Type R is a modular, scalable, IP-based audio mixing system designed primarily for use in radio.
A basic Type R setup consists of fader banks, large and small touch-screen displays, and a Core I/O. Additional banks of faders and touch-screen panels can be added as needed, allowing for scalable and easily expandable desks that tailor exactly to the needs of the studio or OB truck, with the options to further expand at a later date.
Broadcast-specific control is clear and concise across the system. Bussing, including the creation of mix-minus feeds, is quick to assign, while EQ and dynamics control is clear and fast – the Type R is a pure radio platform designed for fast-paced, modern environments.
And as you would expect from Calrec, the Type R is a resilient console system designed for reliable professional use, with all the requisite power, function and scalability to keep you on air for many years to come.
Find out more about the Calrec Type R
---

If you'd like to know more about the Calrec Type R or would like to arrange a practical demonstration, give us a call on 01727 821 870 to speak to one of our team.
You can also contact us here.