Find out what's in the box with the RME Babyface Pro FS
Last month we announced the release of RME's new mobile audio interface, the RME Babyface Pro FS. And with our first batch having now arrived in the UK, we thought we'd put together a quick unboxing video to give an overview of this small but extremely powerful studio hub for Mac, PC and iOS.
Whilst the main changes to its predecessor are to be found under the hood, there's been a couple of additions to the body of the interface – namely the addition of a Kensington lock port, along with a dedicated switch for added control over the main XLR output pair.
Check out our unboxing video below for a full introduction to RME's latest masterpiece of German engineering.
See more videos at Synthax TV
Clean up your signal with RME SteadyClock FS
Since its inception in 2004, RME's digital clocking technology 'Steadyclock' has frequently been cited as one of the best quality wordclocks of any audio interface manufacturer. With the introduction of the RME ADI-2 Pro FS, RME raised the bar once again by bringing the accuracy into the realm of the femtosecond. And now with the release of the Babyface Pro FS, this technology has for the first time been implemented into one of RME's premium audio interfaces.
Accurate clocking is essential for high quality audio on both the A-D and D-A conversion. What's more, when connecting older digital / vintage equipment, the Babyface Pro FS can be used as the master clock, helping to clean up the audio signals of older devices. This can help breathe new life into your vintage classics, taking the sound quality to new heights, and allowing you to capture their character in full, modern detail.
RME Babyface Pro FS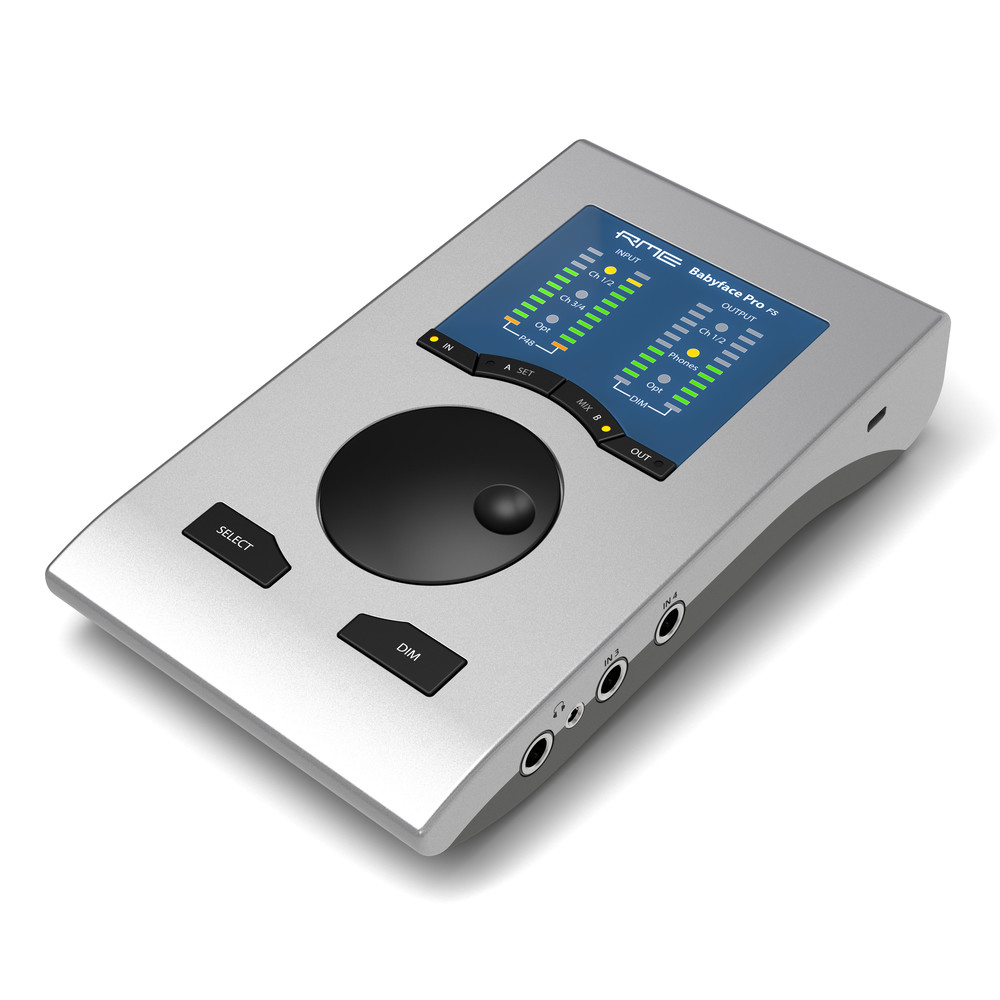 The RME Babyface Pro FS is a professional 24-Channel, 192 kHz audio interface. Bus-powerable over USB (including both microphone preamps running 48v phantom power), the Babyface Pro FS offers everything a recording engineer needs for mobile recording, mixing and live performance.
The two parallel headphone outputs (3.5 mm and 6.3 mm) feature the same output op-amps found on the award-winning RME ADI-2 Pro FS, and the two digitally-controlled microphone preamps provide an incredibly clean signal even for very low-level microphones.
Extensive front panel controls allow for quick access to features such as selecting inputs and outputs, Dim and 48v phantom power, and the large encoder wheel provides smooth and accurate control over levels and gains.
Further connectivity includes 2 x Instrument/Line inputs for instrument recording; 1 x MIDI I/O via an included breakout cable; and optical ADAT I/O for expanding the channel count with up to 8 x additional I/O, when connected to an external AD/DA converter or microphone preamp.
A dedicated +19 / +4 dBu switch on the underside of the interface allows you to reduce the main output level (and improve the SNR values) when using sensitive active monitors, and a Kensington lock port provides a level of security against theft.
Find out more about the RME Babyface Pro FS
---

If you'd like to know more about any of RME's audio interfaces, soundcards, AD/DA Converters or microphone preamps, give us a call on 01727 821 870 to speak to one of our team or to arrange a demo.
You can also contact us here.