Introducing the DirectOut Prodigy Series – powerful, flexible audio conversion and processing.
DirectOut specialise in developing pro audio connectivity, networking and bridging solutions for a wide range of applications. Their team are all active sound engineers, so the company is always focused on developing products that handle the real-world demands of pro audio. Offering bridge-building solutions between different audio worlds, DirectOut make audio systems and formats more flexible. This flexibility is something that DirectOut have put front-and-centre of their new product line the Prodigy series.
Back at NAMM 2020, we spoke to Luca Giaroli from DirectOut to go through some of the great features of the Prodigy series, as well as their controller software, GlobCon.
See more videos at Synthax TV
Modular design

The Prodigy series takes a modular approach to connectivity and features a vast list of available I/O options. Modules can be swapped to accommodate the changing requirements of pro audio setups, meaning the Prodigy series is not only powerful and capable, but also adaptable by design.
The expansive list of modules includes everything from mic and line analogue options to AES 3, MADI and networking options from Dante and RAVENNA. Also available is a module that gives you access to Waves SoundGrid.
What's more, the Prodigy series units offer all this power and connectivity in only 2U of rack space each.
Prodigy.MC – Modular Audio Converter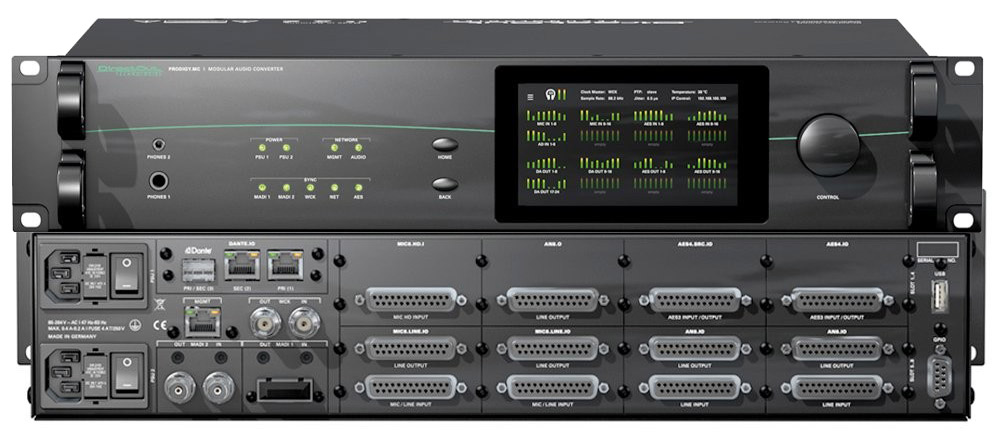 Building on the foundations of the high-end ANDIAMO converter family, the Prodigy.MC is a powerful, adaptable audio converter that is at home in many audio applications. Featuring eight local I/O slots, it can provide up to 64 channels of local input and output.
Additionally, the Prodigy.MC also includes two MADI slots which can be equipped with a choice of BNC, SC optical or SFP modules. Its two network slots support Dante, RAVENNA and Waves SoundGrid, pushing the channel count to 320 inputs and 324 outputs.
The Prodigy.MC offers bidirectional conversion between analogue and digital signals, signal distribution, streaming audio, conversion between audio networks and MADI environments, and conversion of different MADI signals. The multitude of options and capability of the Prodigy.MC make it the perfect product for many applications in pro audio, broadcast, installation and studio applications, using a single hardware frame.
Find out more about the Prodigy.MC
Prodigy.MP – Multi Function Audio Processor
Like its sister product, the Prodigy.MP provides flexible I/O and networked audio. Its four customisable modules allow for 32 channels of local inputs and outputs, whilst also offering two MADI module slots. Unlike the Prodigy.MC, the Prodigy.MP features dual network ports, which not only makes the Prodigy.MP a bridge between network standards, but also increases the channel capacity to 416 inputs and 420 outputs.
The Prodigy.MP features incredible sample rate conversion which allow it to be the central point of a larger audio system. For example, multiple consoles can be connected using the Prodigy.MP, regardless of their format and clocking. This makes the Prodigy.MP an incredibly capable device for live audio setups. You can even set a prioritised list of clock reference options which allows for maximum redundancy.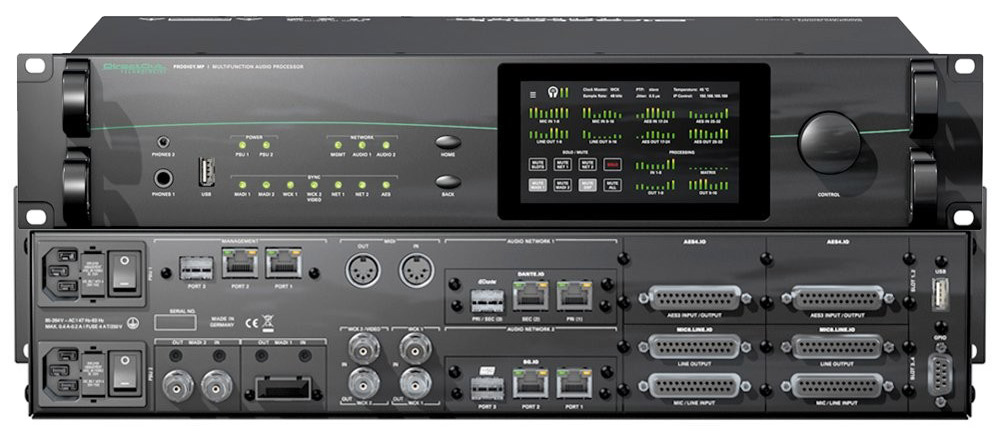 But its real power lies in its audio processing capabilities, allowing it to be the core of any sound setup.
A powerful Matrix Mixer built into the Prodigy.MP allows for flexible and comprehensive control and routing of every input and output signal. 32 Summing busses enable the summing of any hardware inputs and DSP blocks, giving huge processing power across all signals.
The Prodigy.MP features 96 built-in DSP plugins. In addition to 32 EQs, 32 delays and 32 dynamic processors, 128 external plugins are available via the hardware I/O, including access to the Waves SoundGrid world. SoundGrid also offers extremely low latency audio transport and allows for connection to Waves servers for plug-in inserts. Virtual soundcards for macOS and Windows can directly interface with any DAW for multitrack recording and virtual sound-checking.
Find out more about the Prodigy.MP
Enhanced Automatic Redundancy Switching
The Prodigy series offers the highest level of redundancy to ensure smooth operation. For example, each device feature two redundant power supplies, each with their own IEC inlets and power switches. What's more, each I/O module is assignable to be redundant to a second.
DirectOut's automatic redudancy system – found in their popular EXBOX.BLDS MADI switch – is present in the Prodigy.MP, providing enhanced fail-over system security.
Powered by DirectOut's Enhanced Automatic Redundancy Switching (EARS), their Buffer Loop Detection System (BLDS) helps detect silence or a corrupted input signal, which allows for rapid signal switch-over within one sample.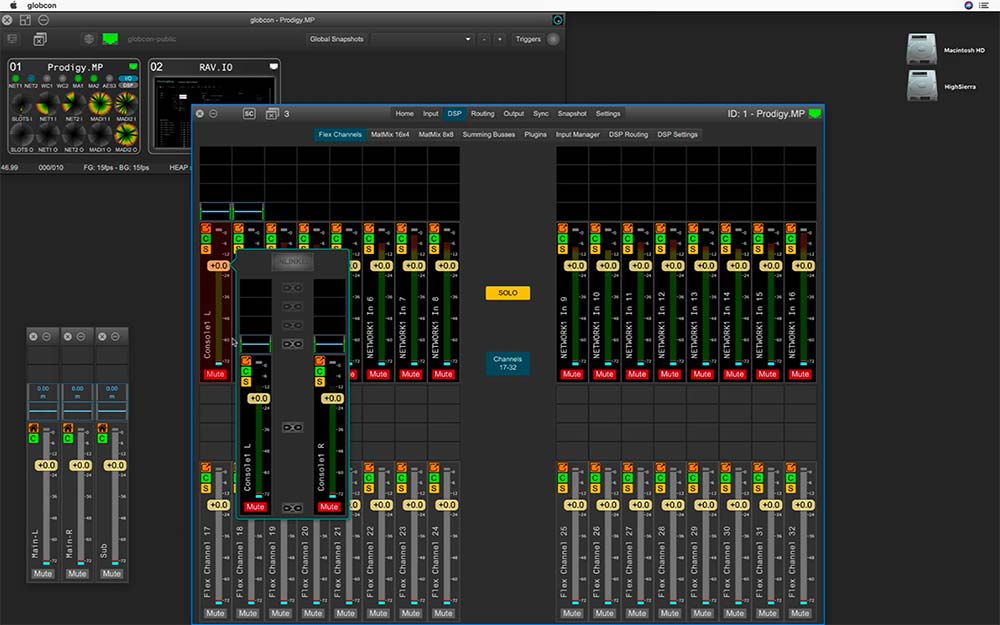 GlobCon – Maximum Control
Whilst the large touchscreen is ideal for rapid access to simple functions, the Prodigy series works with GlobCon to handle complex routing and mixing duties.
GlobCon is a free to download software controller for Mac, Windows and Linux. It unlocks all the mixing and DSP capabilities of the Prodigy series, giving you the ability to freely route and mix any input and output signal.
Additionally, GlobCon also allows for more detailed changes to DSP plugins, as well as being able to customise and move channel strips and effects to anywhere on the software screen. This can help in keeping an eye on certain levels, or in creating an individual mix snapshot. GlobCon also manages these snapshots, allowing for the recall of all your settings and routings at the touch of a button.
Finally, a browser-based GUI allows immediate remote access without the need to install software. The management network port is independent of the audio network and can use a built-in switch for in-band management of the device.
The Prodigy Series – Built For Any Challenge
The Prodigy series takes the powerful, flexible audio conversion that DirectOut have become known for and adds the ability to customise each device to fit a variety of uses. With the Prodigy.MP offering incredible DSP capabilities, dual network connectivity and powerful control software in GlobCon, the Prodigy series is fit and ready for even the most complex and demanding audio applications.
Find out more about the Prodigy.MC and Prodigy.MP.
---

If you'd like to know more about DirectOut, give us a call on 01727 821 870 to speak to one of our team.
You can also contact us here.