Sound engineer Paul Cutler discusses choosing the Calrec Brio 36 for mixing the 100th birthday celebrations of Captain Tom Moore.
You'll no doubt be aware of Captain Tom's story, who set out to raise money for the 'NHS Charities Together Covid-19 Urgent Appeal' via a sponsored walk of 100 laps of his garden. Inspiring public donations from the around the world, his efforts managed to raise a staggering £32 million to support the NHS.
Celebrating his centenary on April 30th 2020, the occasion was marked with a Spitfire and Hurricane flypast, which can be tricky to mix from an audio standpoint. This was made all the more challenging by the strict Covid-19 social distancing guidelines, and with Captain Tom himself hard of hearing, an ingenious solution was required to provide him with a headphone feed.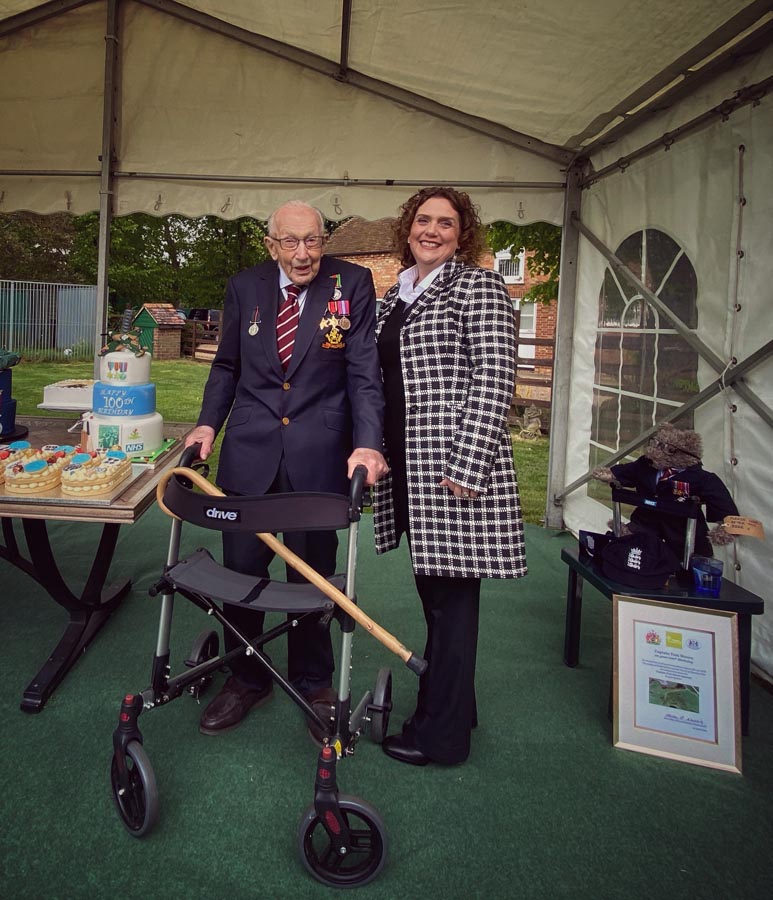 Luckily, Sound Engineer Paul Cutler had previous experience with mixing a flypast, so he set about turning his old VW T4 campervan into a makeshift OB truck, complete with a Calrec Brio 36 broadcast console (hired from Presteigne Broadcast Hire and supplied by Synthax Audio UK).
"I was asked to mix the audio for the live broadcast of Captain Tom's 100th birthday celebrations, and it was a such a privilege to be part of it!" says Paul. "The broadcast grew and took on its own momentum because the story was so compelling – it wasn't just a story about a national hero, but a story about people coming together in difficult times."
"It was a two-camera shoot and a helicopter to capture the flypast. The flypast of the RAF Spitfire and Hurricane sounded awesome. It was the second flypast I have mixed in recent years – the first was to honour 10 US airmen who died when their plane crashed in a park in Endcliffe Park in Sheffield, UK, in 1944. Then, relatives of the aircrew and thousands of people from across Britain paid their respects, and this occasion was no less humbling."
"I had never used a Brio before, but it was so intuitive"
"The shoot had a small video OB, but the sound and comms setup was quite complex, and of course we had to adhere to strict social distancing rules. We spent many hours of pre-production setup over Zoom to work out how we would do it, discussing on the technical setup after we had agreed the creatives."
"The broadcast was mixed on a Calrec Brio console from Presteigne Broadcast Hire. The Brio took all radio mics, IEMs and DA's, while output was sent to a satellite truck for broadcast and a radio van for feeds to other broadcasters."
"I had never used a Brio before, but it was so intuitive that I took delivery, installed, set it up and mixed the broadcast in a matter of hours. It is amazing to use; so simple I was adding auxes on the fly and had no concern about adding any facilities. Plenty of ins and outs, huge capacity and a user interface that's beautifully laid out and a joy to use."
Calrec Brio 36 audio console – "A joy to use"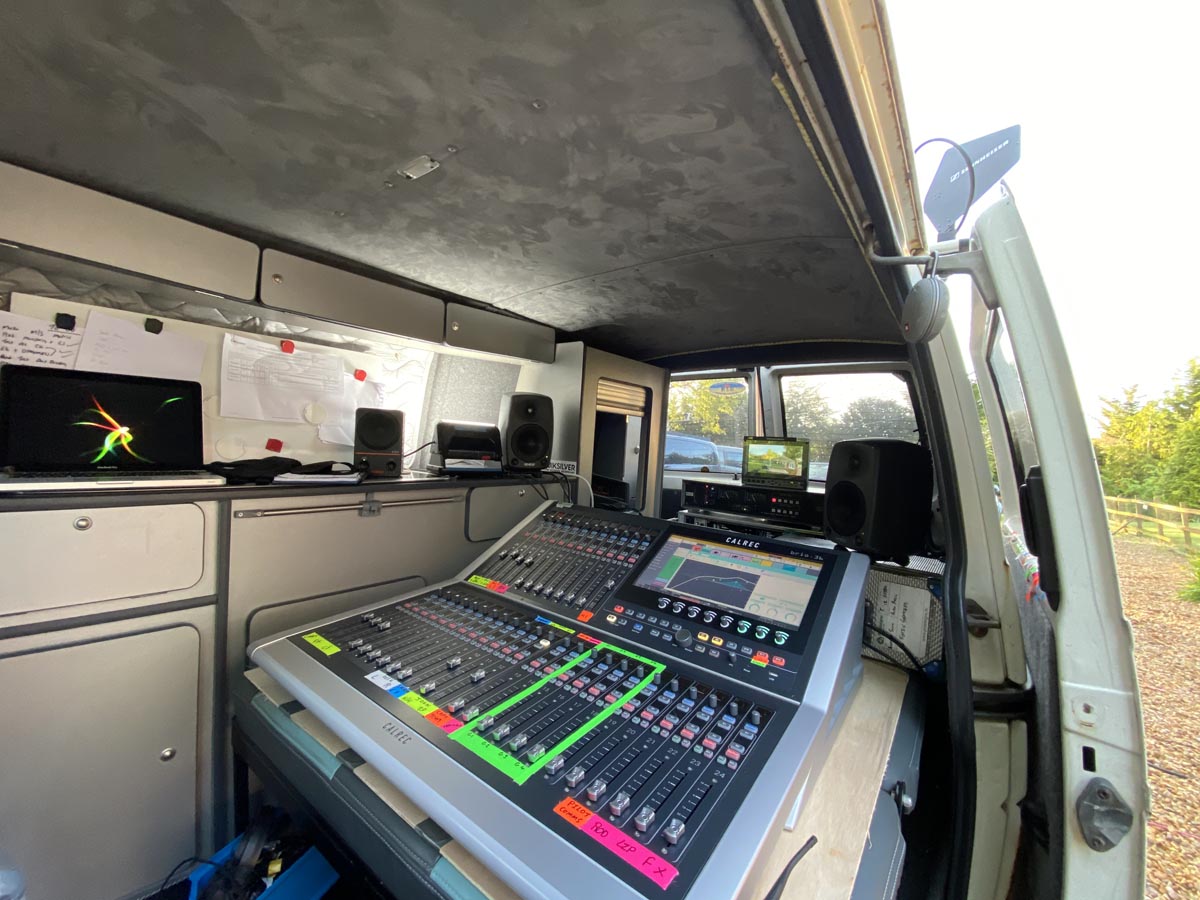 The Brio 36 offers up to 24 mono auxes and up to 4 Main stereo outputs, for providing feeds to accommodate the variety of mixes needed for different broadcasters.
The console has 24 mic/line inputs and 16 line outputs built in, along with 8 AES/EBU inputs and outputs. The total I/O can be greatly increased via a range of expansion cards, to add MADI, Dante and a wide range of other connectivity, making the Brio an incredibly versatile console for a small to medium OB mixer.
"To maintain social distancing, I installed it into my old VW T4 campervan as a makeshift OB unit, and the Brio's small footprint made it a perfect fit," continues Paul.
"Social distancing is a priority on Outside Broadcast shoots now, and broadcasters are very concerned about maintaining proper social distancing. In fact, one of the biggest issues was the way my sound crew had to demonstrate to people how to mic themselves up!"
"The Brio is a fantastic desk – I absolutely love it!"
"The live broadcast was done from an OB setup feeding into the studio in Salford. The most challenging aspect was how to get Captain Tom, who is deaf, to hear the people around him and the many incoming OB's, Skypes and clean feed from Salford. I achieved this with a base station from Phonak rigged close to him, Bluetoothed to his existing hearing aid. As his daughter Hannah was by his side at all times, I duped this and sent it to a TX IEM for her as a backup, and I added a pre-fader feed of her mic so that he would be aware of what was going on around him."
"The Brio is a fantastic desk – I absolutely love it! Having never sat behind one before having to set it up from scratch was slightly daunting but there were no issues. I took delivery of the console from Presteigne one day and had it fully installed and ready for broadcast within 24 hours! There was a lot of pressure to get event right, but the Brio gave me the confidence to get the job done."
Our thanks to Paul Cutler, Presteigne Broadcast Hire and Captain Tom Moore.
For more information and a full specification for the Brio, visit https://www.synthax.co.uk/calrec/brio/.
---

If you'd like to know more about the Calrec Brio and Hydra2 network, or would like to arrange a practical demonstration, give us a call on
01727 821 870 to speak to one of our team.