A beta version of RME's DIGICheck NG software is now available to download for 64-Bit Mac operating systems.
RME's DIGICheck is a free suite of audio analysis tools for all RME users. Something of a 'hidden gem', DIGICheck is a powerful audio tool with a host of professional features like frequency analysis, phase correlation, loudness metering and options for 5.1 surround sound.
Whilst still in its early stages, this new version was developed specifically in response to Mac users running 64-Bit operating systems, with the original 32-Bit version of DIGICheck not supported by OS builds like Catalina.
Up to three RME devices can be used simultaneously, with all windows resizable/scalable. The DIGICheck window is now also fully customisable for up to four different tools (as well as additional windows), so you can add and remove the elements as you need, and choose where to place them within the UI.
Windows users can continue to use the current version of DIGICheck, which is available from the downloads section of the RME website.
Please be aware that this is only a Beta release and therefore not the finished article, but we hope you enjoy checking out what the next generation of DIGICheck has to offer.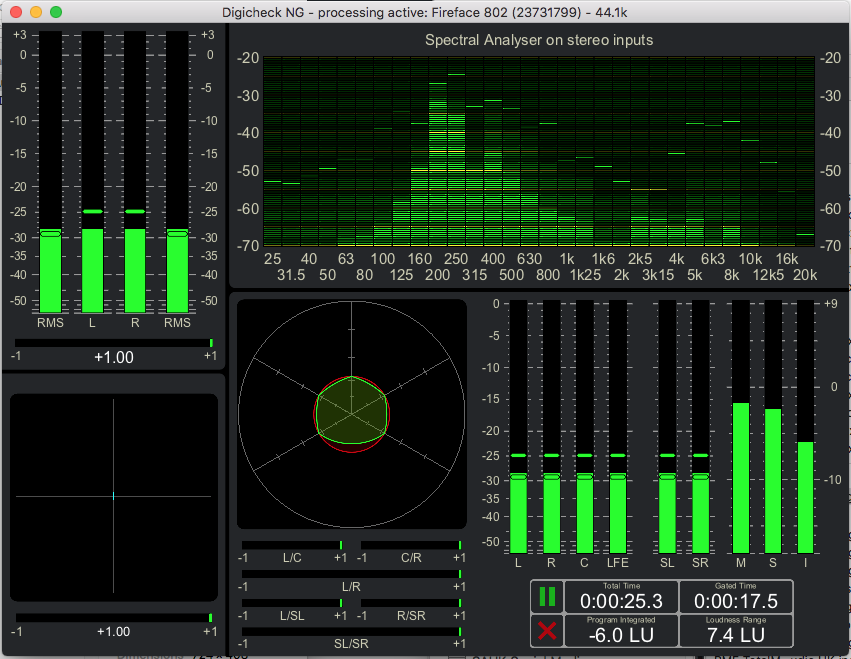 "DIGICheck NG has been fully rewritten and newly designed from the ground up," explains Matthias Carstens, RME's Head of Design. "Of course you get the same measurement functions as before, but many things have changed, and we think for the better."
"For example DC NG is now fully scalable, in all functions. It uses an extremely flexible window that can hold up to four instruments in freely adjustable sizes."
"And of course you can have multiple of these flexible windows open and configure them in extreme freedom, to finally store everything as your personal Workspace."
"If you find missing functions or incompatibilities we are happy about any feedback, as well as comments about this new version!"
DIGICheck NG is available to download here.
For more information, check out the DIGICheck NG post on the RME Forum here.
Audio Inputs: How to use DIGICheck Next Generation
DIGICheck NG allows you to add up to four analysis tools at a time in a single window, named 'Instruments' in the settings drop-down. All inputs on your RME device are available for analysis.
1 – To change which input any of the four Instruments is analysing, go to Options > Instrument 1 > Input Selection.
2 – In the pop-up window that opens up, click on the input channel you want to change (under the Device Channel header), and choose your input from the resulting drop-down window.
3 – Repeat the process for each additional 'Instrument'.
4 – To add more than four Instruments, simply click on File > New Window…
Audio Outputs: How to use DIGICheck Next Generation
To analyse an output, you'll need to activate the Loopback function in TotalMix FX, so that the output is routed back in as an input.
1 – In TotalMix FX, select the output you would like to analyse (e.g. ADAT 1/2 , bottom-row of TotalMix).
2- Route the audio channels you want to analyse to this output channel, by raising their respective faders in the top and middle rows of TotalMix (Hardware Inputs and Software Playback channels).
3 – Now click on the wrench symbol on your chosen output channel (bottom-row of TotalMix), and activate the Loopback button.
4 – Open DIGICheck NG, select the instrument you would like to activate, and choose your Loopback Channel's corresponding input from the drop-down menu (ADAT 1 and ADAT 2 in our example).
You will now be able to analyse any audio that you route to the ADAT 1/2 Output channel, so long as you have the Loopback button activated.
Download the DIGICheck NG Beta Release
See the full range of RME Audio products
---

If you'd like to know more about any of RME's audio interfaces, soundcards, AD/DA Converters or microphone preamps, give us a call on 01727 821 870 to speak to one of our team or to arrange a demo.
You can also contact us here.