Self-described 'nutty audiophile' TAWW checks out the RME ADI-2 DAC FS.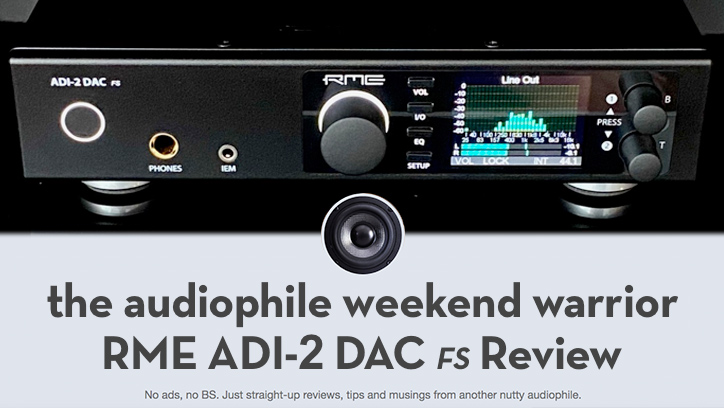 Judging by the sheer number of glowing reviews, the RME ADI-2 DAC FS has to rank as one of RME's most popular audio devices to date.
Alongside the many positive words written by some of the industry's most respected publications, a variety of user reviews have sprung up online from bloggers and Youtubers who specialise in reviewing high-end Hi-Fi products.
And now we can add another to the list, with this latest review coming from audiphile blogger TAWW (The Audiophile Weekend Warrior).
"absolutely packed with processing features…
…you name it, it's probably got it"
Putting RME's reference-class headphone amplifier and USB-DAC up against some far pricier options, TAWW says "the ADI-2 feels extremely sturdy and is clearly designed to withstand the rigors of studio and field use, something you certainly can't say of the vast majority of audiophile gear. The rotary controls are firm and tactile, and everything feels designed for the highest level of utility and durability with zero fluff."
As with many other reviews, TAWW was impressed by the long list of adjustable features, finding the ADI-2 DAC to be "absolutely packed with processing features. Adjustable digital filters, parametric EQ, tone controls, loudness contour, crossfeed for headphones – you name it, it's probably got it."
RME ADI-2 DAC FS – "First impressions: clean, clean, clean"
Of course, any review of a pro audio product needs an analysis of the the sound quality, which TAWW describes as having "Excellent resolution, smooth and neutral tonality. Very clear without being bright or clinical."
Finishing off his review, TAWW writes that "the RME ADI-2 FS DAC is an excellent sounding piece worthy of audiophile credibility. And I haven't even begun to tap into all its unique capabilities that no competitor I'm aware of can offer."
Big thanks to The Audiophile Weekend Warrior for another top review!
To order your RME ADI-2 DAC FS and claim a free 5 year warranty, see our list of authorised UK dealers.
---

If you'd like to know more about any of RME's audio interfaces, soundcards, AD/DA Converters or microphone preamps, give us a call on 01727 821 870 to speak to one of our team or to arrange a demo.
You can also contact us here.