An overview of RemoteFish, a free software application for remote control over Ferrofish AD/DA Converters
German manufacturer Ferrofish specialises in the production of high-quality, multi-channel AD/DA converters, providing a powerful and flexible addition to any professional live, studio or broadcast audio setup.
Whilst the Pulse 16 and A32 Series both feature extensive (and extremely user-friendly) front panel control, the free RemoteFish software application adds remote control via MIDI direct from a Mac or PC.
For an introduction to RemoteFish, check out our video below. If you'd like to know more about pairing a Ferrofish converter with an RME audio interface, check out our recent article on how to expand an audio interface with more analogue I/O, or feel free to contact us.
Watch the Ferrofish RemoteFish Overview Video
See more videos at Synthax TV
Ferrofish Pulse 16 Series – 16-Channel AD/DA Conveters
The Pulse 16 Series is a selection of professional 16 in / 16 out AD/DA converters comprised of three different flavours, with options for expanding ADAT, MADI and Dante-based audio setups with additional high-quality analogue I/O.
The basic Pulse 16 model features ADAT I/O only, with the ability to upgrade the device (to a Pulse 16 MX) with MADI I/O at a later date.
The Pulse 16 MX features both ADAT and MADI optical connections, whilst the flagship Pulse 16 DX offers the addition of Dante I/O, for simple integration with any existing Dante network.
See the full range of Ferrofish AD/DA Converters
Ferrofish A32 Series – 32-Channel AD/DA Conveters
For those higher-channel jobs, Ferrofish also produce two 32 I/O units, the A32 and A32 Dante.
The Ferrofish A32 features 32 analogue inputs and 32 outputs on D-Sub breakout connectors, with ADAT and MADI I/O for connecting with audio interfaces and mixing consoles, whilst the A32 Dante adds Dante I/O for audio networking applications.
See the full range of Ferrofish AD/DA Converters
RemoteFish Software – Remote Control via MIDI
As mentioned above, every Ferrofish converter features an intuitive front-panel for control over all aspects of the device, including metering for all levels, as well as a headphone output for direct monitoring.
In addition, Ferrofish's RemoteFish is a free software application that provides additional remote control of any Pulse 16 or A32 converter from a Mac or PC, allowing for control over input and output gains, channel routing, device status and settings, as well as the saving and loading of presets. 
For the Ferrofish Pulse 16 models, control occurs via MIDI or MIDI over MADI (Pulse 16 MX and DX only). The Pulse 16 DX can also be controlled via Dante.
For the A32 and A32 Dante, both versions can be operated remotely via USB, MIDI, MIDI over MADI, or via Dante (A32 Dante only).
Multiple units can also be used together from the within the same software window, with each unit easily identifyable via the Serial number on the left-hand side of the user interface.
Download Remotefish and the latest firmware here
RemoteFish – Quick Start Guide
1. Download and install the latest firmware update for your Ferrofish Pulse 16 or A32 Series device.

2. Download and install RemoteFish to your Mac or PC, following the onscreen instructions to complete the installation.
3. Connect your Pulse 16 or A32 Series device to your audio interface (via MIDI) or your computer (via USB – A32 and A32 Dante only).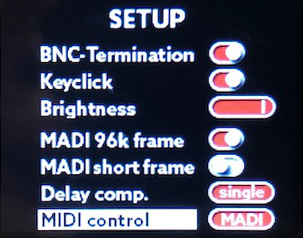 4. On your Pulse 16 or A32, select MENU > SETUP > MIDI control, then select MIDI or MADI according to the connection method.*
* Selecting both MIDI and MADI can cause display issues – please set it to one or the other, depending on your preferred connection method.
5. Launch RemoteFish and select File > Scan Devices.
6. When the scan is complete, any connected devices will be displayed on the left-hand side. Select a device to open the remote control interface for that device.
See the full range of Ferrofish AD/DA Converters
---

If you'd like to know more about Ferrofish AD/DA and format converters, give us a call on 01727 821 870 to speak to one of our team or to arrange a demo. You can also contact us.