We chat to engineer and producer Joe Rodwell about his career, lockdown recording and why he's a fan of RME audio interfaces.
Joe Rodwell is a UK-based recording engineer, music producer and multi-instrumentalist who's worked with the likes of Craig David, Chase and Status, Shy FX and Ady Suileman.
Something of a 'horns and string section specialist', Joe engineered the string recordings for "Came Here For Love" by Sigala and Ella Eyre, and provided arrangements for JP Cooper's "Live at the Church" sessions.
He's also featured on official remixes for artists including Ed Sheeran, Rag'n'Bone Man, Sam Smith, London Grammar and Protoje, and continues to work with a number of current and upcoming artists, alongside recording original compositions for TV (BBC One, Channel 5, MTV), film and corporate media.
A long time RME user, we spoke to Joe about how he's been surviving the lockdown, and why he favours RME audio interfaces for his live and studio work.
In the studio with the RME Fireface UCX
"I really do a mixed bag of jobs, it's how I like it!" Joe tells us. "Producing and mixing for a number of current and upcoming artists, writing music for TV production/sync houses, recording as an engineer and an instrumentalist for charting artists, and performing with a number of different groups in the originals scene, as well as some corporate work."
"I also work at Andy Whitmore's Greystoke Studios occasionally as an extra producer and engineer, which is where I got my first experience with RME gear, using the FireFace UFX as the main interface there."
"For my own studio and live work, I need an ecosystem that's sturdy, portable, and most importantly, gets the best out of everything that's plugged into it. I currently have three different setups – my home studio, where most of my day to day work is done; a portable set which I take on the road or to different studios; and my live setup, which consists of various synths and controllers, horns and guitars."
"For live I've been using a Babyface Pro, which I think is the best of the best
when it comes to quality and portability."
"My home studio is based around an iMac Pro with an RME FireFace UCX as the main audio interface – I have a small chain of outboard for recording in/mixing, a guitar/FX pedal chain, and several synths and mics which are always connected for quick working."
"The UCX really gets the most out of this setup, primarily due to the ridiculous flexibility of TotalMix. I can easily route the synths to the outboard chain, FX chain or both, or re-route Logic to go through the same chains for easy hybrid-mixing."
Live performance with the RME Babyface Pro FS
"For live I've been using a Babyface Pro, which I think is the best of the best when it comes to quality and portability. Bus-powered, super low latency and no dropouts. Usually I'm presenting front of house with 2 outs, and mixing Mainstage, two synths and guitar within Totalmix, and monitoring straight from the interface via my in-ears."
"RME's equipment is incredibly sturdy, the Babyface Pro especially!
It's been shoved around a lot but takes it all in its stride."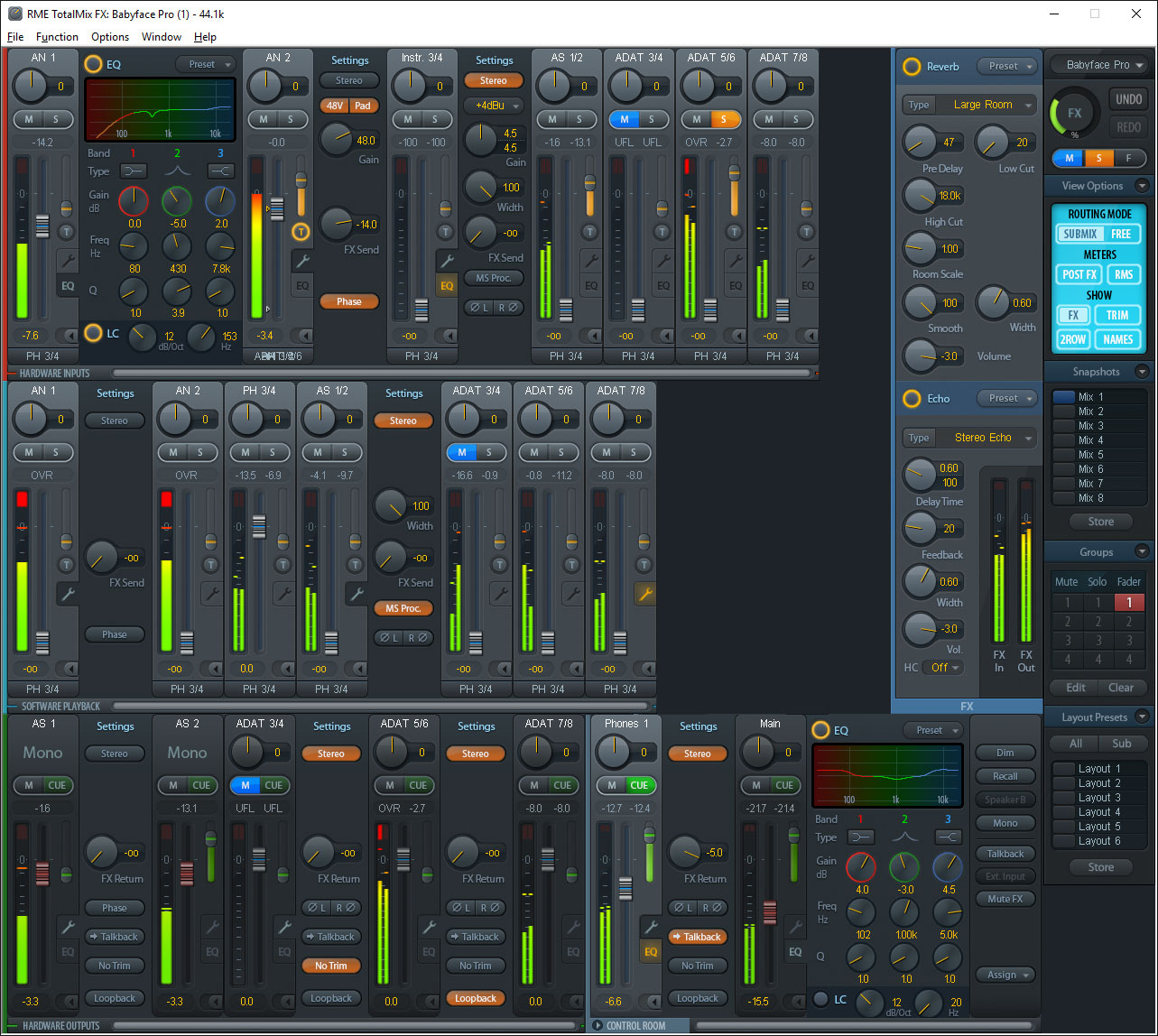 TotalMix FX is RME's long-standing mixing controller, included free with all RME audio interfaces and soundcards. Installed as part of the driver, TotalMix allows for control over all inputs and outputs, with all input and software channels freely available for routing to any output to create submixes.
All channels feature a 5-band parametric EQ, with delay and reverb available on all channels as sends for enhanced monitor mixes.
Additional features include a comprehensive Control Room section, with shortcuts for Dim and volume Recall, Output Mute and Mono, Talkback and a Speaker B button, for switching between a Main and Secondary set of studio monitors.
Fader and Mute groups can be created to control multiple levels at once, or for simultaneously muting multiple instruments, microphones, software playback and output channels, and a 'Loopback' feature enables any outputs to be internally routed back in as inputs.
"For me now, Totalmix FX is probably the main selling point," Joe continues. "I can't deny it boggled me a little at first, but once I realised how flexible, and actually how easy it is to use, it literally changed the way I work. The in-built EQ and Reverb also make tracking super comfy."
"There are a lot of great devices in this price/quality range, and it's undeniably tricky to choose. For me, what sets RME apart is the driver quality (well renowned), incredibly low latency (a must!), and the flexibility of TotalMix FX, which from what I've seen surpasses anything offered by other manufacturers."
Covid-19 and socially-distanced recording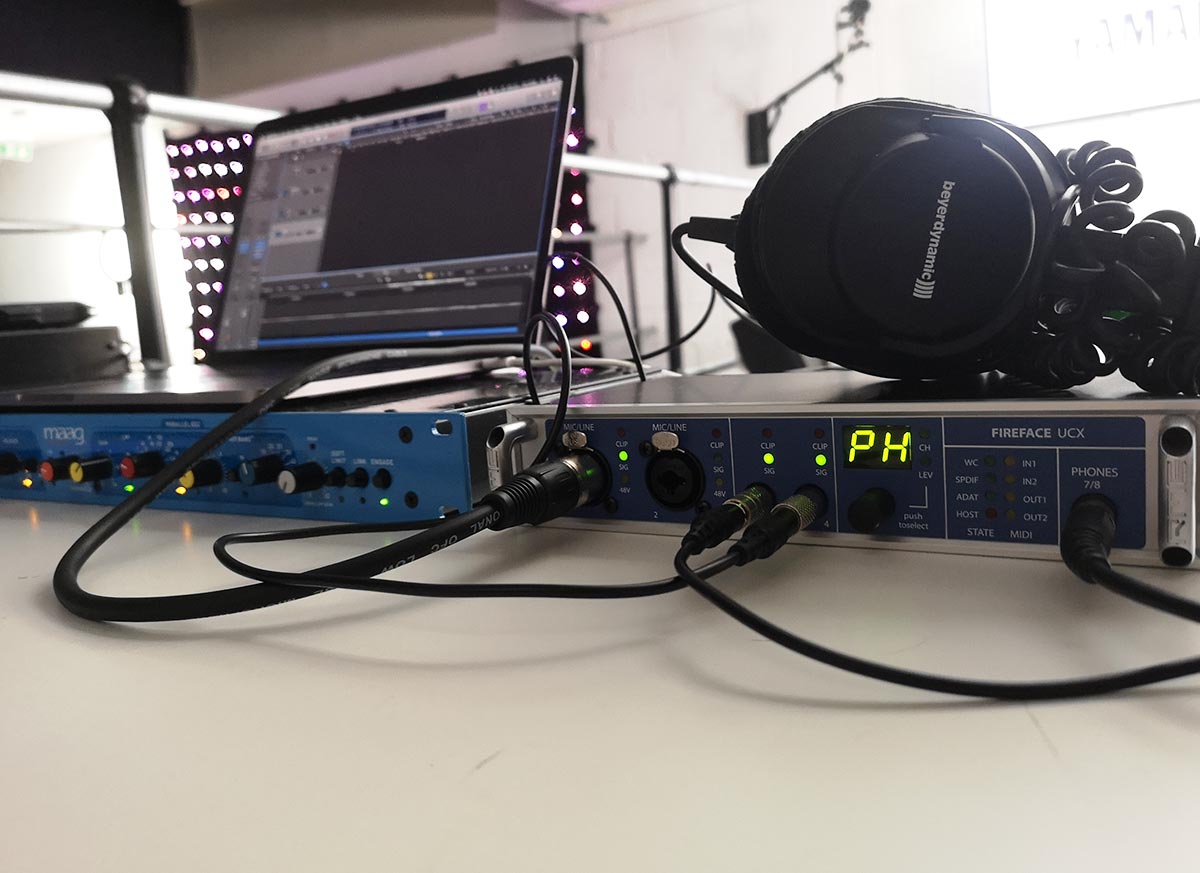 With the outbreak of Covid-19 causing sudden and unprecedented changes to industries around the world, many professionals working in live events have been hit particularly hard. Live music remains a huge income-stream for the majority of musicians, not to mention live engineers, venues and festivals. With this in mind, we were keen to ask Joe how his work has been affected by the lockdown.
"It's been interesting for me, and I think I've been reasonably lucky in some regards," Joe says. "All of my live work disappeared immediately, which was a sizeable hit considering the number of function/corporate work that was in the diary, and one of my main regular composing jobs slowed down considerably."
"However, as a producer I've been fortunate to have a fair bit of work come through the door, as artists have had time away from gigs/festivals to focus on writing and 'getting things finished', which is usually where I come in!"
"In terms of production and recording it's been quite similar, barring the tracking of vocals and instruments. I've spent a good bit of time helping artists with their home setup via Zoom/Skype etc., which has been great for us to continue working and also for them to gain more confidence with tech."
(Editor's Note: check out our videos on using skype and zoom for remote collaboration here)
"I've had a few people over for tracking sessions recently and I've definitely enjoyed coming back to that. Engineering your own vocals can be a daunting task regardless of your tech knowledge – and the lack of back and forth of ideas with another human definitely gets a little lost when recording remotely."
"once I realised how flexible, and actually how easy [TotalMix FX] is to use,
it literally changed the way I work"
"I have to give a shoutout to the guys and gals at Audiomovers for their Listento and Listento receive plugins – they've made the process a little easier, with the ability to broadcast sound and receive audio directly from your DAW, which allows for 'live' feedback on performance and more involvement in the remote sessions."
"Because of this, I've probably had more songs to work on than normal, so managing that has become my thankful difficulty. Several tracks I've produced have been released during this time, including the 'Obsessions' EP by the marvellous synth pop songstress Rachel Kerry, and 'The Cure' by the powerful vocalist Azadeh."
"Lastly, I've had my first experience working on a sample pack for Splice, which should be coming out later this year."
Our thanks to Joe Rodwell. To keep up with his latest work, visit his website at www.joerodwellmusic.com, or follow him on Instagram.
Find out more about the RME Babyface Pro FS
See the full range of RME audio interfaces
---

If you'd like to know more about any of RME's audio interfaces, soundcards, AD/DA Converters or microphone preamps, give us a call on 01727 821 870 to speak to one of our team or to arrange a demo.
You can also contact us here.