Independent musician Galina Rin of rock band Death Ingloria chats to us about recording and mixing, live streaming, and performing live with the RME Fireface UFX+
Galina Rin is an independent musician and sound engineer who performs under the name Death Ingloria. Based in Crystal Palace, London, Death Ingloria's mixed-media approach combines comic books with animated music videos and interactive live streams, using online platforms like Twitch and Facebook to connect with her fanbase.
Alongside her own music, Rin also mixes FOH for a range of live events and London club nights, and works for the Upper Norwood Library Hub as an Events & Tech Co-ordinator, where she teaches other local artists the basics of production and live streaming.
We sat down with Rin for a big chat about her work as a musician and all things streaming, and found out why she chose the RME Fireface UFX+ for her studio, live and FOH work.
Death Ingloria: Live Streaming and Performing with the RME Fireface UFX+
See more videos at Synthax TV
How did you get first into a career in music?
"At high school I did everything to become an aircraft engineer in the Navy," Rin tells us. "I did my GCSE's based on that and was in the Sea Cadets for 10 years. I also learnt to play guitar at school, and there was a one-year music course at my local, so I thought I'd do that for a year, and then I'd join the Navy. And that ended up going from one year, to two years at college, to three years in a music management degree, to touring with a bunch of different bands, to where we are today!"
"So yeah I ended up doing a degree in Music Industry Management and Live Production. I was living in High Wycombe near London, and there was a music venue at the time called the White Horse, which is where agents would send bands if they were going to play the Underworld in Camden. So if they were going to play a London show, they'd play a warm-up gig at the White Horse first. Skindred played there, loads of great bands played there."
"I did Kings Of Leon's first UK show there as the Stage Manager. And our sound engineer got caught in traffic, so I ended up mixing the support band. Afterwards I got talking to King's Of Leon's Tour Manager, and I was like "I'm a student, I'll work for free, do you want a helper?", and he said "Yeah, come on down!"
"So I did the drums setup for XFM, we played Metro Bar on that one. And then when Kings of Leon came back and did their next two European tours, I ended up becoming their Drum Tech."
"I worked for various other bands after that. Worked at the O2 as a Facilities Manager. I'd kind of done the degree in order to start a band though! So I was doing all this roadie work, but it's hard to find the time when you're already working for another band. So eventually I gave up roadie'ing to focus on my own music."
Death Ingloria – Rock Music, Comic Books & Animations
"I'm currently the only person in Death Ingloria," Rin continues. "The band has gone through many iterations with other musicians, with a number of different drummers and bass players. Eventually I just decided to do the project on my own, as I didn't want to have to rely on anyone else anymore."
"So at that point I knew I was going to be on stage on my own, but I figured me playing guitar and singing along to backing tracks wouldn't make for a particularly interesting live show."
"So I started thinking about having something on stage that was video-related or animation-related as well. I actually have contacts with the comic book industry – my mum used to write for 2000 AD in the late-80s, and was the first female to ever write for them – so I wrote a story around my music, and my mum actually helped me write the script so that it made sense to a comic-book illustrator haha!"
"We then hired Nigel Dobbyn who has done 2000 AD, Judge Dredd, he's the official Sonic the Hedgehog comic illustrator, and he did the first comic with us, with John Hull doing the animations."
"Every album is its own sci-fi story from start to finish, and at the end of every album humanity dies out completely. So I explore 'the inglorious ways in which humanity can kill itself'."
"Every page of the comic book has its own song and its own video. So the comic book has QR codes on it, and if you scan the QR code that page becomes the animated music video. So you can be listening to the page 'come alive' in front of you."
"There are also stage projections (for the live show) which are completely separate, so there's two lots of animations for every song. For each album there's much more going into it than just the music, as for me the whole 'album' is within the comic book. So you have the stage animations, the comic book and the animated videos alongside the music."
"In total I've written the scripts for 7 albums so far. The first album was really to get proof of concept – can I release a comic book, an animated series and an album together, and will anyone care? And thankfully, enough people seemed to care enough to want to hear the next one, so we've got the next one coming out in June 2021."
"In terms of influences, anyone who knows Coheed and Cambria will recognise they're a huge inspiration. I was a massive fan-girl of them during university, I've seen them 19 times and had the belt buckle and the hand bag and everything haha."
Performing live with the RME Fireface UFX+
For her audio interface, Rin uses RME's flagship Fireface UFX+, which she's ended up using across all aspects of her work in audio – from recording and live streaming, to performing live at venues and festivals, as well as mixing other bands and events around London.
"Because I'm a one-person band, I have my rack which we call Okami. Okami is actually also a character in the comic book, and is my AI-assistant, and the rest of the band! When I play live I run 10 channels of audio, with everything mixed down to the channels that you'd expect a typical rock band to have. So the snare is separate, kick is separate, drums, keyboard, second guitar, backing vocals – all of these are on separate channels which I send to the FOH desk, so they can be mixed by the engineer for whichever room we're in."
"if you can afford it get an RME, it will never let you down"
"I also play animated videos when I perform, and I've built my own projection screen for that. It can be made different sizes depending on the size of the stage, and the idea was that it can just fit in amongst any band's gear. So when I'm playing in a line-up alongside other bands, it only takes 5 minutes to set up and 5 minutes to tear down. I can front-project or rear-project depending on what else is on stage, and it all runs from the Okami rack."
"Everything runs out of Logic Pro including the video, along with changing the guitar patches on an Eleven Rack via MIDI, plus all of the track stems."
"My mix engineer is Jamie King – as much as I'd love to do everything myself, I'm happy go to a specialist when I feel the need, so I have a mix engineer and a mastering engineer who I'll send stems to. I tend to give Jamie double of everything – a version with all of my guitar sounds and effects on it, as well as a version that's completely dry. Like chips."

The RME Fireface UFX+, RME's flagship 188-channel audio interface
with ADAT, MADI, USB 3 and Thunderbolt connectivity.
Live Streaming
With the Covid-19 lockdown meaning the closure of venues, festivals and live events, live streaming has boomed in popularity over the last year. And no wonder, with platforms like Facebook, YouTube and Twitch offering such an easy way for musicians to continue connecting with fans during the lockdown (and beyond), streaming has never been more important or accessible. Having poured a lot of energy into finding ways to keep in touch with her audience through the pandemic, we were keen to get Rin's thoughts on the subject.
"I found myself in this odd space, because I'd been wanting to live stream more regularly on Twitch since back in 2019," Rin explains. "And then when the pandemic hit, I found myself in a position where I was ready to go, but I hadn't really built my audience yet. So I was able to move around different social media platforms, try different things, help other people, and I ended up becoming something of a 'Live Stream Production Manager'."
"I now see streaming as a main part of my plan for Death Ingloria, partly because touring is expensive! And as much as I love playing gigs, I also love the interaction with people online, it's a lot of fun!"
"I've used [the Fireface] as my mixing desk for mixing live shows with other bands,
I've run London club nights with DJ's from it…
…It just provides everything I need"
"I do two types of live streams, the first one is acoustic-based and is just me and an acoustic guitar, and that's 11am every weekday morning on Facebook. So me and the fanbase get together and have some coffee in the mornings, before going off into our respective days."
"And then the other show that I do is the full rock band show. So I project the animations around me, which I'm currently evolving into a full green-screen environment. I did one for the recent Virtual Anime and Gaming Con on Twitch – I've done a lot of Comic Cons and Virtual Comic Cons – and the Sci-Fi Weekender, when they had their virtual show at the beginning of lockdown. I played the World Sci-Fi Convention in Dublin last year in real life, and I played the New Zealand version of that this year in 'virtual life'!"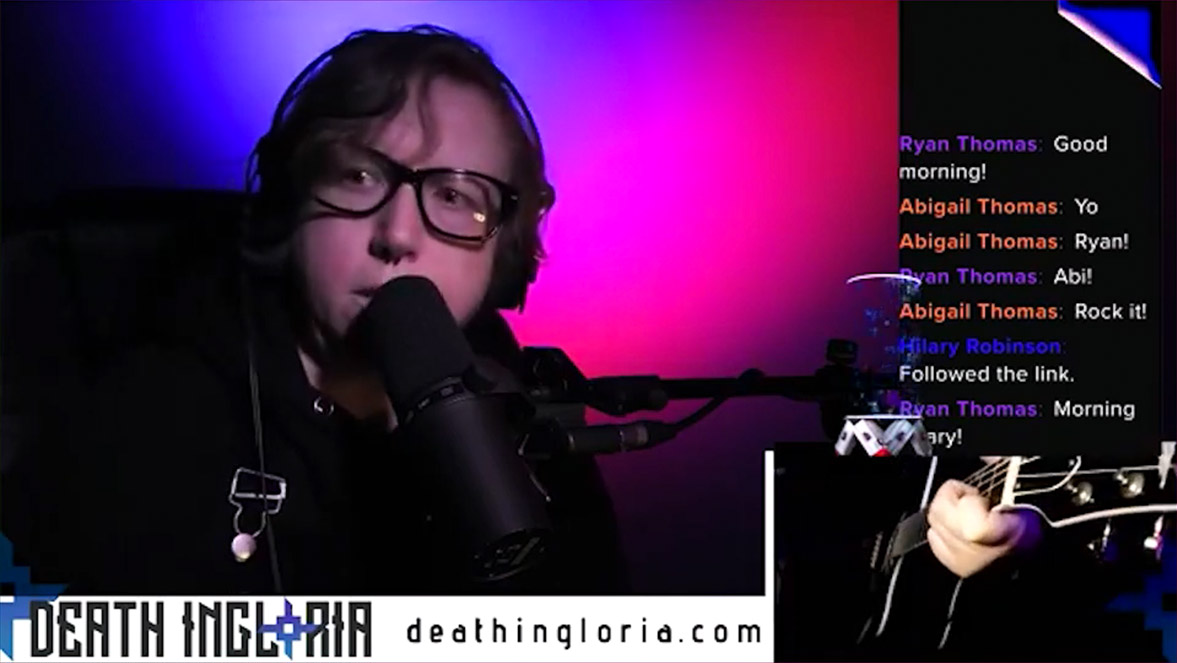 "The real beauty of how I perform live at a gig and how I do my live streams, is that sound-wise it's exactly the same. I'm using the same stems as I do for the live show, and I was ready to go with good live stream sound probably a lot faster than other bands who were just starting to get into streaming, because I already had all of the stems ready – I was already playing everything on separate tracks as part of my live shows."
"For streaming I'm using OBS which has been my saviour! It's free, it's open source, it's what all the kids are using. There are paid models like Streamlabs and Stream Elements, but if you put the time in you can do so much with OBS. I have experimented with using Stream Elements to do a few things – there's a virtual tip jar that people can put money in and it makes noise, sends automated messages, all of those kinds of bells and whistles – although you don't necessarily need that kind of stuff for a good show."
"A lot of my songs begin life as acoustic versions, which I actually then test out on the streams and get instant, direct feedback from the fans, before evolving them into full pieces."
Advice for new streamers – should you use multiple platforms?
As an accomplished streamer, we asked Rin for any advice she has for those just starting out.
"Start wherever your audience is," Rin explains. "If you have loads of followers on Facebook already then that's probably the best way to go for you. That being said if you use a lot of samples, like if you're a DJ and playing other people's music, then don't use Facebook due to the copyright restrictions!"
"It's also hard to move an audience off from one platform onto another. Twitch is ultimately the better place for music and fan interaction, but you may not have an audience that are likely to use Twitch. Say if you're a 1970s guitarist and everyone who watches you are people at an older stage in their lives, then Twitch is probably not the best platform for you. So just go wherever your audience is, at least to begin with."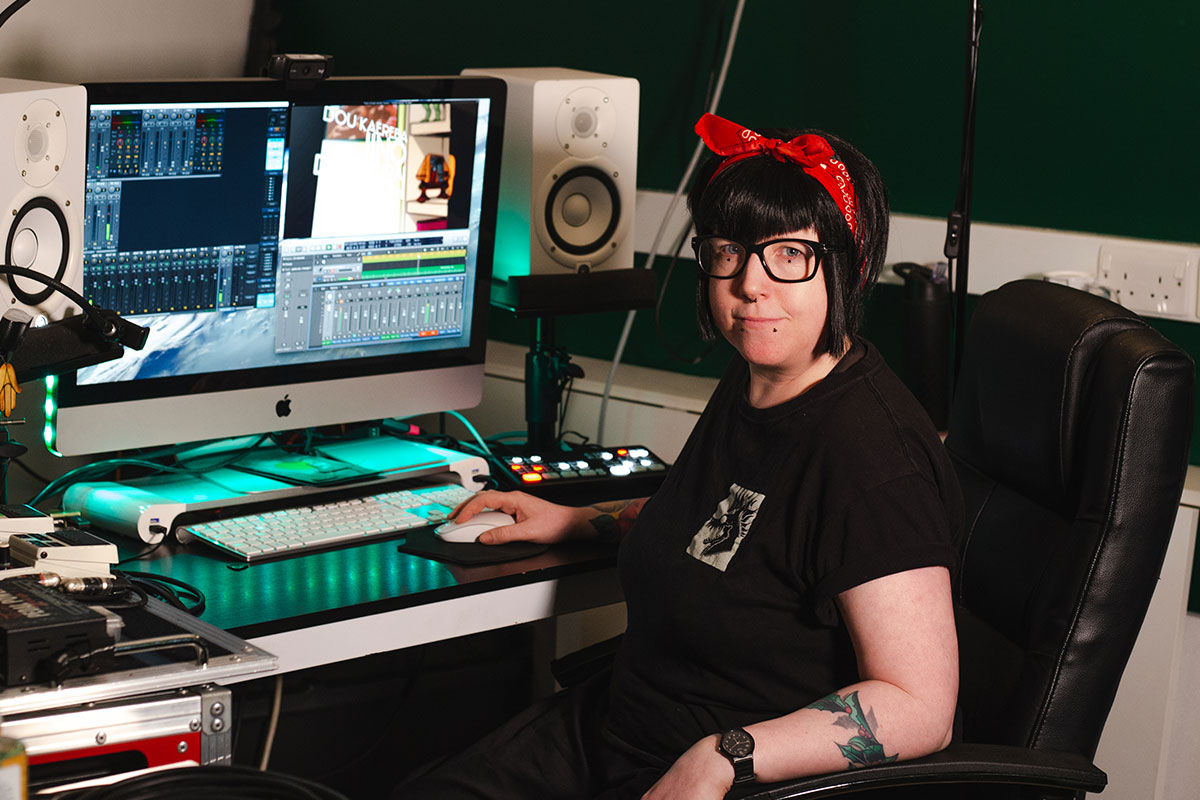 "Some things do work better on different platforms though – Instagram Live is great for interviews for example. If you want to interview other bands and stuff like that, Instagram allows you to have two people on the same stream very easily."
"The other thing I do as an artist, is keeping the full band shows on Twitch, because I want the fan interaction – allowing the fans to change the lights and change which animations I'm in at the time, things like that. I live stream on Facebook as well, but I don't want those daily Facebook shows to appear on my full band page. That way when people visit my band page for the first time, they see the full productions and not just the acoustic shows – otherwise they could end up going away thinking that's what the band is about."
"So I'm using multiple platforms for that reason, but that's not necessarily going to be the right move for every musician out there. It's also difficult because everything changes so fast! This lockdown has been amazing for tech companies – Instagram has exploded, we all know about Tik Tok, and Facebook has moved fast to try and get the gaming industry to use Facebook more as well."
"And then people are now having problems with Twitch, getting DMCA notifications about using copy-written music in their streams, which Twitch never really seemed to do anything to police in the past. And people have lost years worth of streams as a result, so everything has its problems, and the changes can happen very quickly. What was okay yesterday might not be okay tomorrow, so if you've never done live streaming, my advice would be to pick a channel and get to know it really well before you move on to other platforms."
Teaching Live Streaming at the Upper Norwood Library Hub
The Upper Norwood Library Hub in Crystal Palace is the current home of Death Ingloria's daily live streaming setup. The library runs a variety of community projects, offering education around technology (including live streaming, which Rin heads up), as well as providing an invaluable service during the lockdown to locals, keeping them clued up on which supermarkets had stock of key items!
"Before the lockdown I was working regularly as an Event Manager, putting on gigs at London nightclubs, as well as doing the sound and lighting for gigs here at the Upper Norwood Library hub. Then the lockdown happened, and so suddenly for me everything became about streaming."
"When the lockdown first happened we had a team meeting, and I walked into the office and said 'right, we're live streaming!' So on that day we did our first stream – a singing class with a local choir – and from then we've had all sorts of community projects on our screen."
"In terms of reliability it's never failed. And I've had it in festivals
and dirty venues and all over the shop"
"We've had kids reading for other children – children reading children's books to children! We've had people teaching fitness and cooking, we've had all sorts. We do a daily show called the library lunch where we bring on people from the local community, and during lockdown we'd tell folks which businesses were open, which supermarkets had eggs and toilet roll in stock, all of that kind of stuff."
"We've also done animations for west end musical performances – on Halloween we had stars of west end musicals come and do Halloween songs in front of a green screen, and we animated them into rocky horror show surroundings."
"And now we've received Arts Council funding to help pay local artists, bringing music as well as poetry to our live stream channel. So we've been able to help keep local artists afloat as well, and put some money into new equipment such as a camera and a camera switcher (Blackmagic ATEM mini pro). We'll also have an assistant position soon, which will be focused on teaching audio and video editing to the local community."
Why RME Audio?
With the RME Fireface UFX+ at the heart of Rin's audio setup, we asked what first led to her choice of interface.
"Back in my Kings of Leon days I met a fella called Mick, he was the guitar tech for Biffy Clyro. And he told me, 'if you can afford it get an RME, it will never let you down'. And it's remained my workhorse since then! Thanks RME!"
"I think I was lucky that someone told me about RME before I really started putting everything together, because this is essentially the workhorse that built Death Ingloria. I couldn't have played my own shows without it, and it does everything that I now find myself involved in. I've used it as my mixing desk for mixing live shows with other bands, I've run London club nights with DJ's from it, and of course we use it for live streaming here at the library. It just provides everything I need for all these different jobs, and whilst it's over-specced for my own band's needs, you really want something you can trust will just work."
"In terms of reliability it's never failed. And I've had it in festivals and dirty venues and all over the shop, and it's always just worked, it's been great. Sound-wise I've never had any problems – I've even had people tell me on live streams that it sounds like there's a full band playing, but it doesn't sound like a dodgy live stream band!"
Using TotalMix FX for audio mixing and camera latency
All RME interfaces and sound cards feature TotalMix, RME's comprehensive, DSP-based routing and mixing software, offering the same kind of flexibility usually reserved for a hardware console. For her live streams, Rin also told us about an interesting use she's found for the built-in Delay/Echo FX section.
"TotalMix is my mixing desk, I use it on every job," Rin tell us. "I find the reverb is beautiful, and being DSP-based it's great for live streaming. I use the reverb all day long!"
"Being able to mix on the same console that you're controlling all of your streaming elements with is worth its weight in gold. I've also used the echo function to get around the latency problems between cameras – when I started off using my camera switcher I needed to run a channel from the UFX straight into the switcher, and that created latency. So the way I worked around that was to use the delay/echo on TotalMix FX, using only the wet signal at 2ms to combat the latency."
What's next for Death Ingloria?
"We were due to have an augmented reality theatre production for this next album, which would have been out in August, with the show to follow in September. Due to the lockdown that's obviously not been able to happen though, so the whole album has been put back until June next year, mainly because my mix engineer Jamie has been so busy, he couldn't give me a new slot until Februrary 2021!"
"So we'll be releasing the second album next year, but what we're going to do instead is have me performing inside the comic animations. So I'll be in a full green screen – and I promise it won't be cheesy! And the audience will be able to change the images as they pop up, they'll be able to interact with the lighting, so essentially we'll be creating live music videos which will never be the same twice, because the audience gets to pick what things happen and when."
"The [TotalMix FX] reverb is beautiful, and being DSP-based it's great for live streaming.
I use the reverb all day long!"
"So that's what we're working on as Death Ingloria at the moment – we've got an app developer for Twitch helping us to do that – so from now and until then we'll be putting the new album together."
"And then here at the Upper Norwood Library Hub we'll be continuing to build up the community live streaming aspect. We also offer 'Zoom-desks' for folks who want to get away from their kids, their dogs and their partners, and have a little peace and quiet on their zoom meetings, we offer all of that as well. We've also had the community around us donating technology, including soft boxes and a second green screen, so we're super busy with lots of community projects!"
Our thanks to Rin / Death Ingloria. To find out more about her work, visit her website at www.deathingloria.com, or say hi to her on Twitch.
To find out more about the Upper Norwood Library Hub, visit www.uppernorwoodlibraryhub.org.
See the full range of RME Audio Interfaces
See the full range of RME Audio Soundcards
---

If you'd like to know more about any of RME's audio interfaces, soundcards, AD/DA Converters or microphone preamps, give us a call on 01727 821 870 to speak to one of our team or to arrange a demo.
You can also contact us here.