Sound Supervisor Rob Ashard discusses mixing for TV, his portable recording rig and the Ferrofish A32 Dante
Rob Ashard is a Sound Supervisor who specialises in mixing a variety of the most popular primetime entertainment shows on mainstream UK television.
Heading up the sound for a number of the UK's best-loved Saturday night entertainment shows, Rob's audio mixes are heard by millions of viewers around the UK on a weekly basis (and indeed worldwide), and include The Graham Norton Show, Ant and Dec's Saturday Takeaway, I'm A Celebrity…Get Me Out Of Here!, The Last Leg, Ninja Warrior, Get Your Act Together, Dancing On Ice and Celebrity Juice. If you've ever watched TV on a Saturday night in the UK, we guarantee you that you've been listening to a mix by Rob Ashard at some point!
Rob was kind enough to speak to us about his portable recording rig which includes the Ferrofish A32 Dante – a professional 32-Channel AD/DA converter that has become particularly popular in broadcast audio – as well as giving us a real insight into his approach when recording and mixing TV productions with a live audience.
About Rob Ashard
"I've worked in television since 1980," Rob explains. "I joined London Weekend Television (LWT) as an apprentice, working on the studio floor for about four years. I then graduated to Gram Op – a historical term from when audio was to be played off of records – as well as covering other jobs like OB Comms."
"Then in 1997 I became a Sound Supervisor – who is the person tasked with mixing a TV show, and is essentially in charge of 'everything sound' on a production – before going freelance in 2004."
"These days I cover a range of productions for TV channels like the BBC, ITV, Channel 4, Sky, along with others like Dave, and bear responsibility for a variety of tasks. From mixing TV shows in studios, OB trucks and de-rig situations, to supplying crews and equipment if necessary."
"Graham Norton is probably the most well-known show that I work on currently. I also do The Last Leg, I did ten series of I'm A Celeb in Australia, about 10 years on Dancing On Ice, and I'm also currently doing Taskmaster, which has moved over to Channel 4. So, quite a wide range of stuff!"
"But I also have jobs which require me to work and mix from smaller, on-site locations, and that's where this portable rig comes in."
Describing a typical job with the portable rig
Rob's portable rig is based around an Allen & Heath SQ 5 console, with a selection of outboard providing analogue and digital I/O, clocking, and a dedicated hard disk recorder.
"My portable rig is a Dante-based setup with an A&H SQ5 for the mixer with the optional Dante card, which has worked flawlessly," Rob continues.
"In the rack you have PPM's which are fed off the SQ5's AES output. There's also a Sonifex RB-DA6 (a distribution amplifier), a Rosendahl Nanosync, the fabulous Ferrofish A32 Dante – which is really the heart of this setup – then my trusty analogue 24 track JoeCoe BlackBox for hard disk backups, which is fed from the A32 Dante's analogue outputs."
"The SQ is a fantastic desk. Massively flexible, broadcast friendly, and has the feeling of a much more expensive desk. It works internally at 96k, which is fabulous, sonically, and since an update you can record via USB now at 48k, but it doesn't have a reference input, so you couldn't lock your audio file 48k to video."
"the fabulous Ferrofish A32 Dante, which is really the heart of this setup"
"I've got round all that by adding a Dante card running at 48k, with the Ferrofish A32 Dante taking an external 48 kHz reference from the Rosendahl Nanosync, so all Dante recordings on my laptop are locked to video and at 48k. The Nanosync, coupled with the Ferrofish, keeps everything locked together, and is used as the master clock, or it can be locked to the incoming video."
"I take the Dante output of the SQ5 console into a little unmanaged NetGear switch, which is perfectly fine for a basic system. The A leg goes via the Netgear switch, and then on into the primary input of the Ferrofish, and then the secondary output just goes straight to the Ferrofish. And then the laptop (or laptops) are plugged into the switch, and are running Dante Virtual Sound Card and Boom Recorder."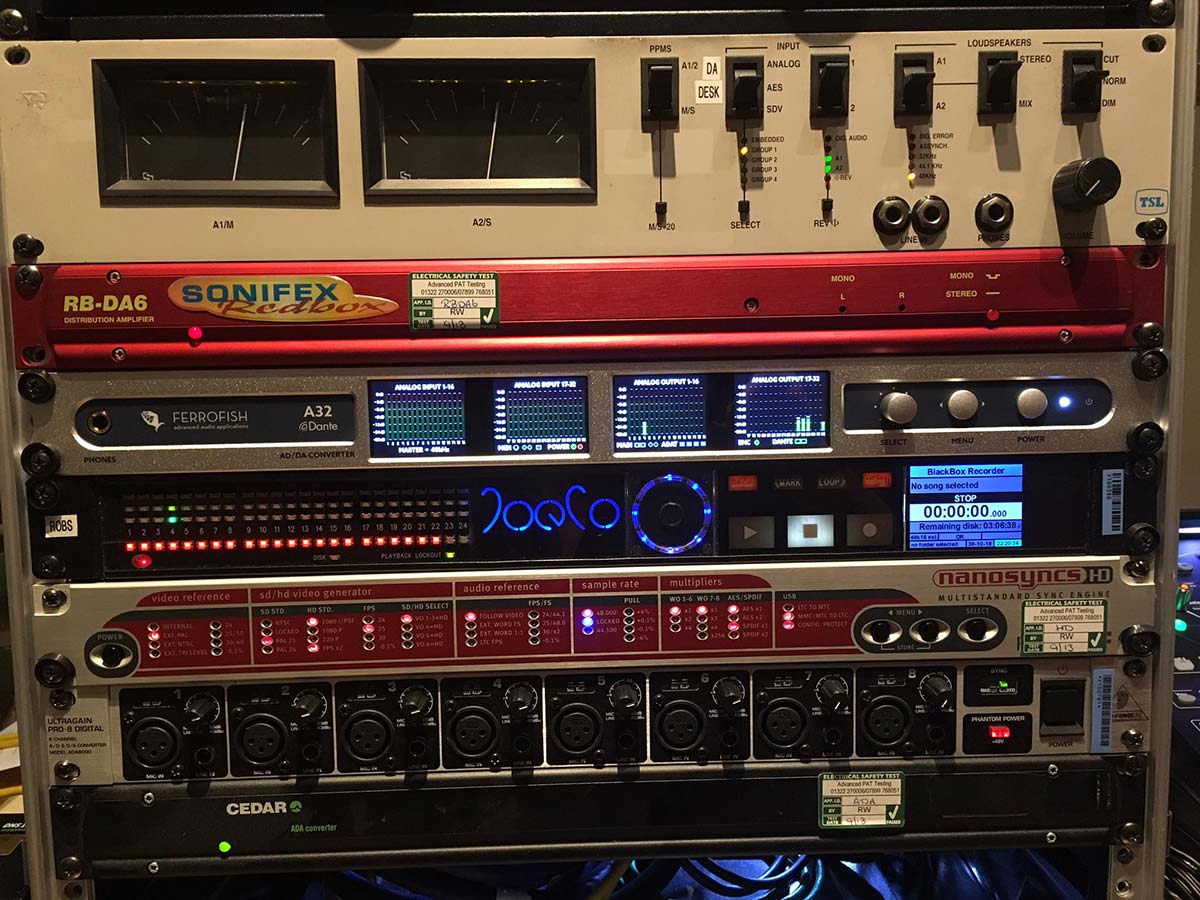 "The rig often gets put through its paces. For example, on Al Murray's Pub Quiz, as well as doing the show mix, and multi-tracking the show (which also went to a bunch of VT tracks), it was also driving a PA system, which is fed back to the show's participants and studio audience."
"So I'm producing a mix with an audience, with multi-tracked mics and sub groups, as well as feeding cross-foldbacks on set between the two quiz teams ('cross-foldback' is where you feed the two team's microphones to dedicated speakers located behind them, to ensure everyone can hear each other clearly). I also had two presenter pre-hears which are sent to the director's talkback. And I'm feeding the PA system – all just as I would on a bigger console like a Studer or Calrec in a TV studio."
"Depending on the venue, I may also find myself in a less than ideal monitoring situation. For an episode of Taskmaster last year for example, we recorded at the Curzon cinema in Soho (London). I was in the fairly noisy projector room, so wore my Beyer DT150 cans most of the time, but also turned up my Genelec 8040's a bit. (Thanks to Dan Solomon and Terry Tew for supplying an Aja Ki Pro Rack video machine for playback.)"
"The Aja was then genlocked to the Nanosync, which also supplied the 48k audio reference to the Ferrofish. This forces the Dante to that 48k (which the video is locked to), so my multi-track Boom Recorder recordings are locked to the video, with everything backed up via analogue to the JoeCo, which is also locked to that 48k reference. This should mean that those audio files will drop in at the edit and stay in sync for the duration."
On the importance of Clocking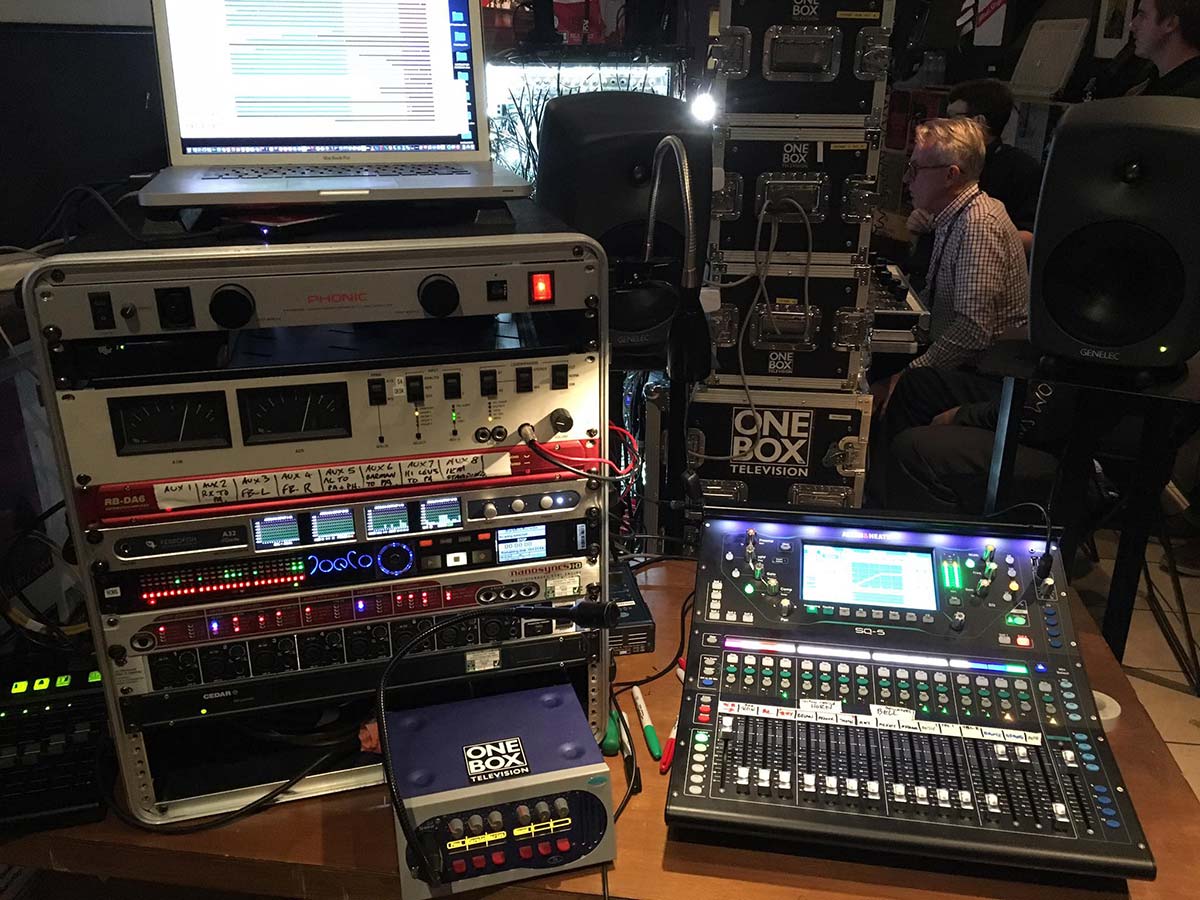 "I actually came up with the whole system because I needed the ability to multi-track and lock to video," Rob tells us. "Every TV station has a station clock – so that generates timecode, 48k reference, and video reference as well. With audio recording for video, we record for hours at a time, and in the UK at least, you have 25 video frames, or 50 interlaced fields, for every second. And then you have 48,000 audio samples, and you have timecode."
"So sample 1 of the 48000 starts at the same time as frame 1 of the video, and then it does its 48000 and its 50 fields, and then it starts again. So, this means that when the multi-track recordings go to the edit, all of the files are sample-aligned, and will stay frame accurate for the duration of the show. If someone coughs for example, and we just need to go to a clean mic feed (where there's no cough), quite often the editors will have a lot of these tracks available to them along the bottom of the timeline."
"And then if they come across a problem like that, they can just go 'right, there's Al Murray's track, we'll just cut it, drag it up onto the timeline and go across to that'. So it's essential for the long recordings we make in broadcast that you have this type of setup, otherwise post will be nipping and moving, and you will not be thanked for not giving them sample-accurate recordings."
The Graham Norton Show
We daresay you'd be hard-pressed to find anyone in the UK who isn't familiar with The Graham Norton Show – the comedy chat show is a Saturday night staple of UK television.
Originally broadcast on BBC 2 in 2007 (before moving over to BBC 1 in 2009), the show attracts millions of viewers each week, and sees host Graham Norton interviewing a selection of the biggest names in film and music, with a live music segment at the end of each episode.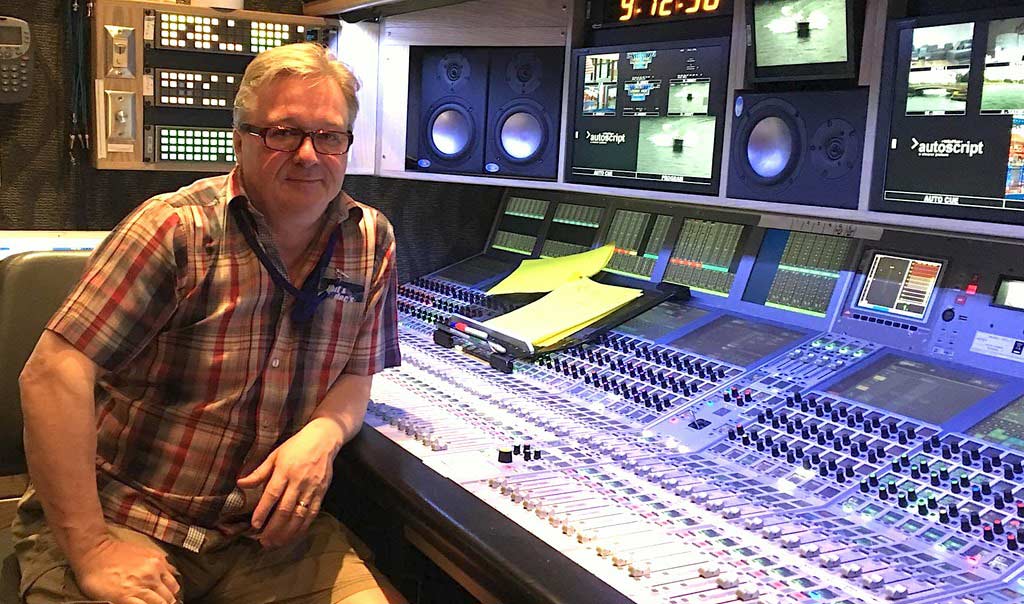 "We have a lot of big international film guests," says Rob. "Tom Cruise has been on a number of times. Matt Damon actually said 'this is the most fun I've ever had on a chat show', and Meryl Streep said to somebody 'Graham's the best chat show host in the world'."
"Graham is brilliant, absolutely brilliant, a very funny guy, he just gets the best out of all the guests. And we have some live music on as well, so I get to mix some live bands which is nice, and really quite rare these days with a fully live band."
"A lot of people don't realise until they see me mixing a show, that we're moving faders all the time. On a quiz show for example, I imagine a lot of people think you've got the presenter and guests on one set of faders, and that you just leave them up, and then the audience is just on another fader which you just leave up, but absolutely not!"
"Before we had the benefits of things like Automix – which has made life a lot easier – you would actually be pushing the faders constantly, although only about an inch or so. Pretty much every show I do has an audience, which means that it's all on a PA system. So everybody is wearing a personal mic, and the microphones are omni-directional, so they're picking up the PA spill."
"Somebody once said that mixing television light entertainment is actually balancing spill, because you have to make it consistent. So if you have a part of the show where you can actually make it much drier, you tend to find yourself pushing the audience fader up to keep that spill level the same, otherwise it suddenly sounds different."
"So we have a lot of sources, and a lot of those are what we call 'personal mics' – clip mics with a radio pack – and they're omnidirectional, so you can get spill off the PA."

The Ferrofish A32 Dante is a 32 I/O AD/DA converter with ADAT, MADI and Dante connectivity.
Additional features include full front panel metering for all 64 analogue channels, an on-board headphone output, and redundant power supplies.
"At the same time, you also often have to set up foldbacks. If you've got a wide set, like on a panel show, you'll have the presenter hosting the show in the middle with participants either side. And as mentioned earlier, quite often the participants will be some distance from one another, so you'll have a speaker behind each team (with the other panel being fed to it), which is something we call 'cross-foldback'. And we actually put the speakers directly in behind them, and their bodies shield the spill of the foldback onto their personal mics, so that works really well. And obviously the speakers are out of shot too."
"I tend to be in the driving seat for everything, so quite often my desk can be producing the mix you hear at home, a PA mix, foldback mixes, standing feeds for presenters in their ears, mix minuses for incoming sources… So there's a huge amount of stuff going on via the mixer at times."
On mixing a live audience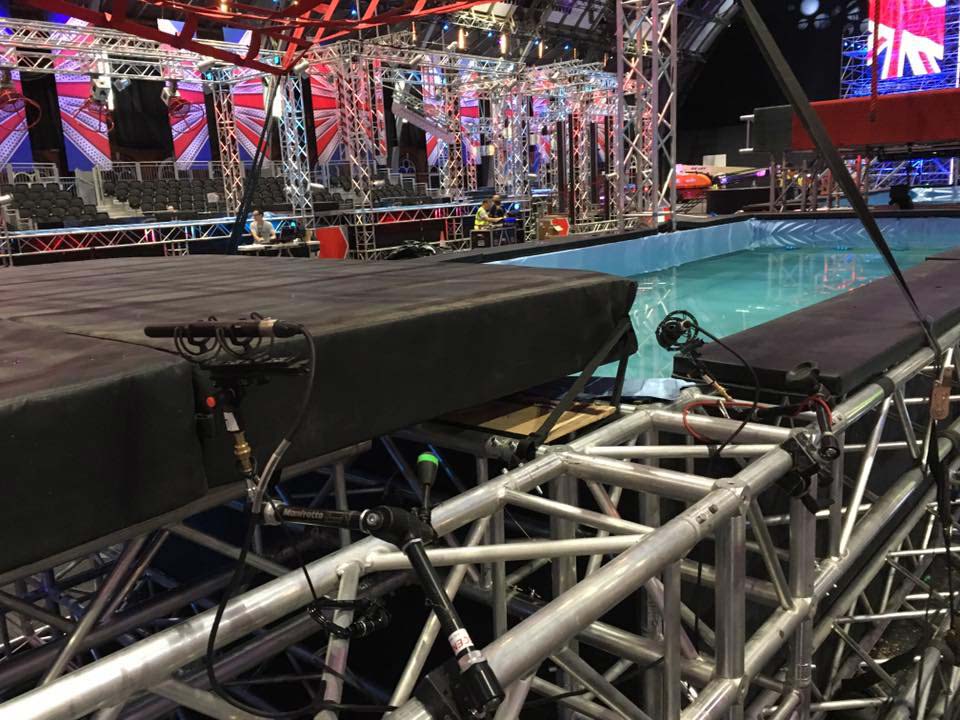 As so much of Rob's work sees him mixing with a live audience, we were keen to learn more about his approach, and to find out how COVID-19 has affected live TV sound.
"I think it's one of those things that people probably didn't realise how much they'd miss", Rob continues. "When we did the last Ant and Dec's Takeaway we didn't have an audience, and normally we have 500 people going nuts. There's a warm up guy who's just brilliant, and the audience are just absolutely up for it."
"So on the last show we did without an audience I just put up a stereo pair of mics, and all the crew who weren't doing anything were told to watch the monitor and react to the show. And that gave us just a little bit of something, which was nice. But there are a lot of shows that we simply aren't able to have audiences for right now, and you just have to work with what you've got. Everyone's doing a great job, but I have to say I do miss the studio audiences."
"On Norton for example, before COVID-19, you'd have 500 or 600 people going absolutely bonkers. And part of my job is to capture that vibe, and make sure it comes across for everyone watching at home. The laughs and the reaction are very funny at times, and in my view it's absolutely crucial to the viewer experience."
"Audience reaction is very important for TV, and I'd say it's the same for anyone doing live recordings who wants to capture the atmosphere of the space or building. There's some great atmospheres you can capture in churches for example, and in my opinion you really should be able to hear that. But if you really want to do that, you can't just park [the fader], you have to at least gently manoeuvre it."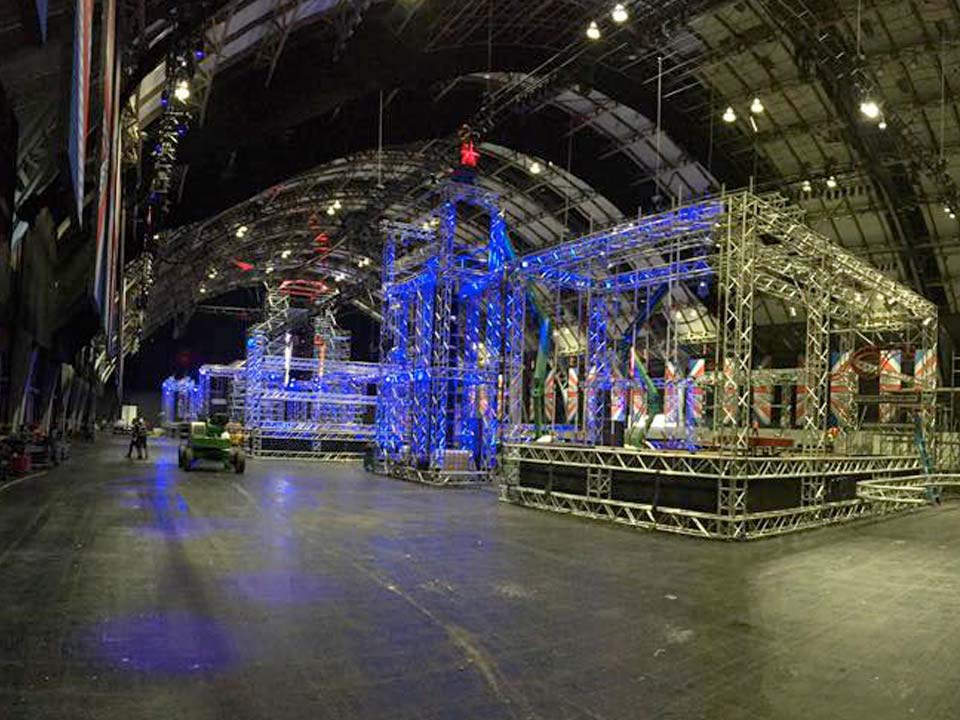 "Although I think even a parked fader would be better than nothing. But you've then got to balance off your PA spill level, so that's why I tend to ride the fader."
"Even if you just get yourself two tall mic-stands with stereo bars on, and then four mics across pointing into the audience. Don't be tempted to use gun mics, because you'll end up with only about 5 people clapping. I actually tend to just use cardioids generally, unless you're out somewhere huge like a big theatre."
"I've used a bunch of Behringer C2's on a number of occasions, which I pan wider the further back they are. They seem to work pretty well for audience mics. On Ninja Warrior for ITV for example, I had 14 audience mics – to capture the 400 screaming kids – which were mostly on stereo bars on top of fish poles, and strapped to the audience front rail. Don't forget the whole audience group is EQ'd and rolled off fairly drastically. In some circumstances you might prefer a better mic, but this is just screaming and clapping."
Rob's thoughts on the A32 Dante
Rob's portable rig perfectly displays the flexibility offered by the Ferrofish A32 Dante, which offers 32 channels of analogue I/O in only 1U of rackspace, ADAT, MADI and Dante I/O, and extensive front-panel metering for all 64 analogue channels.
On the A32 Dante, Rob says "It's brilliant, an incredible box which does everything I need it to. I can genlock the Aja to my Rosendahl Nanosync, which also supplied the 48k audio reference to the Ferrofish A32 Dante, which in turn forces the Dante to lock to that 48k that the video is locked to, so my multi-track Boomrecorder recordings are then locked to video."
"an incredible box which does everything I need it to"
"Test recordings are good with the tone squeaky clean, and no clicks via Dante. If there were issues I can always take the MADI out into my RME MADIface USB, so long as the issue isn't between the desk and the A32. I could just connect them together with a pair of Ethernet cables for redundancy."
"Meanwhile I couldn't be happier with my A32 Dante, with all the versatility that it brings – 64 channels of Dante and converting it to 64 channels of MADI, and also 32 channels of analogue audio out, which I use for recording backups to my trusty JoeCo. All routable in chunks of 8."
"I'm also aware Ferrofish have a 16-Channel option as well (the Ferrofish Pulse 16 DX), which looks like another useful box. Cheaper than the A32 Dante that I have, with just the 16 analogue I/O, but still having the 64 MADI, 32 ADAT and 64 Dante."
Our thanks to Rob Ashard.
To see the full range of Ferrofish AD/DA converters, click here.
---

If you'd like to know more about Ferrofish AD/DA and format converters, give us a call on 01727 821 870 to speak to one of our team or to arrange a demo. You can also contact us.