Radio Television Malaysia upgrades its PerlisFM studios with Calrec Type R for Radio Consoles
Radio Television Malaysia has just carried out a major overhaul of its regional station PerlisFM, modernising the facilities with six Calrec Type R consoles and implementing a new IP audio networking infrastructure.
With the facility used as a reference for all future upgrades to RTM's other regional stations, PerlisFM has installed a complete radio system, with a full IP network and visual radio technology that supports video streaming to social media and other online platforms.
Calrec Type R consoles are located throughout the facilities – in PerlisFM's main Conty, Standby Conty, Edit (1 & 2), Ingest, News Depot Studios and Master Control Room respectively. At the main Conty Studio, the Type R console is integrated with RCS Zetta Radio Automation Software and Visual Radio's MultiCAM system – with three PTZ cameras linked to the MultiCAM system, plus the combination of Calrec's Type R and the RCS Zetta software, the visual radio system works seamlessly and flawlessly.
Citing the Type R's ease of use as a major consideration in their decision, RTM highlighted the motorised fader capabilities and native IP structure, along with the extensive customisation offered by the modular touch screen panels, which can in turn also be used to simply provide clear, single touch operation for the station's DJs.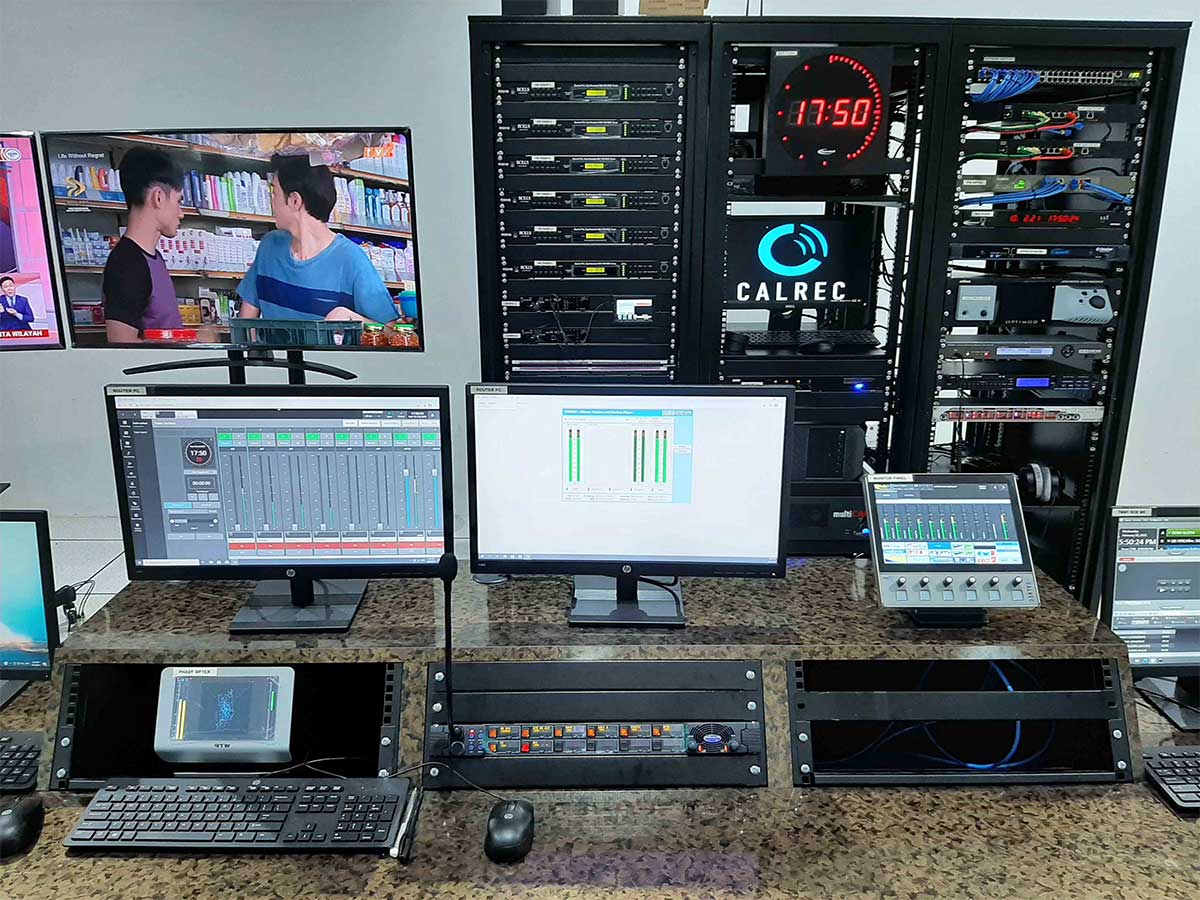 The project was completed and overseen by Calrec's Malaysia distributor JAA Systems, with VME Broadcast acting as the main contractor and Medialab Alliance as the system integrator.
Of the installation, David Chan (Director at JAA Systems) says "We are very honoured to be part of this transformation of RTM's radio infrastructure, which places it at the cutting edge of modern radio. Calrec's Type R for Radio is perfect for this installation."
"Perhaps the biggest challenge that we faced during this installation was adhering to strict Covid-19 rules. We knew that any infection at all could have meant shutting down the facility for sanitisation plus quarantining all personnel and that had to be avoided at all costs. We believe that this IP installation points to the future of radio across Malaysia and beyond. We'd also like to say a big thank you to RTM for the trust in Calrec Audio and us at JAA Systems."
"We're very excited that our technology has been installed as a key part of such an important and bold move," added Robert Davidson, Regional Sales Manager at Calrec. "Type R for Radio was designed to support this type of project, so we're pleased that its simple-to-use and highly configurable interface is helping DJs to do their job in a way that suits them."
Want to know more about the Calrec Type R?
Give us a call on 01727 821 870 or contact us to book a virtual 1-2-1 demo.
Calrec Type R – Modular IP-based Broadcast Audio Console
The Calrec Type R is made up of four main components – 6-channel, motorized fader panels; large and small, customisable touch-screen control panels; and the Core I/O, which provides analogue and digital connectivity along with connections to the surface elements, AoIP connectivity and GPIOs.
Any number or combination of Fader Panels, Large Soft Panels and Small TFT panels (together with Calrec Assist) can be supplied together, to create a custom, expandable console surface that perfectly suits the user's requirements.
The system can also be fully controlled over IP, making it possible for operators to mix and monitor from a different location to the main production. The Type R is also fully redundant, with an option for automatic and seamless switchover to an additional Core whenever a loss of signal is detected.
Find out more about Calrec Type R
Watch Calrec's Type R for Radio Overview Video
See more videos at Synthax TV
Calrec Assist
The Calrec Type R can also be controlled via a web UI called Calrec Assist, a browser-based interface that creates a fully-featured virtual console environment to compliment the hardware, with automation and interactive real-time control.
Different levels of access can be granted to individual users – an operator can be provided with a basic set of control functions, whilst an engineer can have further access for fine-tuning or making alterations to the UI.
Calrec Type R DSP Upgrades
The Type R can also be upgraded with one of three DSP upgrade options – expanding the total DSP channel count to 40, 80 or 120 full-featured channels, and offers the ability to operate up to three mix environments from a single Core.
With the largest Type R120 DSP upgrade installed, a single Type R Core can host one (120 channels); two (60 + 60 channels, or 80 + 40 channels); or three mix environments (40 + 40 + 40, or 60 + 30 + 30 channels), all on private networks with no sharing between facilities.
Find out more about Calrec Type R
---

If you'd like to know more about the Calrec Brio, Type R or Hydra2 network, or would like to arrange a practical demonstration, give us a call on 01727 821 870 to speak to one of our team.