Co-Founder and radio host John Badenhorst says the Vibez.Live crew were "immediately impressed" by the flexibility of the Calrec Type R
Vibez.Live is a South African internet radio station whose output covers a wide range of material, offering a variety of music – with a particular focus on retro classics – alongside talk shows and entertainment news, local artist development spotlights, and even live outside broadcasts.
Having started out with an analogue mixing console the station recently upgraded to the AoIP-based Calrec Type R, in a deal that was overseen by Calrec's South African partner Wild & Marr.
Featuring motorized fader panels with dual layer functionality and customisable, touch-screen software controls, Calrec's modular and radio-friendly console brings additional power, flexibility and future-proofing to the Vibez.Live control room.
"Having used a variety of equipment for the first 18 months after we launched, including an analogue desk, we knew that we needed to upgrade to enhance our capabilities" says John Badenhorst, Co-Founder and a Host at Vibez.Live. "We spoke to Wild & Marr about Calrec's AoIP-based Type R for Radio system and were immediately impressed."
"While the Type R core has enough I/O for our current needs, we also purchased a Type R analogue I/O box that provides an additional 16 mic/line inputs and six general purpose input/output interfaces."
Immediately after the switch, Vibez.Live's online communication was flooded with listeners commenting on the great improvement in sound quality.
Want to know more about the Calrec Type R?
Give us a call on 01727 821 870 or contact us to book a virtual 1-2-1 demo.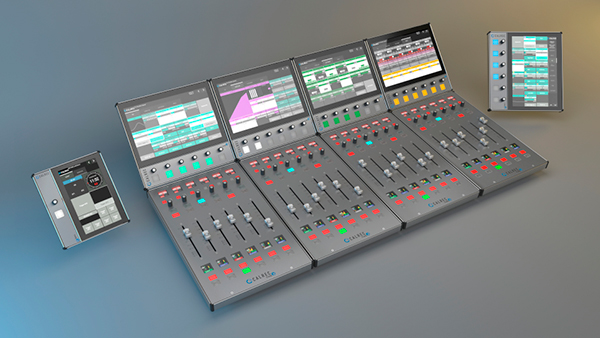 Dwaine Schreuder, Broadcast Engineer at Wild & Marr, commented, "We saw an opportunity to partner with Vibez.Live and supply them with the upgrades they needed to put them in a streaming league of their own."
"The console has a whole host of benefits and keeps installation simple. With its ethernet connection, it does away with cumbersome cables found in conventional studios."
The Calrec Type R's sleek, compact design fits perfectly into the Vibez.Live studio environment, taking up less space while doing the job of a much bigger desk. All levels are now easily managed and compressed, something which had previously been challenging.
Calrec's International Sales Manager, Graham Murray, adds "There's a lot of competition in the radio market for both traditional and streaming stations, and the sound quality can't be compromised."
"Type R for Radio's versatile attributes, such as being able to add more fader panels via a simple ethernet connection, puts Vibez.Live firmly in control. We're so delighted the station is able to connect with audiences on a greater level."
Find out more about the Calrec Type R
For an introduction to creating custom panel layouts for the Type R, head over to our YouTube channel.
New Pricing for Calrec Brio Medley & Duet consoles
Underscoring its commitment to offering powerful market-leading consoles, Calrec also recently launched the Brio Duet and Brio Medley packages for the popular Brio mixing console, offering greater channel counts and expanded connectivity as standard, and at an even more competitive price.
Dave Letson, VP of Sales, said, "We're very proud of the way the Brio has been embraced by the market and that its versatility has been so widely recognised, but it's so important to keep across market requirements. We've listened to our customers' changing needs and our new Brio Duet and Brio Medley packages have increased capabilities at excellent value for money."
"With Brio Duet we've upgraded the Brio's base specification, and Brio 36 Duet becomes the baseline Brio console with an increased input channel count of 96 channels (up from 64) to deal with more surround and immersive mixing as well as standard or slim trims (where space is at a premium), and at a reduced price of £22,500. The Brio Medley package adds a Dante or MADI expansion card and a Br.IO I/O box with 24 mic/line inputs, 16 analogue outputs and 8 x AES I/Os at a reduced list price of £25,950."
"Both packages provide better value for money to our customers, and a much broader appeal to people working in more specialist areas like smaller outside broadcast units and flypacks."
For existing Brio customers, Calrec is offering an upgrade option to 96 channels on a 64 channel Brio.
Find out more about Calrec Brio Medley & Duet
---

If you'd like to know more about the Calrec Brio 36 Duet & Medley, Type R or Hydra2 network, or would like to arrange a practical demonstration, give us a call on 01727 821 870 to speak to one of our team.