The RME ADI-2 Pro FS R gets an in-depth review from YouTuber TechReflex
Anyone with an interest in recording and mixing will no doubt be familiar with RME Audio. Now into its 25th year, the German manufacturer specialises in the design of professional multi-channel audio devices used throughout the recording studio, live audio, film sound and broadcast audio production markets, with a product range that spans audio interfaces and sound cards, microphone preamps, audio networking devices, and AD/DA and format converters.
RME's ADI-2 Series therefore presents something of an unusual entry into the company's catalogue. A set of high-performance audio devices designed for applications requiring the utmost in audio precision, both the ADI-2 Pro DAC FS and ADI-2 Pro FS R have proven equally popular for use in high-end domestic audio setups, striking a chord with Hi-Fi enthusiasts due to the combination of exceptional sound quality, powerful on-board headphone amplifiers, and a myriad of useful built-in DSP features.
As such, the ADI-2 DAC and Pro FS R have seen their fair share of reviews from YouTube channels with a more tech-based slant, such as this latest video from YouTuber TechFlex, whose focus includes computer builds and gaming tech alongside speakers and headphones.
At 25 minutes long this is a well-rounded and an in-depth look at the RME ADI-2 Pro FS R Black Edition, so many thanks to TechReflex for taking the time to provide so much detail!
See more videos at Synthax TV
Multiple Headphone outputs & Balanced Mode
Whilst the ADI-2 DAC FS remains the most popular RME device for Hi-Fi, TechReflex suggests that Hi-Fi users should also be considering the Pro, noting that the device "offers many features that make it a worthy consideration for anyone looking to buy an ADI-2 DAC."
"Six months ago I said that the RME ADI-2 DAC FS was one of the best audio products ever made, and while I thought that that was the 'end-game' DAC and amp for me, it turns out that the [RME ADI-2 Pro is] something that I actually have a very good use-case for."
Whilst the DAC FS provides an abundance of useful features, the Pro FS R model has a few extras that may be of interest to those with a headphone collection – with the device housing two dedicated DAC chips, the Pro is able to simultaneously output different levels for two sets of headphones (or one set of headphones and a set of speakers, or even a pair of speakers and a subwoofer).
"Each of the headphone outs on the ADI-2 Pro offer 1.5w of power per channel at 32 ohms, so even individually these are really powerful headphone amplifiers that will drive most headphones on the market to ear damaging levels," says TechReflex.
"And it's not just about the power – the specs on these headphone outs are also insane, and they provide very clean and distortion-free power to provide a very high-quality and uncoloured signal to your headphones. So even for audiophiles, these headphones amps are really great."
"You can also connect two headphones to this together, and control their volume individually, which wasn't possible with the ADI-2 DAC as it only has one chip. So this was one of the main reasons I bought this for, because as a headphone reviewer, I can compare the sound quality of two headphones."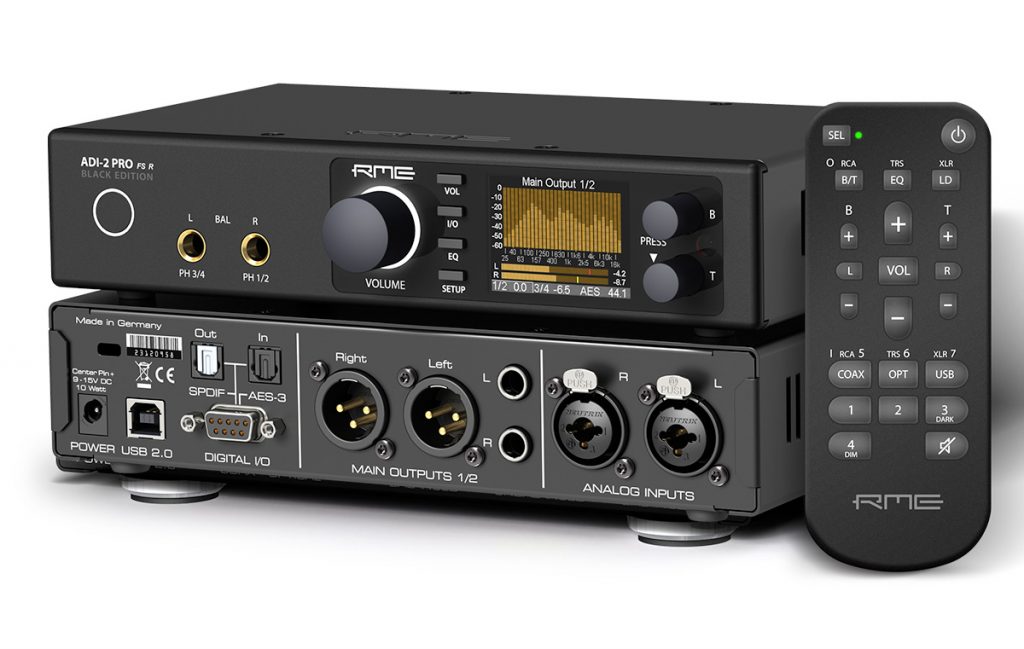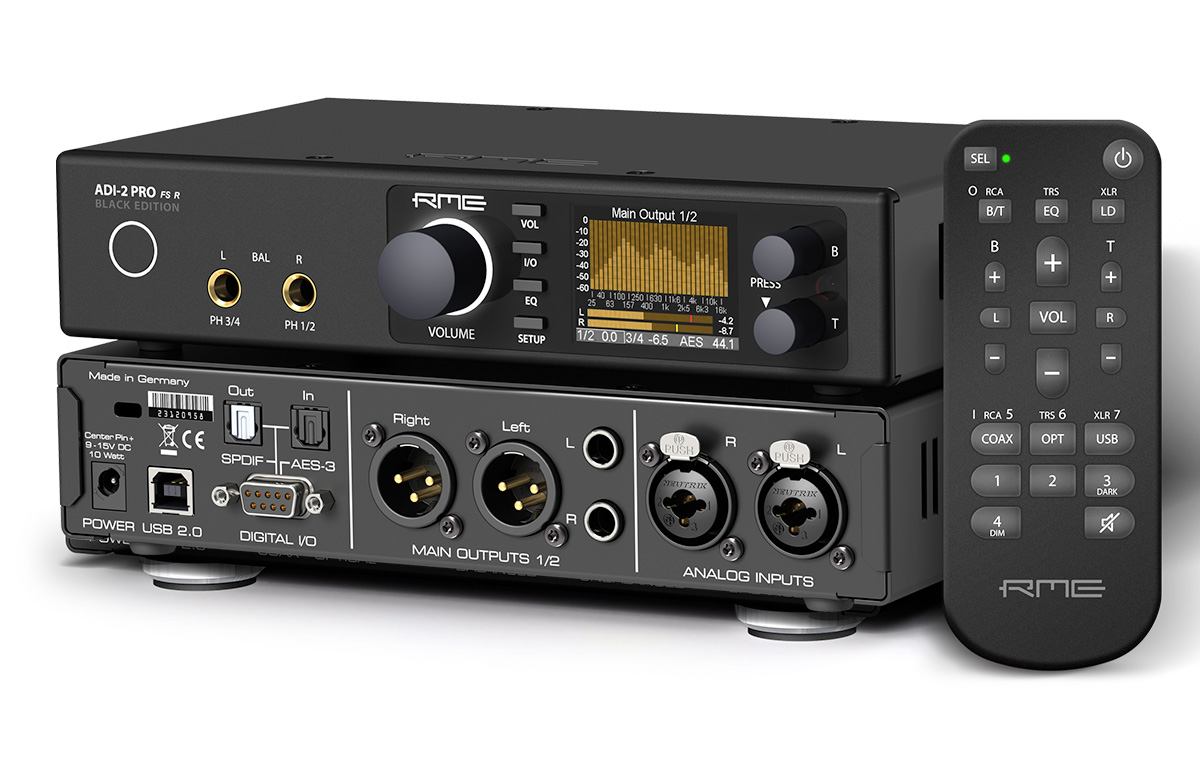 "The ADI-2 Pro uses a very advanced balanced out mode, which uses both of its DAC chips individually for left and right channels," continues TechReflex.
"This means that the whole signal path, from DAC to the headphone driver is balanced, and that the signal inversion happens within the digital domain. Keep in mind that many of the 'balanced' headphone amplifiers that you'll see are not actually balanced internally, and they just use the balanced out connection for more power."
"They may also not have individual headphone amplifiers for left and right like the ADI-2 Pro… I really don't know of any other device that uses this kind of advanced balanced setup."
Watch the TechReflex review of the RME ADI-2 Pro FS R (Black Edition)
See the full range of RME ADI-2 Series devices
---

If you'd like to know more about any of RME's audio interfaces, soundcards, AD/DA Converters or microphone preamps, give us a call on 01727 821 870 to speak to one of our team or to arrange a demo.
You can also contact us here.