Sound On Sound reviews the the Fireface UCX II, RME's 40-Channel Advanced USB Audio Interface
The RME Fireface UCX II has been reviewed for the latest issue of Sound On Sound, with reviewer Sam Inglis finding plenty of talking points for RME's new half-rack USB interface.
The successor to the popular Fireface UCX, the UCX II is RME's most powerful 1/2U interface ever created. A flexible and mobile interface for use with Macs, PCs and iPads, the UCX II is a cutting-edge central hub for modern studio recording and live performance setups, and includes full standalone operation (with the option to create multi-channel recordings straight to USB storage devices, aka DURec).
Noting RME's "relentless focus on driver quality, reliability and product longevity", reviewer Sam Inglis outlines RME's continued philosophy of designing long-lasting and ultra-reliable professional audio hardware.
"RME remain the standard by which driver quality is judged."
"Like the UFX II, the UCX II is not only a USB audio interface for Mac OS, Windows and iOS," Sam writes. "It's also an extremely well-featured digital mixer that can operate with no computer attached, with full control possible from the front panel. And it's a multi-track recorder, writing interleaved multichannel WAV files to an attached USB drive using RME's established DURec system."
"TotalMix FX is as capable as many dedicated digital mixers"
Existing RME users will be well-aware of TotalMix FX – RME's software digital mixing controller, included free with all RME audio interfaces – which provides full routing and mixing control over all 40 channels of the Fireface UCX II, with EQ and Dynamics on every channel, plus Reverb and Delay FX sends.
Of TotalMix FX, Sam writes "it would probably 
take a book to list all its features; it's no exaggeration to say that TotalMix FX is as capable as many dedicated digital mixers."
Industry-renowned drivers are another key feature across the full range of RME audio interfaces, which "remain the standard by which driver quality is judged", and feature impeccable low-latency performance. "At base sample rates, the UCX II was happy to operate
 on my 2019 Mac Mini at a 16-sample buffer size, giving an outstandingly low round-trip latency of 2.3ms."
"an extremely mature product ecosystem"
Many thanks to SOS for the top review!
Read the full review here, or read the full digital issue on the Sound On Sound website.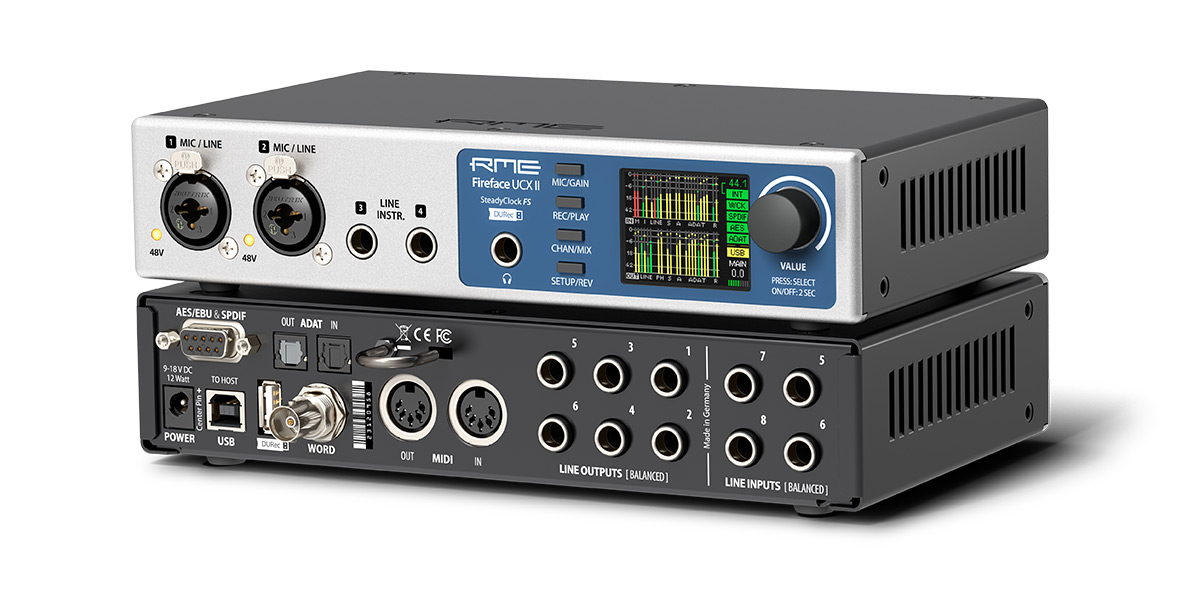 RME Fireface UCX II – 40-Channel Advanced USB Audio Interface
The Fireface UCX II is a highly integrated pro audio solution in an ultra-compact format. Designed for use in studio and live recording, the UCX II continues RME's tradition of producing powerful and flexible interfaces for the professional audio market, packing the kind of connectivity and features into a half-rack size unit that is often spread over two – or even three – 19 inch panels.
With up to 20 channels recording and 20 channels playback; RME's stellar SteadyClock FS digital clocking technology; high performance microphone inputs; TotalMix FX mixing and routing software (complete with Parametric EQ and Dynamics processing on every channel, plus Echo and Reverb sends); stand-alone hard disk recording to external USB hard drives or pen drives via 'DURec' (Direct USB Recording); MIDI I/O; a powerful headphone output; and full stand-alone operation, the Fireface UCX II excels with the highest feature to space ratio ever from an RME device.
Visit the RME Fireface UCX II product page

5 Year Warranty (UK Only)
Over the past 20 years, the word 'reliability' has become synonymous with the RME Audio brand, thanks to both the exceptional build quality and the now industry-renowned, rock-solid drivers.
For this reason, we are happy to offer all of our UK customers a complimentary 5 year warranty on all RME products, when purchased either from ourselves, or from one of our authorised UK dealers, and remain the only interface manufacturer to offer this at no extra cost.
To activate your 5 year warranty, simply register your RME device with us within 30 days of purchase via our warranty page.
To ensure you are buying your device from a UK-based retailer, please check our list of authorised UK dealers before purchase.